Planning a trip to Western Canada and wondering what are the best towns and cities to visit? Canada is synonymous with awe-inspiring mountainscapes and spectacular glacial lakes and almost all of this amazing scenery can be found in Western Canada. In particular, the States of British Columbia and Alberta jam a whole load of highlights into one small area that can easily fill a two-month itinerary.
But the Canadian Alps are just the tip of the iceberg for the best places to visit in Canada with cultural highlights, stunning beaches and cosmopolitan fun to be found throughout BC and Alberta.
Read on to discover the most famous places to visit in western Canada.
Best Places to Visit in Western Canada
BANFF AND CANMORE
Why do you need to visit Banff?
Starting off with a bang, visiting Banff in the heart of the Rocky Mountains is an absolute must-visit destination on any Canadian itinerary. The landscapes around Banff are nothing short of stunning with the opportunity to soak up famous sights such as Lake Louise, Moraine Lake, and the Icefields Parkway.
Set inside Banff National Park, Banff town is the central hub for visiting the Rocky Mountains and is a picturesque town backdropped by looming Sulphur Mountain.
Best Things to Do in Banff
The list of things to do in Banff and the Rocky Mountains is super long so it's best to allow at least a week if this is your first visit. Nature steals the show so make sure you schedule in time to visit the major drawcards in the National Parks but also consider getting away from the tourists with some secret places.
On the must-see list are the glacial lakes surrounding Banff starting with Lake Louise and Moraine Lake just outside of town. Both are best visited early in the morning before the mass of people arrives. This also allows for those awesome reflective photos that show the mountain scene mirrored back in the blue waters. If you have time take the Lake Louise Gondola to the top for awesome hiking opportunities or even the chance to spot a grizzly bear on the ride up.
If you want to take a circuit hike around an equally impressive lake but with just fewer people then travel a little further to Emerald Lake in Yoho National Park. Visiting late in the afternoon is the perfect time to enjoy the scenery in serenity.
Traveling on from Lake Louise the Icefields Parkway is one of the most stunning road trips to take in the world. Stop in at the Icefields Glacier and Peyto Lake, and keep your eyes peeled for wildlife, particularly bears who frequent along the riverbanks in the summertime.
Get off the beaten track a little by visiting lovely Canmore for quieter hiking just twenty minutes from Banff. Make your way back to via the Bow Valley Parkway for the best opportunity of up-close encounters with the Canadian wildlife. For a quiet and lovely picnic spot stop in at Two Jack Lake near Lake Minnewanka.
Wrap up your Banff adventures with a ride up the Banff Gondola for 360 views over the entire Rocky Mountains. The gondola boardwalk is a perfect way to take in the whole Banff region from atop Sulphur Mountain.
Insider Travel Tips:
Accommodation prices in Banff can be very high so if you want a quieter and still amazing place to stay consider Canmore. Offering plenty of quality lodgings and great restaurants, hiking, and services this is the perfect alternate option.
Don't forget to purchase your National Parks Pass for all activities within the region.
VANCOUVER
Why do you need to visit Vancouver?
Vancouver is a vibrant and interesting city with a huge variety of things to see and do. What we love about Vancouver is the ability to combine city attractions such as good shopping, entertainment, and sports with awesome nature-based activities.
With its harbourfront vibe and eclectic mix of people and places, Vancouver deserves your attention for a few days and will often be the arrival point for international travelers. Recuperate from long flights and take in the best that Vancouver has to offer.
Granville Island is a fun kick-off to your Vancouver City itinerary. Wander the colorful streets and time your visit over lunch to sample the market food vendors. Options are absolutely delicious and you can take your food outside to picnic with the birds overlooking the city.
Heading back into town take the option to rent a bike or walk around lovely Stanley Park. If it's hot there is a great swimming aquatic center to cool down or just find a quiet pond to lay and enjoy the sunshine.
Vancouver Sea Life Aquarium is a fun place to visit, located in the heart of Stanley Park. There are a cool range of aquatic animals and the sea otters can entertain for hours with their acrobatics and quirky personalities.
Take your adventures to the North Shore next. Grouse Mountain is a fantastic day outing. The gondola up the steep face of Grouse Mountain provides panoramic views back over Vancouver City and the Harbour and once on top of Grouse Mountain, there are loads of cool things to see and do. Take in the amusing and world-famous Canadian Lumberjack show, learn about the birds of prey in the Take Flight show and visit the resident Grizzly Bears Coola and Bella who were rescued as orphans and raised on Grouse Mountain.
Also, on the North Shore, the Lynn Canyon reserve was one of our favorite Vancouver attractions. Beautiful hiking and swimming and the walks across the suspension bridges are pretty. Still busy, but not as busy as Capilano this is a great alternate option and so close to town.
Depending on the season you travel, consider securing tickets for an ice hockey game to witness the enthusiasm of the National sport.
Insider Travel Tips:
Think about staying on the North Shore of Vancouver. We found this to be a lot cleaner, quieter, and more family-friendly. There were fabulous restaurants and easy access to the city via the Vancouver Ferry but without the seediness of inner Vancouver City.
WHISTLER
Why do you need to visit Whistler?
If you want to visit the adventure playground of Canada then hightail it to Whistler just an hour and a half out of Vancouver. The road trip itself is worthy as you pass through Squamish and the beautiful mountain versus ocean scenery but once in Whistler you can enjoy more gorgeous scenery, heart-pumping adventures, and a cool, happening village to keep you entertained.
Best Things to Do in Whistler
An engineering marvel, Whistler's Peak to Peak Gondola is the big-ticket thing to do in Whistler. Linking the Whistler Roundhouse Lodge to Blackcomb Mountain's Rendezvous Lodge the gondola spans impressively across the summit and on a clear day provides phenomenal views of the mountain tops and valleys below.
Combine the lift with high altitude hikes on both peaks and take the time to visit 7th Heaven and the highly impressive Cloudraker Skybridge. As the name suggests this suspension bridge sits so high that you feel as though you are walking in the clouds. Not one for the faint-hearted but super cool.
Back on lower grounds, the Whistler Valley is a gorgeous place for forested hiking and biking and there are a plethora of trails winding around the village and linking the pretty lakes.
Whistler is a renowned mountain biking mecca and offers hundreds of trails for beginners through to advanced. There are plenty of bike rental places in town if you need to hire a bike and you can choose to hit the exhilarating downhills or take a more leisurely cross-country route.
Don't forget to explore Whistler Village itself. With a cool and energetic vibe, Whistler Village is packed full of interesting shopping, cafes, and restaurants worthy of your time.
Insider Travel Tips:
Spot the resident black bears of Whistler by keeping an eye on forest trails close to town – particularly those close to the lakes. The bears know where to find the food scraps and stay close to the water in the summertime so we came across a couple just foraging close to the local playgrounds when we were taking some walks.
KELOWNA
Why do you need to visit Kelowna?
Nestled in the Okanagan Valley, Kelowna is one of the main towns to base yourself on adventures. With a warm and sunny climate, Kelowna is a fantastic summer holiday destination and a perfect detour between Banff and Vancouver. Known for its wineries and outdoor adventures, the Okanagan is also a foodies paradise with loads of good restaurants and eateries.
Book yourself into a nice resort and get ready to enjoy this largely undiscovered location.
Best Things to Do in Kelowna
The coolest thing to do in Kelowna is certainly visiting the Kettle Valley Rail Trail and taking on the Myra Valley Canyon bike ride. Found just outside Kelowna town the old railway tracks have been converted into an epic bike and walking trail. Pedal around the high trail and marvel at the trestle bridges that you pass over and enjoy the cooling tunnels. It's such a different and interesting thing to do which is so unique to Kelowna.
Travelers flock to the Okanagan region for highly regarded wineries and farm visits. You can literally spend days tripping about the countryside doing some wine tasting and observing the farm practices and sampling the wares. If you need some guidance for where to start there are some well-organized winery tours run through Kelowna Tourism to help you plan an itinerary.
Kelowna Waterfront is a great place just to hang out for a picnic, swimming and relaxing overlooking the sizeable Okanagan Lake which spans 134 km in length. If you are feeling active there are loads of water sports to enjoy such as waterskiing, stand-up paddleboarding, and kayaking.
Insider Travel Tips:
For beachfront swimming in the Okanagan Lakes, head to lovely Penticton which has a great water park and landscaped grounds for summer swimming.
VICTORIA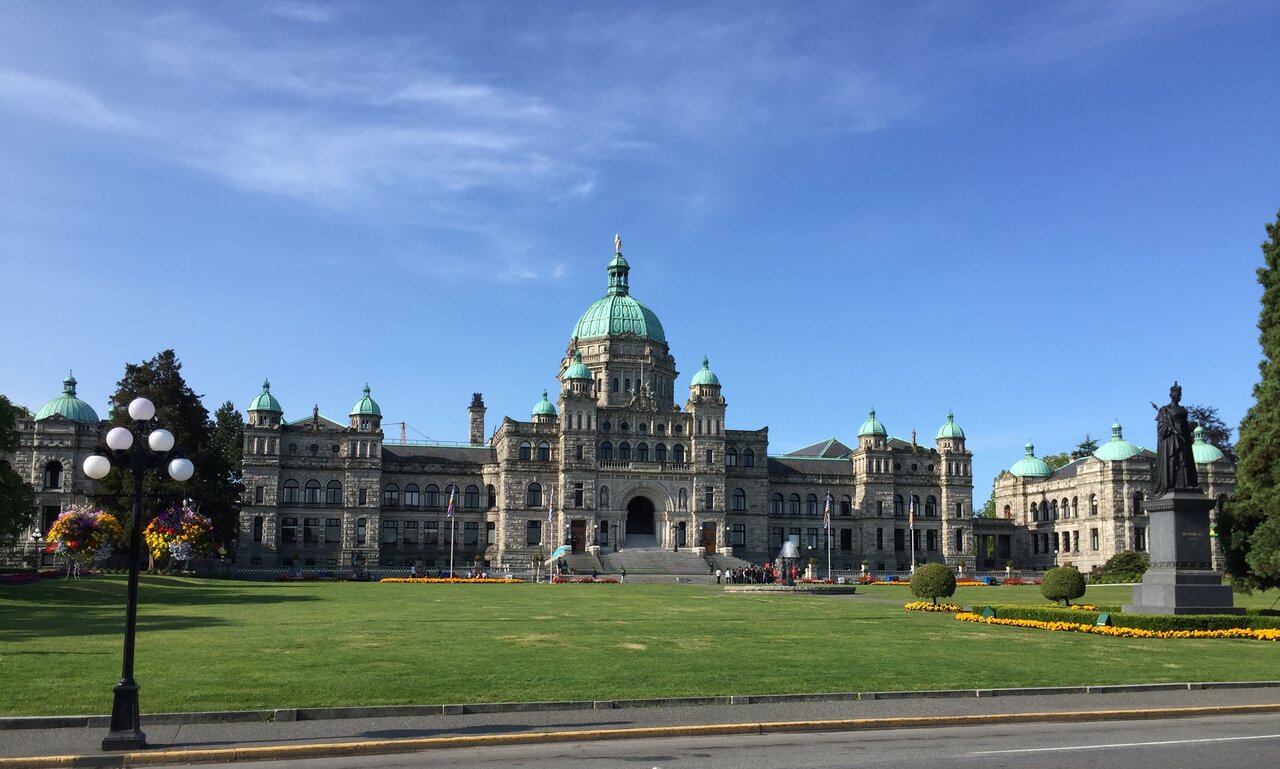 Why do you need to Visit Victoria?
You can't do a round-up of Western Canada highlights without including the very pretty and sophisticated Victoria on Vancouver Island. With beautiful Victorian Architecture and a well-designed city center, Victoria is a wonderful place to visit.
Best Things to Do in Victoria
Victoria is a compact and easy city to explore and visitors should start by wandering the scenic waterfront area that is framed beautifully by the Fairmont Empress Hotel and the British Columbia Parliament Buildings. Everywhere you turn is prettiness with overflowing flower baskets and lovely manicured gardens.
Not far from the harbourfront via a twenty-minute walk is the popular Fisherman's Wharf. A small wharf with brightly colored terrace buildings. This is a great spot to cue the camera for a cool pic and stopping here for some fish and chips and ice cream is part of the tradition.
One of the absolute best places to visit in Victoria is the Butchart Gardens. I know gardens don't sound overly exciting but these gardens are something to behold. They are absolutely beautiful and well worth visiting. We spent a good few hours wandering the displays and enjoying the sunny weather.
Victoria is also a fabulous spot to go whale watching with a number of tour operators running trips straight from town. If you prefer a slower, more personalized tour option then waterfront kayaking tours are another fabulous thing to do in Victoria. For the adventurous souls, tempt yourself with a seaplane tour to see the sights of Victoria from the sky.
Insider Travel Tips:
No need to worry about car rental in Victoria. The city itself is very compact and has a great public transport network so it is really easy to visit everything without the cost of a car. If you do want to hire a car then we highly recommend extending your Vancouver Island trip to include a visit to both Parksville and Tofino. Explore the Pacific Rim National Park and the rugged wilderness of the Pacific West.
I hope this list of must-visit places has fuelled your list for a trip to Western Canada. It truly is a perfect place to visit with such friendly, hospitable people and so many top-notch highlights to include. This is definitely one bucket-list to get ticked off sooner rather than later.
If you loved this guest post by Karen from Big Adventures for Little Feet, then do check out their Facebook Page and Pinterest Feed for more travel content.