As is the case with most Himalayan destinations, there are a lot of exciting things to do in Tirthan Valley. From spending time beside the river to going on numerous day treks, there is definitely no time to get bored here.
In fact, during my 4-day stay in this paradise, I remember getting up early in the morning to leave and coming back late in the evening. And still, I missed out on so many amazing things to do here. So, I would definitely suggest that you take out sufficient time for this amazing destination.
I have mentioned a few top things to do in Tirthan Valley below so that you can plan your trip well and don't miss out on things like me.
Also Read: Tirthan Valley Guide: Essential Information for Exploring this Small Hamlet
Top 13 Things to Do in Tirthan Valley 
Go for the Famous Tirthan Valley Trek to the GHNP Gate
One of the most popular things to do in Tirthan is to go for the GHNP trek which is a 1-day trek (only till the GHNP gate). Although Great Himalayan National Park was built in 1984, it was finally recognized as a national park in 1999. Located in the Banjar division of Kullu district, GHNP is a UNESCO heritage site with diverse flora and fauna.
The GHNP trek starts from Gushaini which is around 8 km from the GHNP gate and takes around 2-3 hours to reach. For this trek, you don't need any permission and you can easily complete it in a day. On the way, you get to enjoy some amazing river and mountain views and also some beautiful waterfalls.
If you plan to go for a multi-day trek to the GHNP ecozone then you would need a special permit. The permit can be availed from the forest range office in SaiRopa (Tirthan Valley), Ropa (Sainj Valley) or Shamshi (the Head office). The fee for the depends on your reason of trekking and the days and can be learned about on the GHNP official website.
But if you don't have enough time to go to the ecozone, then don't worry. The trek to the GHNP takes only 6-7 hours, return. And on the way, you get some amazing viewpoints, waterfalls, etc. which you can enjoy. One such waterfall is the Hippo Waterfall which is just 200 m before the GHNP gate. And another 1.5 km before, you have another small waterfall beside the wooden bridge which is completely secluded and a great photography spot too. 
Spend Time Relaxing Beside the Tirthan River
One of the top things to do in Tirthan Valley is to reconnect with yourself and forget all your worries while sitting beside the most pristine rivers in India, Tirthan River. This is the only river in Himachal Pradesh whose flow isn't obstructed by a dam so you can witness it in all its glory.
It is also home to several varieties of fishes including the brown trouts, rainbow trouts, and so on. And the water is so cold that the locals use it as their freezer to keep their local drinks fresh and cold. How amazing is that?
Try Fishing/Angling in the Tirthan River
If you have always wanted to learn fishing then one of the best things to do in Tirthan Valley is to try angling/fishing in the Tirthan River.  The crystal clear water of Tirthan River is home to the famous rainbow and brown trouts. And also has rich aquatic biodiversity which is why there are no dams built on this river.
As a result, it is a paradise for people interested in angling and trout fishing. You need to take a permit to fish here from the Himalayan government which is not difficult to obtain.
Trek to the Famous Prashar Lake
Another top thing that you can do in Tirthan Valley is to go for a day trip to the famous Prashar Lake. One of the best getaways from Tirthan Valley, Prashar Lake is a beautiful secluded lake by the Prashar Temple which was built in the 14th century.
This amazing pagoda-styled temple was built as a dedication to the famous Rishi Prashar who meditated here. There are several fascinating tales related to this lake which you can learn about once you visit this place. It is just 3.5 hours away from Tirthan Valley and can be easily reached by a vehicle.
Also Read: Prashar Lake Trek in 1800 INR
Enjoy the Delicious Local Himachali Cuisine and Drinks Here
One of the most amazing things to do in Tirthan Valley is to taste the local cuisine and enjoy the Rhododendron drinks here. They make their own sharbats out of Rhododendron, Litchee, etc. which are sweet and delicious. They taste a little like Roohafza but are so much better and healthier than it.
Apart from the specially curated drinks, you should also try the Himachali cuisine which you will find in abundance here. You will be able to taste delicacies like Khatta Sabji, Meetha Chawal, Siddus, and so much more. All the vegetables used in their meals are grown organically in their own farm and taste so much better than the city vegetables.
Trust me, when in Tirthan Valley, you have to taste the authentic Himachali food in one of the homestays or cottages here.
Go For Village Hopping in Tirthan Valley
You can walk and explore the nearby villages of Gushaini, Shoja, etc. or you can drive to villages like Pekhri, Sharchi, etc. for some amazing views. You will be able to see an amazing view of the snow-capped Himalayan peaks of the GHNP from the Pekhri and Sharchi village.
In the other villages, you will learn more about the traditional architecture used in the building of the village homes. And everything about their age-old lifestyle. How they prepare their food with a wooden gas or how their temples are decorated with wooden carvings, you will end up learning a lot in these villages.
Camp Beside the River Under the Starry Night
One of the most popular things to do in Tirthan Valley is to spend a night camping beside the river, under a starry night. There are many river-side camping areas here where you can enjoy the night and immerse yourself in nature.
Trust me, the bonfire and the gushing sound of the river coupled with the clear, starry night make for the best experience ever.
Spend a Day at the Majestic Chhoie Waterfall
Another popular activity to do in Tirthan Valley is to hike to the secluded Chhoie Waterfall. This waterfall hike is a 45-minute hike which starts from the Mata Buddi Nagin Temple which is just 1.5 km from Tirthan Valley. So, you can walk to the starting point of the trail and then hike for the next hour to reach the waterfall.
The hike includes a few steep ascents on the way which could be tiring. But it doesn't require any special fitness and can be undertaken by people of all ages.
And once you reach the waterfall, you will be completely blown away by its awesomeness. The waterfall is quite tall and has a good flow of water even in the summers so you can enjoy a shower under it. Plus, the water is freezing cold.
Make sure you get an extra pair of clothes to change if you plan to wade in the water. Remember, there is no changing room here so you will most likely have to change behind a rock. But trust me, you cannot miss out spending time beneath the waterfall.
Tip: Do take a Local with you to guide you to the waterfall else you might get lost.
Meet the Locals and Learn About their Lifestyle
The locals in Tirthan Valley are really sweet and will talk to you quite openly if you show interest. And you will end up learning so much about their lifestyle and their adventures in this beautiful valley.
Tirthan Valley promotes eco-tourism which is followed by the locals quite diligently. They employ organic farming and help each other as a community to grow and prosper. Honestly, you can learn so much from them if you are willing to take some time to listen to them talk about their daily life.
Head to Jibhi and Jalori Pass from Tirthan Valley
One of the top things to do in Tirthan Valley is to plan a day trip to Jibhi. You can hang out at one of the river-side cafes here or you can go for a short hike to the Chehni Village. Here, you will find the tallest free-standing building in the Western Himalayas which currently has 10 floors.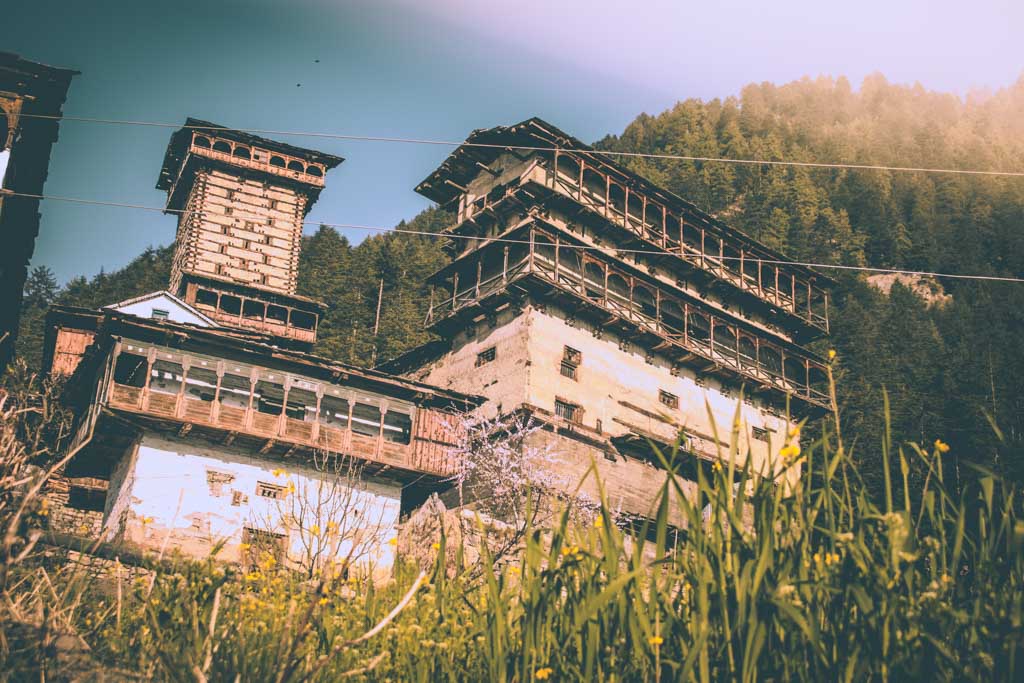 It is a 1500-year old structure built in the traditionally Himachali style which makes it grander. And if you start early in the morning, then you can also drive to the famous Jalori pass. From here, you can do the famous Serolsar lake hike.
Jalori Pass too offers some mind-blowing mountain views and the Serolsar lake is quite magical to look at. It can take the entire day for you to cover Jibhi, Jalori Pass, and the Serolsar lake together, making it the perfect day tour from Tirthan Valley. 
Also Read: Jibhi Travel Guide – An Unexplored Heaven in Himalayas
Observe the Varied Range of Flora and Fauna Available Here
Tirthan Valley has a rich flora and fauna so you will find a wide variety of plants and flowers here. Apart from that, there are many different types of birds and animals found here. This includes Plum headed Parakeet, Black Bulbul, Black Bear, Snow Leopard, and so on.
This valley is home to around 180 species of birds and at least 6 different types of vegetations. In fact, the Great Himalayan National Park (GHNP) which covers an area of around 754 km square is home to a wide variety of trees and plants.
So, if you wish to learn about the different types of flora and fauna currently existing in the Himalayas then Tirthan Valley is a good place to start.
Purchase Local Products From Here
The local women here make a range of items like apricot jam, woolen socks, gloves, apricot oil, and so on. There isn't a proper market area but they do sell these items in their home or in small shops. So, if you want to purchase one of these items, just tell your homestay owner. He will introduce you to the women who make these items.
This way, you get some cool items to take home and you promote women empowerment in Tirthan Valley as well.
Relax and Breathe in the Fresh Mountain Air
Honestly, you don't even need to do anything to enjoy Tirthan Valley. One of the simplest things to do in Tirthan Valley is to do nothing. The atmosphere, the views, everything is magical that one can easily get lost in its beauty for hours at a time.
And all you have to do to enjoy this beauty is just step outside your room and look above. Just sit down beside the river or take a stroll near your accommodation. And just breathe in the fresh mountain air. Listen to the gushing of the river, the chirping of the birds, and the whistling of the trees. You will actually feel your body and mind cry out in joy. 
Summary
Honestly, I wish I had spent more time in Tirthan Valley. Every day, I would sleep listening to the sounds of the river and wake up to the same sound. In the morning, I would head out to the verandah and feel the cool, fresh mountain air while the birds chirp and the river gushes beside me.
It was like a dream, like I have stepped into a fairyland. In fact, I was so sure that one of the birds was about to sing and make me realize that indeed it is a fairytale. But in the end, it wasn't. It is a real place, as real as me and you. And it offers a lot to the people who deserve it.
So, if you love doing adventurous activities and spending time in nature then don't worry. There are a lot of things to do in Tirthan Valley, you just need to plan well.
Also Read: Dos and Donts: Some Tirthan Valley Guidelines to Follow