Duration – 3 Days
Budget – INR 3,000/-
Lying in the Banjar Valley, all hidden, this place is the perfect weekend getaway. Over here, not only you will be surrounded with meadows in summers or snow during the winters, depending on the weather of Jibhi, but you can also experience hikes and history all at the same time.
Below, I will give you a detailed yet comprehensive guide for your Jibhi trip which will cover everything from planning the trip in a budget to seeing maximum places within a span of 3 days.
Disclaimer: This article may contain links to our affiliate partners such as Amazon, Booking.com, etc. If you find our website useful, please consider booking through our links. When you do we earn a small percentage at no extra cost to you.
https://www.instagram.com/p/BhwLUnTnm7v/
About Jibhi
Jibhi has picked up as a perfect tourist spot over the past couple of years. Earlier, there were hardly any guest houses or tourists here. But with the increasing rate of awareness on social media and the beauty of Jalori Pass has led to an increasing number of tourists to this hill station as well.
Jibhi is the perfect place to chill! You want to do nothing but just read a book besides the banks of the river, then Jibhi is for you. The place is surrounded with greenery and when you are here you will instantly feel at peace once you walk through the forest ground soaking in the environment.
Best Time to Visit Jibhi
Well, what you want to witness depends a lot on the weather of Jibhi. I am a snow person and love winters, so if you ask me, I will go to this place between January to March, however, if you want to see Jibhi fully covered with greenery and flowers then spring season is for you. This is mostly between March and June. Further, the meadows with blooms all around and the Apple Orchards are also best explored in the season.
Also, if you have a little extra time in hand you can also visit Tirthan Valley besides Jibhi. The distance between the two is just 16 kms and the weather of Jibhi and Tirthan Valley remain the same.
If you are planning for Tirthan Valley as well – Guidelines for Visiting Tirthan Valley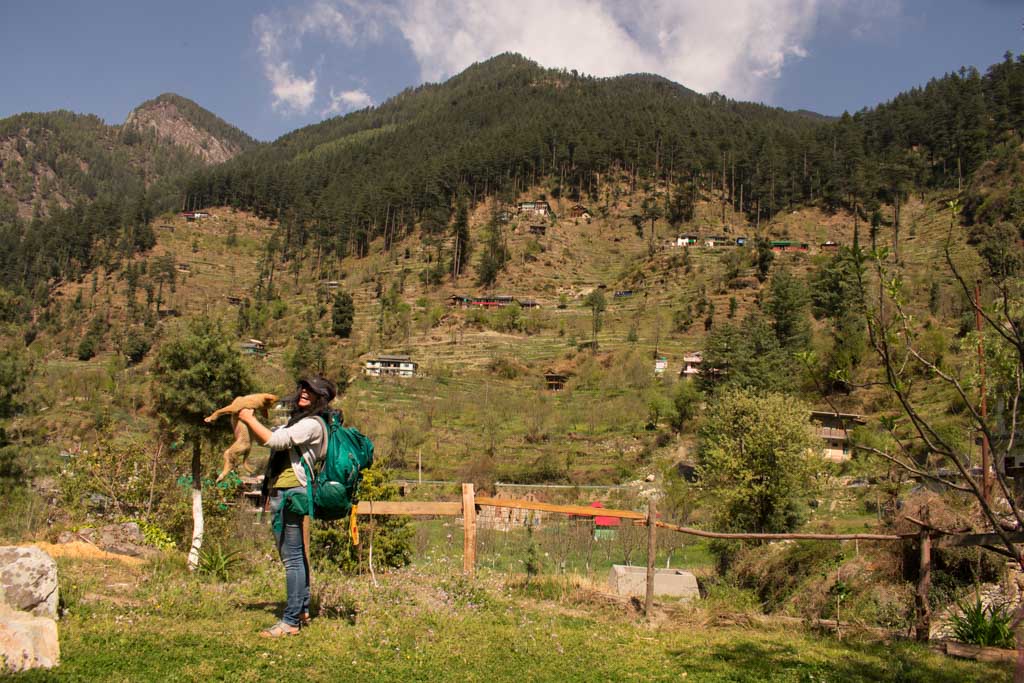 How to Reach from Delhi to Jibhi 
Delhi – Aut (Manali) – Jibhi
The best way to reach Jibhi is by taking an overnight bus for Manali. There are several buses that run from ISBT Kashmiri Gate of Delhi and from here you can get down at Aut the next day.
Jibhi By Air
The nearest airport to Jibhi is Bhuntar in Kullu. Although I won't suggest you take the flight to this place as it is costly if you compare the rates to Delhi.
Jibhi By Road
From Delhi to Jibhi by Bus
You can get buses overnight from ISBT Kashmiri Gate. From ordinary buses to Volvo, there are several options for you here. Manali is a little far from Delhi and on average it takes 12 hours to reach Aut, which is close by the town to Manali. From Aut you can take a shared taxi that would cost INR 1,000 to 1,200 per taxi and would take 1.5-2 hours to reach Jibhi. There are buses as well from Aut to Jibhi, however, the frequency is very limited.
From Delhi to Jibhi by Train
If you are planning to come by train, Shimla is the nearest station to Manali. Although I would suggest you to get down in Chandigarh instead as you can easily find buses till Manali from here.
However, if you are looking for some other hill station to explore, read our list of hill stations in this link.
If you want to know how to have a fruitful solo experience on travels, read a few tips here – Solo travel tips
The Map of Jibhi I Followed
Below I am listing down a map of Jibhi that will show you how far the places are from each other along with the distance from Aut.
Places to Visit in Jibhi
Places in Jibhi are nearby. It is easy to commute and better to be on foot since the views are mind-blowing. Plus, there is no better way to explore a place than walking. However, for far off places, taking a taxi is the only option if you are not comfortable with hitchhiking. I will split the places below day wise so that it helps in the planning of your trip better –
Day 1
Chehni Fort
Chehni fort feels like a watchtower with a really vintage and ancient vibe to it.
Lying 7 kms away from the Jibhi village, this fort is only accessible on foot. You can take a taxi for the first 5 kms. After this, a road bifurcates for Chehni village from where you have to then hike to the fort for the remaining 2 kms.
You won't regret the trek though. It is beautiful and offers a panoramic view while walking through thick pine forest. Talking about a bit of its history, the quake in 1905. Now, Chehni Fort is a five storey structure.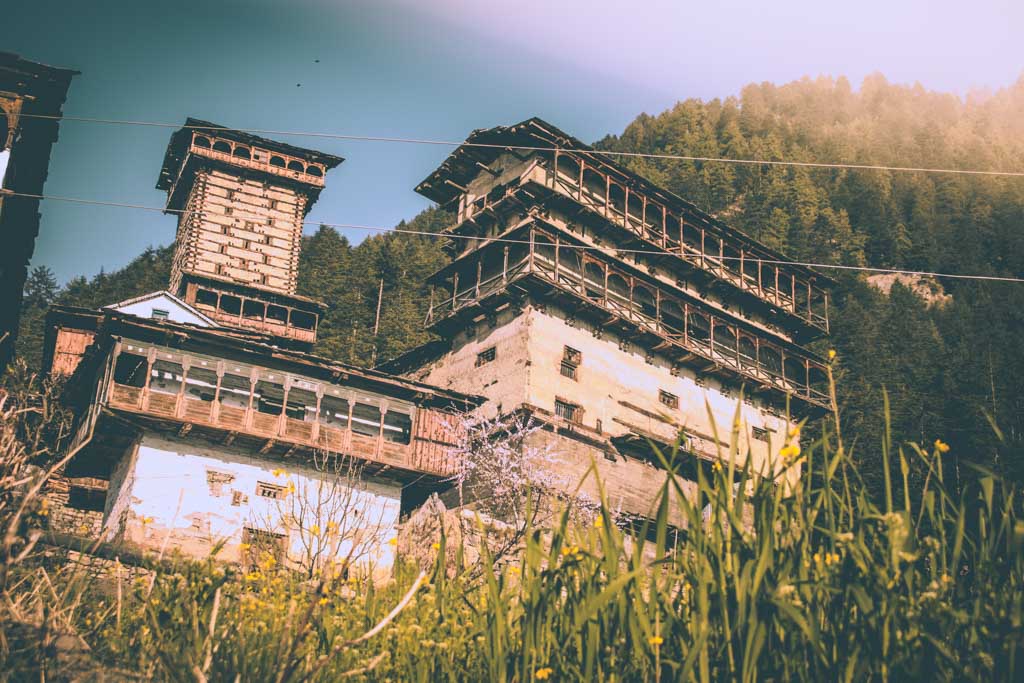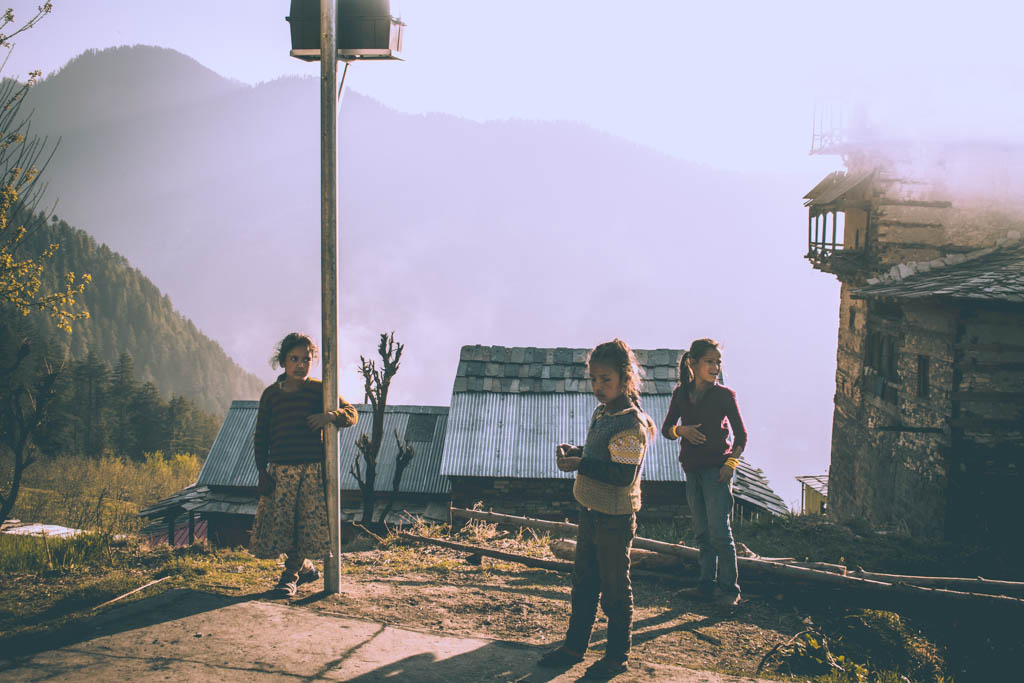 Shringi Rishi Temple – Bagi Village
While going towards Chehni Fort, you will cross Bagi village where this temple is situated. This temple is again built in the similar architecture like that of the Chehni and is the presiding deity of Banjar valley.
Jibhi Waterfall
Jibhi waterfall is located right in the middle of the c and the vehicle anyway cannot go inside the forest area. You will cross several wooden bridges before reaching the final destination. If you are lucky and choose the right time (mostly mornings) you will also be able to see rainbow splashing on the gushing waterfall. In fact, you can enjoy your time in the pool as well with your friends. It is very relaxing.
Day 2
Serolsar lake
To reach this lake, you have to trek for 5 kms from Jalori Pass. This lake is surrounded with thick forest and the lake is considered sacred. There is a small Buddha Nagini as well at the side of the lake.
Jalori Pass
Want to explore a pass? The nearest one to Delhi is Jalori Pass at a height of 10,500 feet. To reach this pass you first have to reach Shoja village from where you have to climb to Jalori pass. Although do keep Jibhi's weather in consideration while planning a trip to Jalori as during the winter season the pass usually closes.
You can check out our other list of hill stations if you are not sure where to go for your perfect holiday to the hill stations – Top Hill Stations in India That We Have Visited So Far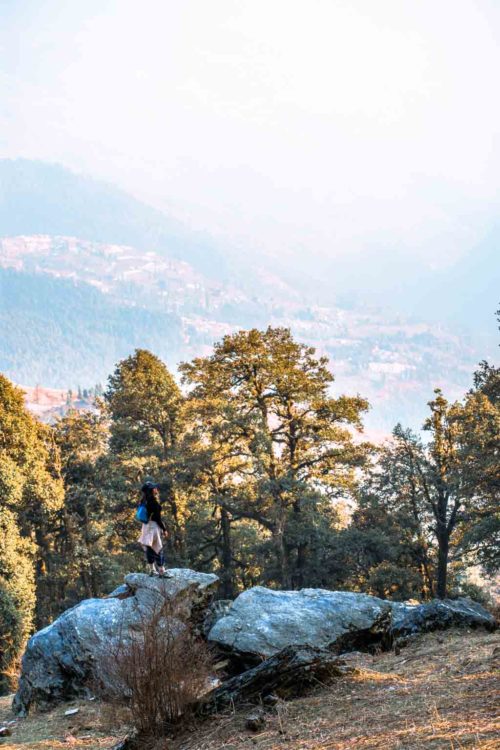 ATM and Network Availability in Jibhi
Network
Airtel and Jio work the best. Vodafone does not work at all. Although there will be a few areas like Serolsar lake or Chehni Fort where the network is weaker.
ATM
I would suggest you withdraw cash in Delhi or Manali itself as the ATMs in Jibhi are not very reliable. Although ATM facilities are available but the safest option is to take cash with you.
Where to Stay in Jibhi
There are many homestays and hotels in Jibhi. You can find many options in this link as well and can reserve a room for yourself without paying at the moment at. The best thing about this website is that you do not have to pay any amount in advance. Just reserve the room through them 🙂
Read our review about the Sunshine Himalayan Cottage Homestay to understand why it is a good choice for staying in Tirthan Valley.
Where to Eat
Mostly the place where you will be staying at will provide you with food options as well. I love staying in a homestay for such reasons because you get to try the local delicacies. Apart from this, there are many restaurants and dhabas that provide you with an entire meal for a very cheap price.
Typical Cost of the Trip from Delhi to Jibhi
Transportation Cost
You can find buses to Manali for about INR 1,000. If you are looking for comfortable transport in Volvo buses the price would go up to INR 1,500. Further, you can get cheaper transport from Aut. From Aut you can take a shared taxi that would cost INR 1,000 to 1,200 per taxi and would take 1.5-2 hours to reach Jibhi. There are buses as well from Aut to Jibhi, however, the frequency is very limited.
Food Cost
If you eat in dhabas or restaurants you can easily manage your food expenses in INR 500 per day. Plus there are many homestays that also offer food in their stay options as well.
Accommodation
Homestays would cost approximately INR 500 to INR 1,000. You can check a few options in the link below for stays.
Wrap Up
Jibhi is a beautiful place and a perfect hill station for a weekend getaway from Delhi. But do ensure that you do not pollute it and take your plastics away. The locals here are very concerned with the plastic consumption and our hills are vulnerable. Let us make sure that we do every bit in us to preserve it and travel responsibly.