Phuket is huge, but due to lack of time, we wanted to see as much as possible in that region. You can fill up your itinerary with so many places but there are only limited things that you can do at a slow pace. This Thailand tour itinerary is a perfect fit for people who want to see Phuket, Phi Phi, and also Krabi in three nights at a leisurely pace.
So, if you are planning to stay at least 2 weeks in Thailand, then make sure you add these destinations to your itinerary. I guarantee it will serve you with lots of fun!

Disclaimer: This article may contain links to our affiliate partners such as Amazon, Booking.com, etc. If you find our website useful, please consider booking through our links. When you do we earn a small percentage at no extra cost to you.
The Company I Traveled With
We had the pleasure to travel with Tripver who helped to sort our entire plan from start to the end. From choosing perfect hotels to giving us best travel advices, we did not even need to open Google once.
Tripver has this special feature where they give you a Scout – a person who messages you with all the details and tips about a place on Whats app. If you want to explore South Thailand, give Tripver a shot. They will make your travel very memorable.
To find more about their Thailand Trip, check out – Tripver Thailand Plans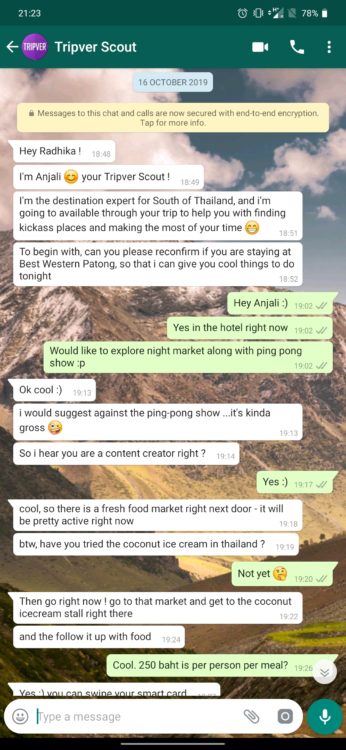 3 Nights in South Thailand – Itinerary

Day 1 – Reach Patong
How to Reach Patong
Till Phuket – Reach Phuket first. There are many flights that operate till here.
Phuket International Airport to Patong – The distance between Phuket International Airport and Patong is 45 minutes. You can either take a axis or a minibus on rent. There are also shuttle buses that take you to Patong Town. However, since we were traveling with Tripver, the pain of taking a car was sorted and they arranged the vehicle for us.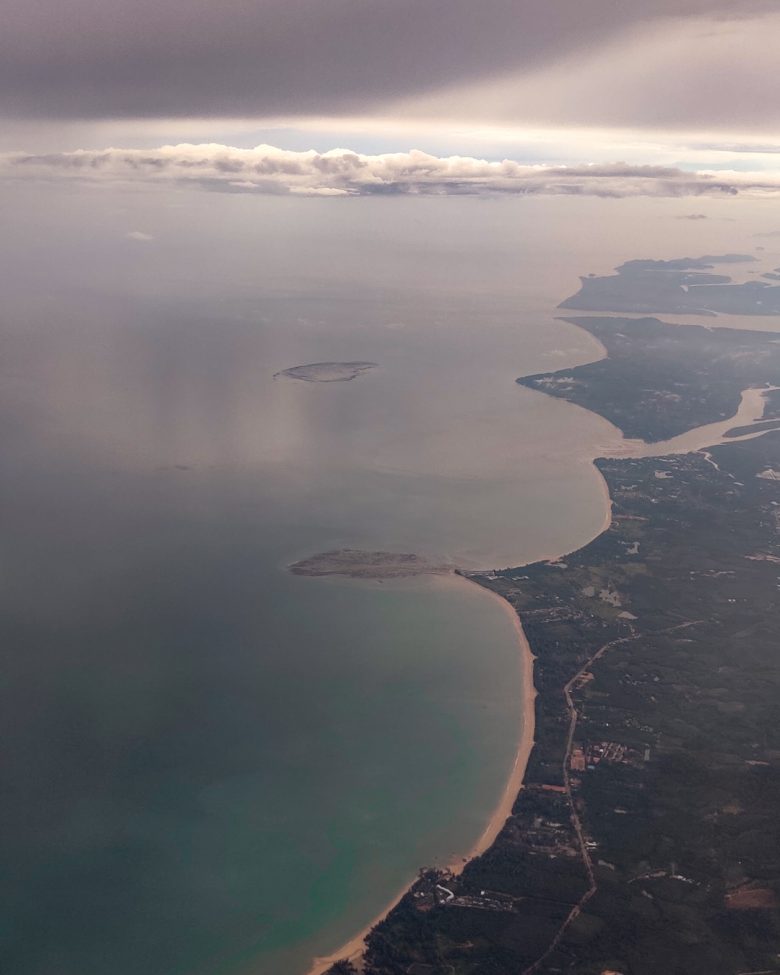 Things To Do in Patong
Bangla Road Nightlife –

This area is the liveliest party zone. The place is filled with music, entertainment spots, and lively bars. Even walking in the street is an entertainment in itself. In fact you can also walk to the end of the street to relax yourself on the beach.

Cabaret Show –

Take an hour out of your time to enjoy the dance performances that are mostly conducted by transsexual people. It is mostly hard to tell their gender as they are very glamorous and gorgeous. Simon Cabaret is regarded as one of the best as well as a

family-friendly cabaret shows.

Massages and Spas –

As soon as you will reach Patong, you will find yourself amidst tons of choices available for a massage. It is upto you and your budget on what you would like to choose – low-cost local joints or a five-star spa.

Coconut Ice cream –

This is one of those things that tops my list of things to do in Patong. The fruit market which is 10 minutes away from Bangla Road has a coconut ice cream stall that serves the best coconut ice cream. In all honesty, the taste felt like bliss.
Where to Stay in Patong
I would highly recommend you to stay somewhere near the Bangla Street. It will give you an access to the best night life and you can easily crash after a night full of party. To find options, I would recommend you to book through booking.com where you can choose a place in accordance to your budget and comfort.
Day 2 – Patong to Krabi
How to Reach Krabi
Minibus – There are several tour operators that run between Patong to Krabi and has a door to door pick up of every hotel. They make you reach the bus station at Krabi from where you have to take a taxi to your respective hotel which can be booked at the bus station itself. The travel time of 3-4 hours and cost around 450 THB.

Taxi – For a more comfortable and quick transport you can also take a taxi that cost 2500 – 3800 THB.

Ferry – You can reach Ao Nang Beach of Krabi by taking a ferry from Rassada Pier which is south of Phuket. Most of the ferry companies also have a pick up service where they come 1.5 – 1 hour before departure at your hotel. You can easily book this service at your hotel itself.
Things To Do in Krabi
Ao Nang Street –

Over here, you will get the lively vibes and enjoy street shopping. Further you can enjoy massages, good food and music at local bars.




Ao Nang Beach –

I loved Ao Nang beach, mostly because of the two swings over here. The white sand and beautiful surroundings over here will take your breath away. It is right next to the Krabi Town so you can get best of both the world.
https://www.instagram.com/p/B3v3MEigXfh/
Now we wanted a relaxed day to catch up on work and take our travels slow, however, if you want you can explore other places too in half a day. Just reach your hotel, keep your bags and move out. Below I am providing a few options that you can explore apart from Ao Nang Beach and Krabi Town. Pick any one of them as they are a little far away and thus requires time. 🙂
Railay Beach –

Railay Beach tops the list. We did not go here as we were already visiting Phi Phi and the vibes of both the places are similar. Railay beach is considered the most attractive beach in Thailand. However, this beach is only

accessible only by boat. This beach will cut you off from the world as it is not like other islands with roads or cars. Just relax in a bar and enjoy your evening over here.

Wat Tham Sua –

Wat Tham Sua is the place from where you can get the 360 degree views of the Andaman Sea as well as the island. For this, you have to climb up 1,237 steps. But this is just not it, you can also witness the caves here where monks reside.

Khao Ngon Nak Viewpoint –

The viewpoint is 30 km away from the Krabi town and is at 5

65 meters above sea level. This place is famous for its hike which offers breathtaking views after 2.5 hours of climb.




Klong Thom Hot Springs –

If you want to relax your muscles, this might be the best option for you. The hot springs lies right in the middle of the rain forest. The temperature can go upto 40

degrees Celsius and contains natural mineral salts that have many healing properties. You can also visit the

Emerald Pool nearby.



Where to Stay in Krabi
It is better to stay close to Ao Nang beach as you will have access to both the beach and Krabi town. You can easily reserve a hotel on booking.com in accordance to your budget and comfort.
Want to explore North Thailand as well, check out our North Thailand Guide
Day 3 – Krabi to Phi Phi Island
How to Reach Phi Phi Island

Take a ferry from Krabi to Phi Phi. There are daily ferry services till Phi Phi at varied times in a particular day. You can easily book this service at your hotel itself. Mostly the ferry runs at 9:00, 10:30, 13:30 and 15:00.
Things To Do in Phi Phi Island
Koh Phi Phi, one of the top islands to visit in Thailand, offers stunning views and experiences to tourists. Here are a few things that you can do on your trip here.
Phi Phi View Point –

Phi Phi viewpoint is located to the east and you shall cross a total of 3 viewpoints with the top one being the best. The 3rd viewpoint provides postcard worthy views and will show you that Phi Phi has an unusual shape – like an 'H' . The hike is roughly for 30 minutes and the path is well laid out.
Diving in Phi Phi –

Phi Phi's diving is one of the best in Thailand. Over here there is a huge presence of professional PADI dive centers. The best places to dive here are – Maya Bay, Koh Bida Nok & Nai.Maya Bay, Monkey Beach, Loh Samah, Wang Long Cove, and Pi-Leh Bay.

Island Hopping – You can also take a cruise ride that has the activity of island hopping involved. In this you shall explore islands like Maya Bay, Monkey Beach, Loh Samah, Wang Long Cove, and Pi-Leh Bay. Mostly the cruise is also famous for its party environment along with exploration. 
You will have two days with you to explore Phi Phi. The last ferry that leaves for Patong is at 2 PM. On Day 1 you can go for Island hopping along with diving and on Day 2 get up early and explore the Phi Phi view points.
Where to Stay in Phi Phi Island

The best place to stay at is in a hostel called Ibiza. They have a pool and 3 days a week they hold a pool party which is epic. However, if you want to look for more options you can do so on booking.com in accordance to your budget and comfort.