Update: I visited the Great Rann of Kutch in January 2020 again so, I have updated the article with the latest information. 
Ever since I watched the popular Bollywood movie 'Refugee', I wondered where is this vast expanse of nothingness. Is this place actually in India? Is it really that hot over there? How do people walk across this great white desert?
And although I did finally figure out where this white desert exists, I still had a main issue. I wasn't sure how I can travel from Bhuj to Kutch in a budget-friendly manner. After visiting Kutch twice now, I have an idea on how to visit and what are all the costs involved here.
In this Rann of Kutch travel guide, you will find all the important information on stay, transportation, and other essential amenities. Hope you find our guide useful! 
Disclaimer: This article may contain links to our affiliate partners such as Amazon, Booking.com, etc. If you find our website useful, please consider booking through our links. When you do we earn a small percentage at no extra cost to you.
How To Reach Kutch
One of the most common questions that everyone asks me is how to reach Kutch. And a lot of people usually want an option on a low budget. So, here is everything you need to know to plan your trip to the Great Rann of Kutch.
Bhuj is the nearest city to Kutch in Gujarat (approximately 74 km) and takes around 1.5 hours to reach Kutch. So, plan your trip in a way that you reach Bhuj first and then make your way to Kutch.
Reaching Bhuj via Flight
One of the direct and fastest ways to reach Bhuj is by taking a direct flight to the Bhuj airport which lies 4-5 km outside of the city. You will get flights from major cities like Ahmedabad, Delhi, Hyderabad, Bengaluru, etc. but the frequency of these flights would be less as compared to other places.
Also, the flights to Bhuj will be costly due to less frequency which can raise your travel expenses by a great deal.
Reaching Bhuj via Bus
You can also reach Bhuj easily via buses. You can get a Gujarat state bus or some private bus depending on what you prefer. The state bus can be booked online via Gujarat Road Transport or other bus apps like Redbus, Paytm, etc.
You can also get the bus tickets from the bus stands as well, depending on seat availability. State buses will cost you somewhere around 180-700 INR for Seater, Semi-sleeper, Volvo, etc. and will start early from 4 a.m. It will take you around 6 hours to reach Bhuj from Ahmedabad and 7.5 hours from Vadodara.
Private buses will cost you more and will come around 300-800 INR depending on your bus type and can be booked from websites and apps of Redbus, Goibibo, Paytm, etc.
Personally, I chose buses to travel to and fro from Bhuj and found it quite convenient and cheap for myself.
Please note: If you are traveling from far off place then you might not get a direct bus facility. You can always reach Ahmedabad, Surat, Vadodara, etc. first and then reach Bhuj.
Reaching Bhuj via Train
Another direct way to reach Bhuj is by taking a train. However, you might not get a lot of direct trains from your place and might need to reach Ahmedabad first.
It will also take a longer time to reach Bhuj if you are taking a direct train from your area. So, it would be wise to reach Ahmedabad first, explore the place and then take a train to Bhuj.
Bhuj to Kutch
Once you have reached Bhuj, you are one step closer towards Kutch and can reach the White Rann of Kutch quickly and easily from here. Here are a few ways in which you can go to the Great Rann of Kutch from Bhuj.
Great Rann of Kutch Tour Packages
Yes, there are many travel packages available for Kutch which cost somewhere around 1000-1500 INR per person and include a trip to both Rann of Kutch and Kalo Dungar.
If you are traveling alone and don't know how to ride a bike/scooty then this is a good option. You will be able to experience everything without missing something essential. They usually take a group of 4-5 people so you also get a chance to meet other travelers on your journey.
Hire a Cab
Another way to reach Kutch is by hiring a cab from Bhuj. This is probably one of the most expensive options as it can easily cost you around 2000-4000 INR depending on the tourist season. If you are 4-5 people then you can consider this option but if you are traveling solo or in a group of two, then this will again be a little expensive. 
Rent a bike/scooty
Contact MK Auto, Bhuj – 09898983999 for renting a Scooty/Bike
If you want a more budget-friendly option, then hire a bike/scooty in Bhuj. This is perfect for solo travelers and budget travelers. A scooty will cost you around 600 INR for 1-1.5 days, depending on the season. And it will take around 2-2.5 hours to reach Kutch from Bhuj.
If you take a bike, then you will need to pay around 800-1200 INR for 1-1.5 days. This again depends on the tourist season and it will take you hardly 1-1.5 hours to reach Kutch.
However, make sure you have your driving license with you. Also, take 2-3 layers of clothing as it can get really cold when riding to and fro to Kutch.
Take your own vehicle
If you own a vehicle and don't have a problem with a road trip then you can definitely do that too. Getting your own vehicle will definitely make the whole trip more convenient for you. Also, you will save a lot of money in the process.
The road to Rann of Kutch is really smooth and doesn't have many obstacles. So, you would have a lovely time driving on this road.
How to Get the Permit
Once your transportation is sorted, you need not worry about anything else. Previously, getting a permit for the Great Rann of Kutch required some effort but now it is a simple and easy process.
Note: If you are staying in the Tent city or the White Rann Resort or have taken a stay package for Kutch, you don't need a permit. Your tour operators or hotel managers will take care of it so that you can visit the Great Rann of Kutch without showing any permit.
The Bhirandiyara check post for getting the permit for visiting the Great Rann of Kutch is located around 20 km before Dhordo. This is where you will need to stop and get your permit.
This checkpoint is easy to spot as it lies on the intersection where you take a left turn to go to Dhordo and a straight path to reach Kalo Dungar. The checkpoint will be on the right side. You will need to have your identity proof with you, it can be your Voter Id, Aadhar Card, Passport, etc.
Here, you will need to fill out a form with all the details and include your vehicle number and specifications. 
The cost of a single permit for 1 user for 1 day is 100 INR. And if you have a vehicle with you, then you need to pay 25 INR for a 2-wheeler and 50 INR for a 4-wheeler.
You can enter the number of days that you require the permit and then submit it at the check-post. They will print out your permit for you in just 5 minutes and then you can go move on. You can either go toward the Dhordo side or the Kalo Dungar side, it is up to you.
One point to remember is that the checkpoint opens only around 11 a.m. in the morning. So if you are planning to go for sunrise in Rann, you will need to take the permit one day before itself.
From the check post, it takes another 30-40 minutes to reach the Great White Rann and another 45 minutes to reach Kalo Dungar.
Applying for Online Permit
One of the best things that have happened in the past 2 years is that you now have a facility to apply online for the Great Rann of Kutch entry permit. Please note that this website is only available for Indian tourists to apply for the Great Rann of Kutch entry permit.
Here are the steps to follow to apply for your online permit for the Great Rann of Kutch.
1. Go to the Rann Permit website.
2. Click on the 'Get Your Permit' button.
3. In the Request Permit form, enter the details like 'From Date', 'To Date', and 'Number of Travelers.' At a time, you can enter just 10 travelers' information to get the permit for them. 
4. Once you click on the Next button, you will be taken to the Traveler Details page where you will need to enter the 'Full Name', 'Gender', and 'Age' of all the travelers. 
5. After that, you need to select the Primary traveler whose Contact Information and Full ID Proof will need to be submitted. 
6. Next, you need to enter the Vehicle details. If you don't have a vehicle then you can simply choose the 'No Vehicle' option.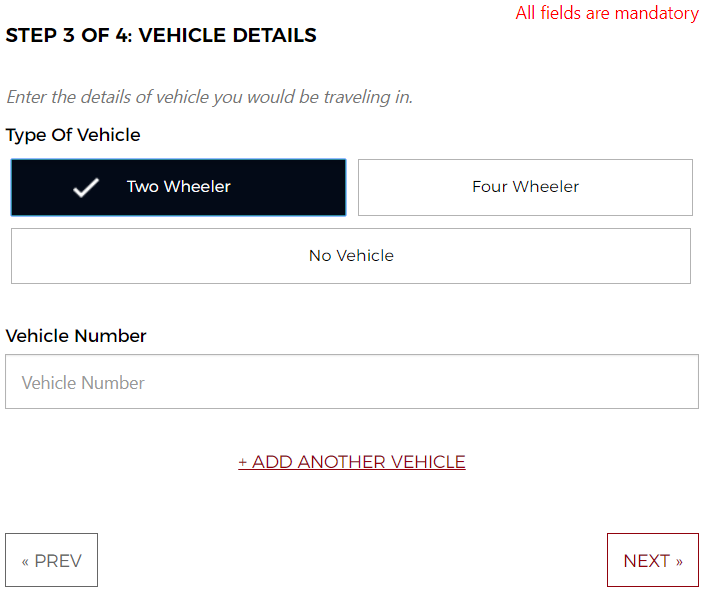 7. Then, you are taken to the Confirmation page to check your details. Once you have verified everything, you can click on 'Pay Now' button to proceed. You will be taken to the Axis Easy Pay website where you will have the option of paying using Netbanking or your Credit/Debit Cards.
After you make the payment, you will receive the permit in your email id which you can then take a printout of to show at the Great Rann of Kutch gate.
Things to Do In and Around Kutch
Now, once you reach Kutch, you might wonder what is there to see around here except for the wide expanse of white salt. Well, don't worry because there are several things for you to do here to keep yourself entertained and interested.
Here are a few top things that you should definitely try when visiting the Great Ran of Kutch.
Walk around the Great Rann of Kutch
One of the best and most amazing things to do in Kutch is to roam around the white desert. You will find several people over here doing the same. But don't worry, the white desert is so huge that you can easily find some peace and solitude from the crowd.
The white desert looks so intimidating as you move forward and away from the land. There is absolutely nothing to see for miles except for the white salt.
It makes you feel inconsequential and you truly understand what a small being you are in comparison to the entire world.
Take Cliched Photos in the White Desert
I love taking pictures and if you do too then this place is an absolute gold mine for photography. You can take numerous funky and creative pictures here and have an amazing photoshoot with different props and outfits. Trust me, even though you get a plain white background, you can really get a lot out of this backdrop.
For this, make sure that you take a good camera with you. I, personally own a Nikon D3300 which is 3 years old but still takes brilliant photographs. But it is not available anymore so you can check out Nikon D3400 or Nikon D5300 instead.
Staying in the Tent City or White Rann Resort
If you can afford then you definitely should stay in Tent City or the White Rann Resort. Both places are said to be one of the most beautiful and extravagant places to stay at. They offer numerous entertainment performances along with delicious meals and memorable souvenirs.
And since you stay near the salt desert, you can spend a long time in the Great Rann of Kutch and can also witness the moonrise and sunrise here.
Enjoy the Rann Utsav
One of the most famous parts about visiting the Great Rann of Kutch is its festive Rann Utsav.
Now, I won't say that it is the best thing to witness (I cannot say about the Tent City, it might be a little different inside it) but the little bit of it which I witnessed was like any normal mela (fete). You get to shop beautiful Gujarati attires and accessories and can gorge on the delicious Gujarati thali.
You also get to witness a local performance and have several stalls to admire and indulge in.
Overall, I would say that the Rann Utsav celebration outside the Tent City was like any ordinary celebration. So, it is completely okay if you decide to skip it altogether.
Witness a Beautiful Sunset
If you know me well then you would know by now that I am absolutely and irrevocably obsessed with sunsets. So you can imagine my excitement when I watched the sun setting in the White desert. I was absolutely blown away by that sunset and guess what? People can actually do paragliding in the area and have a heavenly view of the setting sun.
The whole sky had turned to a beautiful shade of orange and the white salt reflected a bluish tinge. I still can't forget how mesmerized I was by just looking at that sunset. 
Watch Cultural Performances in Kutch 
As I mentioned earlier, one thing that you cannot miss out on is the cultural performances in Kutch. This is the best way to get acquainted with the Gujarat culture and is quite fun to watch as well.
Now, you can choose to watch these performances in the Rann Utsav area. But I would advise you to spend time in the Tent City or the White Rann Resort to enjoy these performances peacefully.
In the White Rann Resort, they also play a game of Housie which is a great way to win some exciting prizes. And they also have Mehendi artists ready for any guests who wish to use their services, free of cost.
You will also be explained the various traditions and words of Gujarati people which will help you understand their culture a little better. And you can participate in the famous Garba dance as well while having a completely new experience. 
Visit Kalo Dungar 
Finally, don't forget to visit the famous Kalo Dungar (The Black Hills).
A lot of people might tell you that it is not worth it but trust me, the view is completely worth the long drive. You get to see the entire White desert and the Dholavira lake. Also in the distance, if you have binoculars or telescope, then you can even see Pakistan.
You can also enjoy a short trek here and can stay till the sunset to watch amazing hues!
Admire the Handicrafts at Nirona Village
One of the newer additions to things to do in Kutch which I was previously not aware of is a stop at the Nirona village on the way to Bhuj.
Why? Well, because this is one of the best places to purchase Kutch handicrafts. Here, you can buy the famous Rogan Art paintings by Gafur Bhai or you can get some amazing copper bells for home. Each art form practiced here is unique and quite interesting to watch.
This is one of the only places in Gujarat where you can buy Rogan Art as no one else practices it apart from Gafur Bhai's family. The work is exquisite, all by hand, and can often take 1 month to complete a piece.
The copper bells prepared here are made by hand, without the use of any welding tool which makes them really special. And the woodwork items are absolutely gorgeous to look at and will leave your inner shopaholic in a perpetual confusion of what to buy.
Overall, this is a good place to stop and learn about local art and buy some souvenirs for home.
Best Time to Visit Kutch



Ideally, November to March is the best time to visit Kutch as the water dries up in the area. So, you can actually witness the great salt desert. Also, the weather is more agreeable over this time and you also get to witness the Great Rann Utsav festival.
The Rann Utsav Festival is held every year from December end to February end, a happening time to visit Kutch. You get to eat amazing food and watch entertaining performances. And, you can also shop for amazing Gujarati dresses and accessories at a reasonable price.
Also, make sure that you travel to this place on a Full Moon or a day when the moonrise is a little early in the evening. This is because the white desert in the moonlight is certainly one of the most beautiful and magnificent sight ever.
Staying Options in Rann of

Kutch
Luxury Stay Options
If you wish to enjoy the complete Rann Utsav and Kutch luxury, then the best place to stay would be in one of the resorts/tent areas near the Great Rann of Kutch. Yes, it is an expensive option but trust me, the experience is completely worth the cost.
There are a few good places like the Rann Utsav Tent City, White Rann Resort, etc. where you can opt for a complete package. These packages include the stay, all meals, and complimentary sightseeing as well. You will enjoy cultural performances in the resort/tent city area, some souvenirs and gifts, games, and complimentary sightseeing to Bhuj as well. Plus, you don't have to worry about getting a permit anymore as these places arrange for it.
The package can cost anywhere between 8000 – 40,000 INR for a room (two people) depending on the dates of your travel and the duration of your stay.
Ideally, the cost of the stays during the full moon period is higher so plan your trip accordingly.
Budget-Friendly Option
If you are looking for more budget-friendly options near the Great Rann of Kutch, then don't worry. There are a lot of homestays and camping areas erected in the vicinity of 10-15 km that you can opt for. One such place is the Rann Homestay Resort where you can find a stay for 5500 – 6000 INR for two people including all the meals.
There are other hotels and homestays similar to this place which will charge you around the same range. If you choose one of these options, you would need to arrange your own permit for visiting the Great Rann of Kutch.
Stay in Bhuj
You also have an option to stay in some other villages around Dhordo. But again, the commuting would be a problem because there are no taxis, autos, etc. in this area.
However, the best option would be to stay in Bhuj and go to Kutch for day visits. You will find many cheap and good places in Bhuj to stay. And you can easily rent your vehicle from here too. I would recommend Royal Guest House, a clean and nice place to stay, costing around 400 INR per night per person.
You can check out for stays in Kutch or Bhuj for your desired dates using the below Search box as well.
In conclusion, I would like to say that your traveling experience is incomplete if you haven't been to the Great Rann of Kutch. Trust me, it is one of the most magical places ever and I have decided to go back to watch the moonrise because I missed it this time. *Sigh*