Duration in Kedarkantha: 5 days
Expenditure: INR 10,000/-
Kedarkantha – as soon as we got to know about this trek, we went off to see the marvelling upper Himalayan Ranges experienced snowfall on the very next day. So yes, this was an impromptu trip without any trekking communities. Rather we went with a local guide, which I feel was more comforting as it was only me and my close friends, making the trek memorable. Also, it was my friend's birthday as well, which we celebrated on top of the summit, amongst our close friends. It was quite an adventure. 🙂
Below is the guide that covers all aspects of the trek. If you want to go alone, or with a local guide or with a trekking organisation, this guide will help in the planning of your trip better, along with what all you need to pack for it. It also covers other aspects like cost and the stay options.
Bonus, there are local guide details with his contact number towards the end of the guide. He was the one who helped us with the summit.
Disclaimer: This article may contain links to our affiliate partners such as Amazon, Booking.com, etc. If you find our website useful, please consider booking through our links. When you do we earn a small percentage at no extra cost to you.
Best Time for Kedarkantha Trek 
December to March
I am suggesting these months as you will find the Himalayan ranges at its best with snow-covered peaks and snow pathways. The trees are covered in white snow patches, making it look like Christmas trees. The picture below will suffice the reasoning 🙂
Now it is not like Kedakrkantah should only be visited during these months, however, Kedarkantha is famous for its snow and winter views and hence I highly recommend you to go here during the winter season.
Although Kedarkantha trek happens all around the year. During the other months which is between May to November, you will cross meadows and dry lands. But the views from the summit will remain beautiful despite it.
Looking for some other trek options in Uttarakhand? Read our guide on – Valley of Flowers Trek: A Solo Trekker's Guide for Budget Traveling
How to Reach the Kedarkantha – Packages and Cost
Reach Dehradun Railway Station first. I will suggest you reach early in the morning so that you can catch the bus to Sankri which also leaves early in the morning. Timings are given as below –
Day 1 – Dehradun to Sankri
6,400 Ft.: 196 KMs
It depends on what mode of transport and comfort you prefer. The distance between Dehradun and Sankri is about 12 hours. Depending on your budget you can opt one of the three modes of transport as given below –
By Public Bus
There are two buses that leave from Dehradun to Sankri. One is at 5 AM and the other one is at 7 AM. It takes about 11 hours to reach Sankri and costs about INR 300/-. This was the breaking point for us because the bus also helped in reducing the cost of our trip a lot more
If you are late to catch the bus, do not worry. There are cabs running at 8 AM as well, costing about INR 600/-
Private Taxi
A Sumo/Max can cost INR 5000-6050/- and will take a lesser time as compared to the other modes of transport
Sankri Entry Charges: As we entered the village we had to pay INR 150/- per person for 3 days. Also, if you are on a private group tour, you have to pay an additional INR 200/- per person for pitching of the tents, plus INR 50/- for an additional day
Stay: We reached Sankri later in the evening and stayed at Rawat Homestay where we met our local guide who is a gem of a person. They served us food and provided all the amenities to us in just INR 200/-. The rooms were clean and had a common washroom for all the tourists staying there. The washrooms were cleaned frequently. It certainly gave us a raw feeling of the mountains
Three-Day Package
We took the Kedarkantha trek package at Rawat Homestay itself that cost us INR 7,000/- per person. I would highly recommend this package because it had everything. From camp stay to food to guide, we could not have asked for more.
Day 2: Sankri to the Base Camp (KK Base)
11,000 ft.: 7 KMs, 4-5 hours
We started early in the morning from Sankri and after reaching half-way we took our first pit stop. Also, this was the only pit stop on the way to the base camp. We had Maggie and tea (INR 80/-) and this is when it actually started to snow as well. 
As we moved further, we came across Juda ka Talab (9100 ft.) one of the most famous highlights of Kedarkantha trek. We had a break here, had lunch and moved again towards the base camp. Our guide had made all the arrangements here for us before only. The other porters who left before us had our camps set up along with their main wooden hut where we had tea and snacks. We had a bonfire as well to ourselves.
During the night, we were also given a warm home-cooked dinner; rice, chapatis, vegetables and tea. It felt like home away from home. 🙂
Day 3: Base Camp – Kedarkantha Summit – 

Base Camp (KK Base)
12,500 ft.: 3 KMs x 2
Honestly, the trek is easy until you reach the last KM. That 1 KM is steep. 
It took us approximately 3 hours to reach the summit from the base camp. You will also find a pitstop half-way from the base camp where we again had Maggie and tea.
We sat down on the summit for almost an hour before leaving. It was almost noon when we reached back again to our base camp. The feeling of accomplishment was shining brightly on our faces and the entire evening we talked of nothing but about the trek right beside the bonfire inside the wooden hut.
Note that, try to leave for the summit early in the morning, at 4 AM so that you can catch the sunrise at the summit. It is one of the most surreal experience to have.
Day 4: Base Camp to Sankri
7 KMs, 3-4 hours
To reach back to Sankri we started early in the morning the very next day and took a different path this time. The best thing about taking another route is that you get to see a different kind of views and meadows and coming down does not feel a waste of effort and redundant.
It was beautiful to see the mountains from another angle.
Day 5 – Sankri to Dehradun
This is the day when you would have to leave Sankri (if you do not want to spend more time here, that is). From Sankri you can either take a cab or a bus. Buses are not that frequent. Below I am mentioning the prices and duration of transportation –
Cab: Will cost around INR 5000-6050/- and takes 6-7 hours to reach Dehradun from Sankri
Bus: Buses start early in the morning at 5:30 AM and then at 8:30 AM. It costs as low as INR 250/- and taken 8-9 hours to reach Dehradun
Difficulty
Kedarkantha is not a hard trek. During the summer season, it is rated as an easy one and during the winters it is rated as a moderate trek. I know many people who have done this trek solo and also in just a day! But if you are not a mountaineer who has done both BMC and AMC I would say not to risk yourself. Mountains are beautiful but also a rash step can make it dangerous as well.
The Kedarkantha trek starts at around 6,000 ft and rises to 12,500 ft. The trek to Kedarkantha climbs at a comfortable pace, and you gain just around 1500 ft every day. Even the trail is not difficult to climb. Mostly you would have to cross forest areas which are well marked and even solo trekkers can navigate the trail easily.
The climb to the Kedarkantha summit is covered in snow in winter and this might be a little tricky without a guide.
Trekking to Kedarkantha for the first time, this guide will help you – 11 Incredible Trekking Tips To Help You Through Your First Trek
Shop My Photography Gear
Useful Essentials for Kedarkantha Trek
Since the temperature goes down to negative 10 degrees and also the place is secluded, it will be best to have the below essentials for this trek. I am also giving links to several products that would help in your purchases. 
Clothing
We wore six layers of warm clothes. Yes, it was that cold!
Thermal Inners: This should be your base layer and have a good quality thermal to wear for this one. Thermals trap your body heat and keep you warm. Further, they do not take that much space as well in your backpack
Fleece:

Fleece is a great way to protect you from cold. I personally love

Decathlon

products to this regard
Down Jacket:

Have a good warm down jacket that is water resistant as well as withstands negative temperatures. This helps in further trapping of the heat
Trekking Shoes: This is very essential, especially if you are going to trek Kedarktnatha in the winter season. Ensure that you have proper winter shoes that have a grip in the snow. My favourite one is below that I wear in all the treks
Windproof/Waterproof Track Pants: Your lowers are very prone to getting wet as you might have to walk in snowfall. Or worse, if you are going during the monsoon season
A Raincoat or Poncho: If it starts to snow, you would be needing a poncho or a raincoat to avoid getting wet. Imagine the combination of being wet and in cold at the same time. Terrible! You would also need a rain cover for your backpack if it is not waterproof.
Gloves/Muffler/Woollen Cap: 

All these are essential. During treks, especially in winters, it is important to keep your head covered. Further, correct gloves will ensure that your hands do not get wet due to snow. Avoid wearing woollen gloves as it traps water and will, in turn, make you feel colder. Consider buying the below one – 
Socks: at least 5 to 6 pairs; at times you might have to wear a double pair to keep warm. Merino wool is the best and the warmest socks that I have tried lately. You can buy merino socks from the link below –
Electronics
BSNL/MTNL Sim: Other connectivities won't work
Torch: Head torch is the best and can be purchased from Decathlon

Power Banks/Extra Batteries
Toiletries
Hand Sanitizer

Paper Soaps

Tooth Paste/Tooth Brush

Towel/Toilet Paper

Lip Balm

Sunscreen

Moisturizer
Additional
Day Pack Bag

UV Sunglasses

Water Bottle

Trekking Pole:

A trekking pole is not mandatory but most of the trekkers do use it to increase their stability

Raincover:

For your backpacks make sure you have a rain cover. If you have gadgets and electronic things and your backpack is not waterproof it can damage all your necessities –
Small Towel:

You will not be able to shower in Chadar so carrying a huge towel will not make sense. Pack a towel which is light and small ones for your daily activities
Slippers:

Do not forget to pack good slippers. For quick errands out the tent, you will not like to wear your shoes again and again
Also Read: Chadar Trek – Packing List Essential
ATM and Mobile Connectivity in Kedarkantha
Mobile: Carry a BSNL/MTNL sim as Vodafone and Airtel or any other connections won't work here. Our MTNL worked only till the Sankri Base Camp
ATM: There are no ATMs in Sankri or post that, so we would suggest you withdraw the cash in Mussourie/Dehradun itself
Birthday Celebrations
Is it the birthday of your loved one? But how can someone get a cake during the trek or in camps where there is no commercialisation whatsoever?
We thought the same, but when our Guide Bhaiya got to know that there is a birthday boy in our small group they surprised us by making a cake for him out of milk, suji, and Horlicks.
They told us that there is an option of pre-ordering it and baking and surprising the person with this.
So yes! You can ask them to bake a cake before.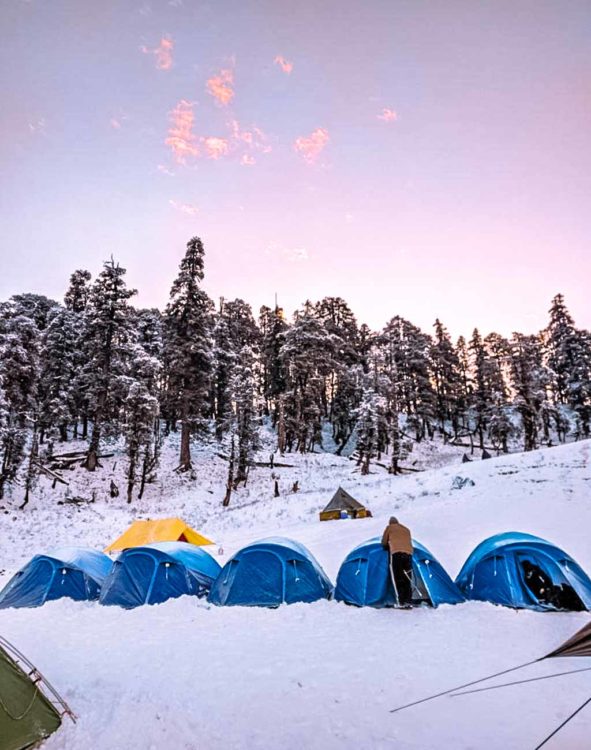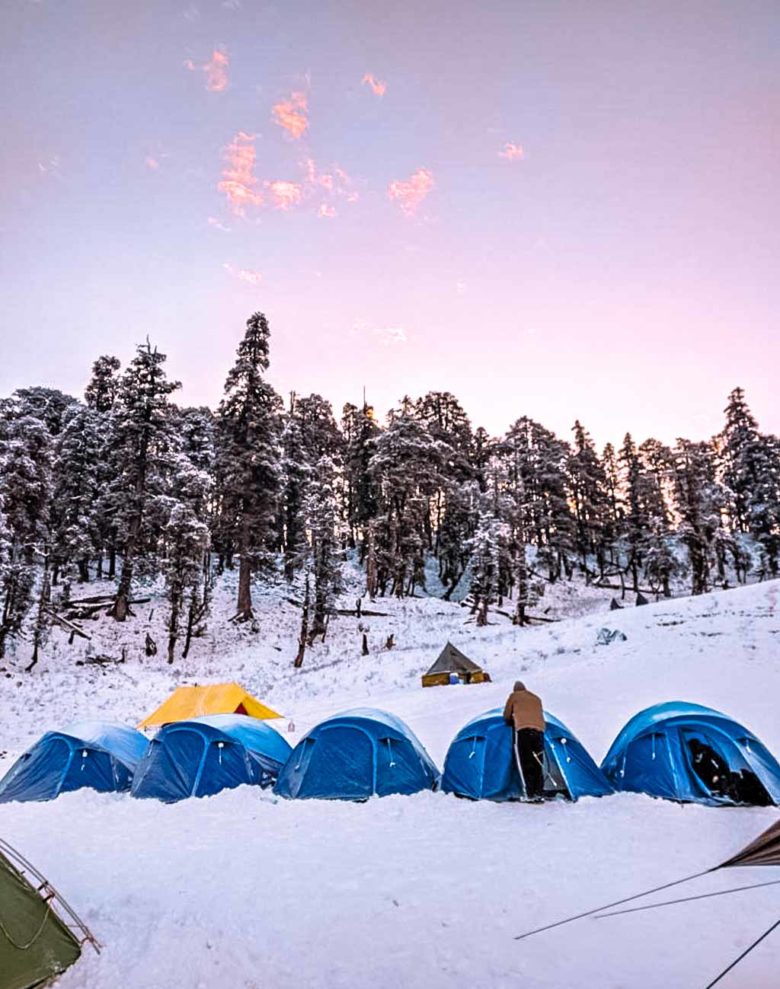 Guide Details
Name: Gajendra (Gaj) Bhaiya
Contact Details: 09410506084
Gajendra (Gaj) Bhaiya was our guide. All you need to do is contact him, he is the best!
Once you reach the summit, nothing can beat that feeling. You see a 360 degrees view of the mountains standing tall, distant glaciers, snow across and below and when the sun kisses you after long hours of trekking, you sit there for a while and breath in the beautiful air and let the feeling sink in. It's beautiful!