Duration – 10 Days
Delhi – Manali – Keylong – Jispa – Sarchu – Leh – Pangong Tso – Nubra Valley – Srinagar
There are two common itineraries that traveler follows to reach Leh – from Manali and another one from Srinagar. I am providing a comprehensive Ladakh Itinerary that you can follow, as well as a Leh Ladakh map along. I am also talking about the bus schedules if in case you want to explore this hill station at a minimum cost.
Manali is chosen for many reasons as the start point. Travelers find this route very beautiful and this route also provides access to bikers to easily rent out or hire bikes from Manali.
From mighty mountains to cold desert, this route is scenic and worth the visit. But please be a responsible traveler and ensure that you leave nothing but just your footsteps behind. Please take back all the plastic and waste with you.
Below is a step by step 'Leh Ladakh Map' (from Manali to Leh) to help you plan your Ladakh tour a little better –
Disclaimer: This article may contain links to our affiliate partners such as Amazon, Booking.com, etc. If you find our website useful, please consider booking through our links. When you do we earn a small percentage at no extra cost to you.
Day 0 – Leave from Delhi
There are daily buses that leave from ISBT Kashmiri Gate of Delhi to Manali. You need to reach Manali to acclimatize your body to get used to the high altitude.
You can also take the private buses from Majnu ka Tilla.
Bus Duration from Delhi to Manali – 14 hours
Distance between Delhi and Manali – approx. 600 KMs
Day 1 – Acclimatize Yourself in Manali
Note – Rohtang Pass is closed every Tuesday for maintenance.
The major reason for staying in Manali for a day, instead of heading to Leh directly is to get acclimatized. Moreover, since people from cities are not used to high altitudes and low oxygen, staying in Manali for a day helps. After reaching Manali somewhere around 8 AM, freshen up and start exploring. There are many things you can do, either go to the hidden gems, or explore Old Manali, or trek to Jogni Falls.
Furthermore, you can also rent bikes from here.
Permits
The Rohtang Pass lying on the Manali Leh route is so vulnerable that the government keeps changing rules to pass through Rohtang Pass. NGT enforced the restriction in 2011 and currently, you need to obtain the permit to visit the Pass. Hence, please respect the environment and keep it clean – let us preserve Rohtang Pass with all our small efforts 🙂
Types of Permits of Rohtang Pass
Just to Visit Rohtang – There is a certain restriction in the number of vehicles that can go to Rohtang for tourism purpose
Beyond Rohtang Pass to Leh – No restriction on the number of vehicles
Ways to Get the Rohtang Pass Permits
Getting the Rohtang Pass Permit Online –

You can apply for the Rohtang Pass permit here –

link. And as per the website, you cannot cross Rohtang Pass on Tuesday as the Pass is closed for maintenance.
Getting the Rohtang Pass Permit Through Mobile App – You can easily download the 'Rohtang Permit' application on both Android and iOS devices
Getting the Rohtang Pass Permit in Person – You can get the permit from SDM office or Tourist Information Center

Opening hours – 10 AM to 8 PM every day
Accommodation in Manali
https://www.instagram.com/p/Bbt4iXVlVAo/?taken-by=unravelling_travelling
Manali – Rohtang Pass – Gramphoo – Tandi – Keylong – Jispa – Darcha – Patseo – Zingzing Bar – Baralacha La – Sarchu – Nakee La – Lachulung La – Pang – Tanglang La – Upshi – Karu – Leh
Day 2 – Manali to Keylong
Once you have sorted out your permit leave for Keylong from Manali. In Keylong is that here you will get many options for accommodation. Staying in Keylong of Jispa is essential to get you acclimatized. You attain height from Manali to Leh very quickly, so the slower you go the better it is.
Road Condition – The road till Rohtang Pass is really smooth, but after Rohtang Pass, the real challenge begins. The road becomes really rugged from here
Duration from Manali to Jispa – 5 hours
The distance between Manali and Jispa – approx. 120 KMs
Manali to Keylong Bus Timings
There are two types of bus services running from Manali to Leh – budget and luxury, run by HPTDC and HRTC respectively.
Both of them take two days to reach Leh, that means you have to automatically stop in Keylong for an overnight stay.
HPTDC Bus Service
This is the luxury bus whose fare is obviously higher than the HRTC bus. However, the best thing about this bus is that your stay in Keylong is included in the fair itself.
Accommodation at Keylong – Hotel Chandrabhaga where tents are set up in the lawn area
Fare of HPTDC Bus – INR 2,900 /- (including accommodation and 3 times meals); a one time payment till Leh
Timings of HPTDC Bus –  The bus leaves at 10 AM from Manali and reaches by 5 PM in the evening
HRTC Bus Service
There are several HRTC buses from Manali to Keylong which are budget friendly as well.
Fare of HRTC Bus – INR 150/-
Timings of HRTC Bus –  The first bus leaves at 4 AM. Prior to this, there are regular buses to Keylong until 1 PM
Accommodation in Keylong


Read our tips on solo travel here – link.
https://www.instagram.com/p/BlGLAx2lbuV/?taken-by=unravelling_travelling
Day 3 – Keylong to Sarchu to Leh
This is the most challenging day of the entire Ladakh trip. The roads have so many pins and there is a sharp rise in the altitude from Sarchu onwards. There are many stoppages you can take in between to eat. You can stop either at Sarchu or at Pang.
You will cross over Baralacha La, Lachuchulung La, Nakee La, Taglang La passes
Duration from Jispa to Leh – 10 hours
The distance between Jispa and Leh – approx. 340 KMs
https://youtu.be/7_n3mCw-3RQ
Keylong to Leh Bus Timings
HPTDC Bus Service
HPTDC provides a service of a semi-deluxe bus which provides a comfortable journey. 
Timings of HPTDC Bus – From Keylong, the bus leaves the next day at 5 AM and reaches Leh at 7 PM. The tickets can be bought on mall road, Manali.
Fare of HPTDC Bus – INR 2,900 /- (including accommodation and 3 times meals); a one time payment from Manali till Leh
HRTC Bus Service
HRTC bus will be the cheapest most of transport to opt.
Timings of HRTC Bus – From Keylong, the bus leaves at 5 AM and reaches Leh at 7 PM
Fare of HRTC Bus – INR 500 for Keylong to Leh
Accommodation in Leh
Day 4 – Exploring Leh

 
Leh has many points and adventurous activities which you certainly do not want to miss. Start early again and explore
Shanti Stupa,

Leh Palace,

Gurudwara Pathar Sahib,

Hall of Fame,

Enjoy rafting on the Zanskar river
How to Travel Inside Leh City
The best way is to rent a scooty or a bike to ride to the nearby places. The cost of renting is INR 1000 and can be easily rented from the main market
Leh Ladakh Permits
Residents of J&K state and children below the age of 12 years do not need a permit. You can show just your valid photo proof ID and you are good to go 🙂
Further, have at least 10 photocopies of your permit as the check posts will ask you to show the permits whenever you visit these inner line places.
For Indians – Inner Line Permit
The need to take a permit to visit the places in Ladakh was established in the year 2017. Since then several new and easy ways have been incorporated for the ease to take these permits.
Cost of the Permit – Environment fee of INR 300, Red Cross Fund fee of INR 100 and Inner Line Permit fee of INR 20 per day per person
Where to Apply – You can obtain the Inner Line Permit online – link
For Foreigners – Protected Area Permit
Protect Area Permit (PAP), can only be applied in a group at DC Office, Leh through a registered Travel Agent in Leh. You can also apply it online, however, only in a group
Tip for Solo Travelers – If you are traveling solo, do not worry. Registered travel agents can help you with the groups. You will get the permit and still travel around solo
Duration of PAP – Seven days; if you need to extend your stay then you need to re-apply for the PAP
Where to Apply – You can obtain the Inner Line Permit online – link. If you want to apply it offline then please download the form here – Protected Area Permit Form and Application.
A Few Tips for Leh
You can divide the day in this order – Shanti Stupa, Hall of Fame, Gurudwara Pathar Sahib, river rafting, Leh Palace, and monasteries

Try to reach Gurudwara Pathar Sahib by noon so that you can have langar

Rafting takes approximately 1-1.30 hours

The entry for Hall of fame is only till 6 PM. So manage your time accordingly
From Leh, you can also go on Markha Valley trek, a beautiful however difficult trek that starts from Leh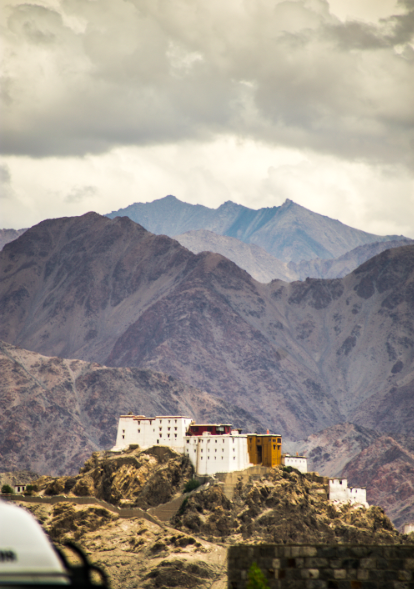 Day 5 – Leh to Pangong T­­­­so
Leh – Karu – Sakti – Chang La – Durbuk – Tangste – Lukung – Spangmik 
Again leave from Leh early in the morning to reach Pangong Tso –
Cross Hemis, Thicksey and Shey monastery on the way

Enjoy the view of Sakti Village on the way – the greenest village I have seen in Ladakh yet
Cross Changla Pass, the third highest motorable road in the world

Stop at Changla Pass and enjoy good views with snacks and tea
Stuff a lot of warm clothes. Changla Pass is no joke the temperature drops significantly and be prepared with windcheater and gloves
Duration From Leh Pangong Tso to Pangong Tso – 6 hours
The Distance Between Pangong Tso and Leh – approx. 230 KMs
Camp overnight near the lake, in (Spangmik or Lukung). You will be able to find many camping areas, along with the entire stretch of the lake. So accommodation is not a problem here during the season. However, these camps are only for the months of June – September. If you are visiting Pangong in any other month and still want to camp, carry your tents here.
Bus Services from Leh to Pangong Tso
Bus from Leh to Sakti (via Hemis, Thicksey, and Shey) – 8.15 AM, 1.30 PM, 2.30 PM, 3.30 PM, 4.30 PM
Bus from Leh to Pangong Tso – Every Saturday and Sunday at 6:30 AM, Cost: INR 256
Shared taxi to Pangong Tso – You can also opt for shared taxis and will be able to easily find one without any hassle. There are many shops and cafes with fliers that provide you with shared taxi options. This is essential when you are traveling solo in Ladakh. The cost of a shared taxi would be INR 1800 to Pangong Tso
Accommodation in Pangong Tso
https://youtu.be/KLrvD11OTso
Day 6 – Pangong Tso to Leh
It will be better again to leave early from here, however, do not miss the sunrise. I suggest you leave early because if in case you missed any spot in Leh the previous day you can easily cover on this day instead.
Bus Services from Pangong Tso to Leh
Every Saturday and Sunday a direct bus leaves from Leh early in the morning at 6 AM for Pangong Tso. This bus reaches late in the afternoon and has an overnight halt. So you do not have to worry about not catching the bus the next day.
The bus has no advance booking system. Reach the Leh bus stand early morning and book the tickets that time itself.
Day 7 and 8 – Leh to Nubra Valley and Back
Leh – South Pullu – Khardungla Pass – North Pullu – Khardungla Village – Khalsar – Sumur – Panamik – Warshi – Dikshit – Hunder – Thoise – Bukdang – Turtuk
Start early from Leh and stop at South Pullu. The view is really good from here also the roads are really nice. Despite the slope and reaching a very high altitude at such a short span of time, you won't feel sick on this pass.
At South Pullu, submit copies of the permit. Take more than one copy with you all the time, since you will be required to submit copies at several check posts.
You will cross the highest motorable road in the world this time – Khardungla Pass.
Road Condition – From Khardungla Pass the road is really bad and rugged. But it is only for half an hour of a distance. You will have your best ride on this stretch. The roads are so amazing and lovely to ride on.
Warshi is the last village until the tourists are allowed. From here take a U-turn to visit the Dikshit Monastery. After this, take the other route towards Hunder to reach Turtuk. On this route, Turtuk is the end village accessible by civilians on this road
The distance between Leh and Khardung La – 39 KMs
The distance between Khardung La Warshi – 90 KMs
Bus Services from Leh to Nubra Valley
The bus runs on three days to Dikshit Monastery – Tuesday, Thursday and Saturday and leaves at 6 AM. It returns the next day from Dikshit Monastery at 7 AM.
There is also a bus for Sumur and Panamik every Tuesday and departs from Leh at 6 AM.
Accommodation in Nubra Valley
Day 9 – Leh to Srinagar
Leh – Nimmu – Khalsi – Lamayuru – Fotu La – Namika La – Mulbekh – Kargil – Dras – Zoji La – Sonamarg – Kangan – Ganderbal – Srinagar
You can take two types of buses from Leh – either the government one, which is operated by Jammu and Kashmir State Road Transport Corporation or the private ones.
Time – The bus leaves at 2 PM and will reach by 7:30 AM the next day. The bus takes very fewer breaks and completes the entire journey in about 18 hours
Cost – The private bus operators charge between Rs 1000-1500
I hope this Leh Ladakh Map was helpful. Do comment below if you have any questions regarding the Ladakh Itinerary. We love to answer questions! 🙂