Duration – 4 days
Meghalaya, also known as Cloud Home, is divided into seven major districts – East Garo Hills, East Khasi Hills, Jaintia Hills, Ri-Bhoi, South Garo Hills, West Garo Hills, and the West Khasi Hills. If you are planning to visit Meghalaya, then you should know that this is a peaceful state and is not commercialized. Why?
Well, because for the most part of history it has remained cut off from India due to ethnic problems. But what entices travellers to come and see here is the mass of green found everywhere where you set your eyes. It is known to be the world's wettest region and is also the home to the famous Living Root Bridges. This travel guide will help you plan your trip to Meghalaya in the most accommodating way.
I travelled solo here and if you are fretting over how safe the place is, rest assured, there is nothing to worry about. This state will make you feel at home and you would wish that only if you could stay here forever.
Disclaimer: This article may contain links to our affiliate partners such as Amazon, Booking.com, etc. If you find our website useful, please consider booking through our links. When you do we earn a small percentage at no extra cost to you.
How to Reach
Now you can take a direct flight to Shillong (the capital of Meghalaya). But the flights are way expensive if compared to the Guwahati ones. To cut cost I would suggest you reach Guwahati first and then drive to Shillong. More on it below.
Reach Guwahati first
Flights
Shillong has a small airport at Umroi but there are few direct flights to Shillong. You will also notice that the flights are quite costly due to the low-frequency. So, instead of checking for Shillong flights, you should check for the Guwahati flights as it will be more economical for you.
Trains
The nearest railways station to Meghalaya is Guwahati Railway Station. You can check the train timings and cost for trains on www.irctc.co.in with respect to the state you are coming from.
Reach Shillong
It takes about 2-3 hours to reach Shillong from Guwahati Aiport. Below, I will talk about both public services and scooty options for your trip.
Scooty
The distance between Guwahati and Shillong is about 100 KMs so you can easily rent a bike (which I did) and drive to Shillong. The highway is breathtakingly gorgeous so trust me, you won't regret it. You can rent bikes from Guwahati as well as from Shillong at an economical price. There are many websites and stores that cater in this business.
Bus
Below, I am giving information on both the routes to Shillong's main bazar – police bazaar, from Shillong airport and Guwahati airport.
From Guwahati Airport
Shared cabs are available right outside the airport connecting to Shillong. It costs about INR 300 per passenger from Guwahati Airport to Shillong's Police Bazaar from where you can get a ride to almost any part of Shillong.
Airport transfer services cost about INR 250/- and leave the airport at 2:00 PM and 4:00 PM. Tickets are available at Tourist Information Center, Police Bazaar and Meghalaya Tourism Information Center, Guwahati Airport.
Note: From Shillong to Guwahati airport the bus leaves at 6.30 AM and the other one at 9.00 AM
From Guwahati Railway Station
If you are travelling by train, you can get a taxi from Kamakhya Railway Station itself or go to Paltan Bazaar instead. The cost from Paltan Bazaar is INR 170. Taxis run frequently from here and you can book a seat for yourself right there.
From Umroi or Shillong Airport
Umroi airport is 35 kms from Shillong. There are regular services of buses and shared cabs from Umroi airport. You can also find MTC bus service that is a 28-seater bus which costs about INR 100/- and runs on every Tuesday, Thursday and Saturday. You do not have to worry about the timings of these buses. They depart from Umroi after every arrival of the flight from Kolkata.
Note: From Shillong, the bus leaves at 11 AM for Umroi airport.
Nervous about travelling solo? Here are a few tips that will help you – Nine Solo Travel Tips to Adopt in India 
Things to See and Itinerary
Day 1 – Explore Shillong
After reaching Shillong, best would be to find a hotel in the Police Bazar. There are many options to stay here, plus it is the main market of this hill station. You will be able to find all the amenities here and if in case you would like to buy something, you will easily get it. Although, the place is a little crowded though. You can also find street food to eat and roti with vegetables just for INR 20/-. (YES!)
Accommodation
If you are travelling on a budget then you can stay at the Isabella Travellers Hostel in Shillong. This place costs around 360 INR per night for a bed and offers free WiFi facility as well. You can book your stay by going to this link – here.
Places to See in Shillong
After placing your bags and taking rest, head out and explore the places below which are in Shillong and can be covered in a day –
Umiam Lake 
This lake comes on the way from Guwahati to Shillong and looks immensely gorgeous during the sunset. If you wish then before going entering Shillong, you can stop here and sit beside the lake. But if your backpack is heavy, then the lake is not that far. You can easily return back from the Police Bazar.
This lake was originally constructed as a part of Hydel Power project, it has now become a tourist destination. You can witness a gorgeous reflection of the sky and take amazing pictures of both sunset and sunrise. It is a very picturesque place.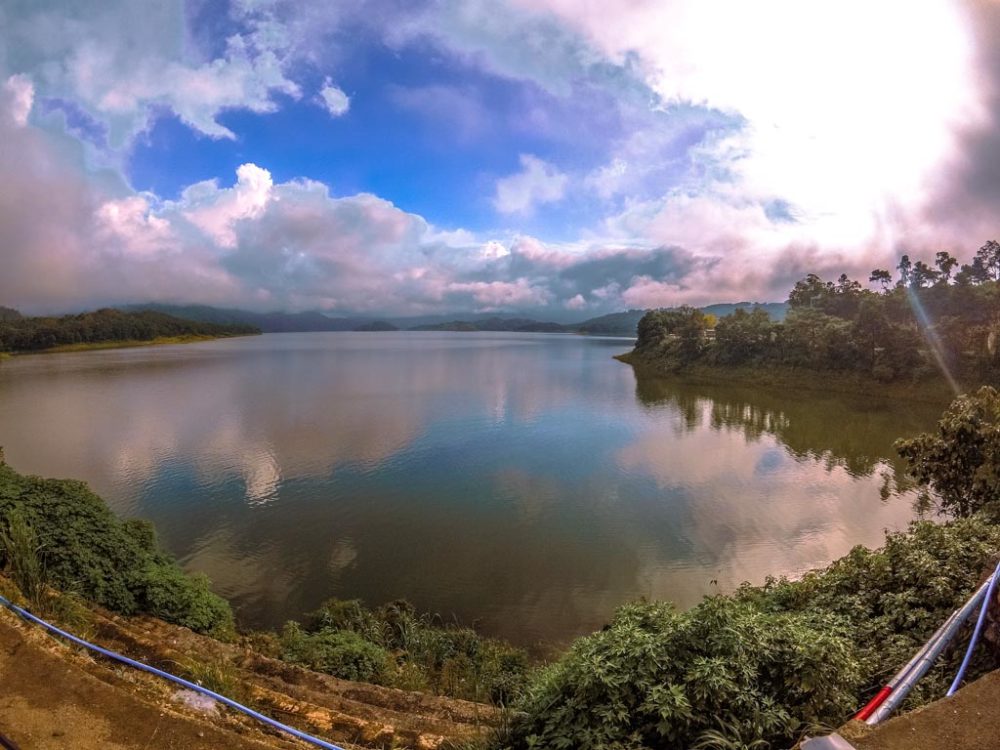 Shillong View Point
After Umiam lake, you can move to this place which lies 10 KMs from Shillong and is also the highest point in Meghalaya. You can see the panoramic view of the city, from up here along with the cascades of waterfalls; completely gorgeous and breathtaking!
Elephant Waterfalls
This gorgeous waterfall is located 12 KMs from Shillong and is shaped in the form of steps. It is said that this name was given by a British officer. While visiting this place he saw a rock here that resembled like an Elephant. Hence the name, 'Elephant Waterfalls', but sadly, this rock got destroyed in an earthquake. Due to this the structure of the Elephant is not visible anymore.
After this return back to the hotel and relax as you have to leave early in the morning the next day. It is best to have dinner by 8 PM since post 9 PM everything starts to get shut down.
Day 2 – Shillong to Cheerapunji
Leave early in the morning the next day and head out to Cheerapunji. Last stop is the Double Nongriat Village. The drive is really serene and full of green and I am sure you will stop a lot on the way itself to soak in the beauty. During my time, it started to rain, but luckily I had a raincoat to cover myself up and my Backpack was waterproof, hence I still drove in the rain. Best feeling ever!
How to Reach Cheerapunji from Shillong
There are shared taxis that run from Bada Bazaar of Shillong. Although if you have rented out a scooty then this won't be a hustle for you.
Accommodation
'By The Way' hotel which is the cheapest and is quite close to the Seven Sister waterfalls. If you wish to check out other stays here, go to this link – here
Places to See in

Cheerapunji
Mawkdok Valley
Mawkdok Valley left me speechless with its beauty! This valley is charming and the serenity surrounding this place will completely blow your mind. The valley is extremely green with the dense plantation that stretches across the entire highway. When I reached here, the entire valley was covered with clouds, making it heavenly to look at. Also, you can also engage in zip lining over here.
This place comes right on the way and is right beside the main highway that leads to Cheerapunji. In fact, you can also do zip lining here.

Insider: If you will move a little ahead, you will also find several tea stops. Over here, the number of tourists are less as comapred to the main point of Mawkdok Valley. But do not worry, the view is absolutely gorgeous from here as well and more peaceful.
https://www.instagram.com/p/BXRn7xmFe0O/?taken-by=unravelling_travelling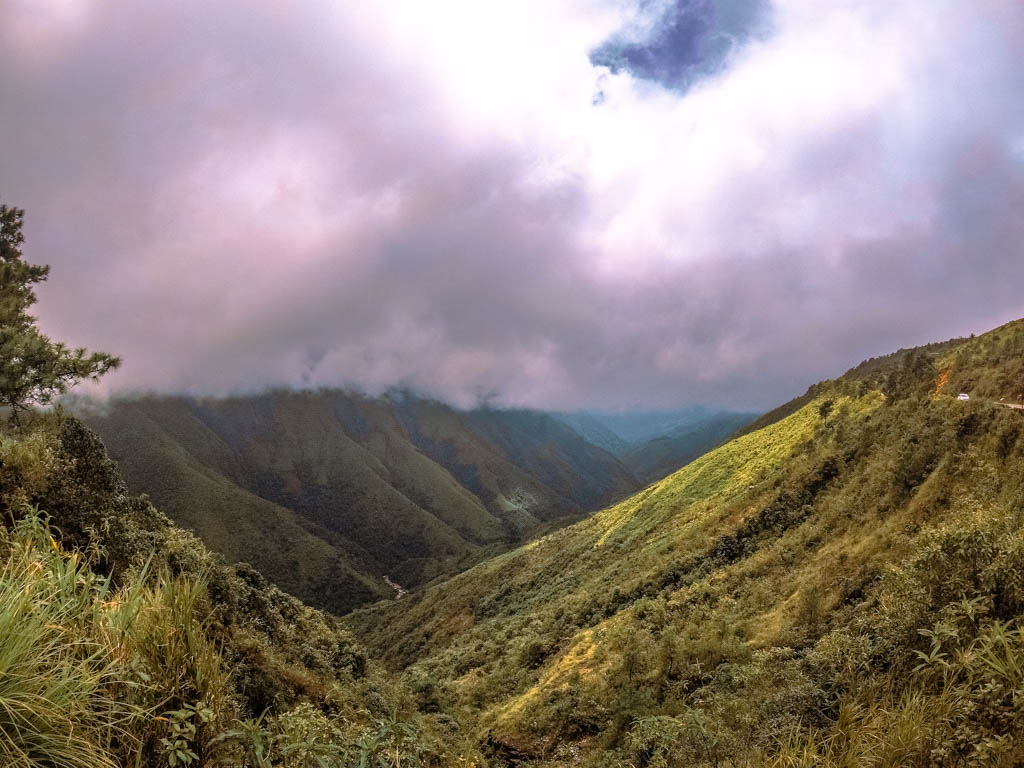 Nohkalikai Waterfalls
From Mawkdok Valley move witness these gorgeous waterfalls! It will be almost an hour ride from the Valley. Once you reach, you will be asked to pay minimal entry charges to see the waterfalls. These falls have an interesting story behind its name.
The story goes something like this –
There was a young woman named Ka Likai who had a daughter from her earlier marriage and had married for a second time to a new guy. Her second husband loathed his step-daughter. So, one day when Likai returned home after work from the fields, she was surprised to see her husband had prepared the evening meal and even served it to her. Likai ate the meal without any suspicion until she discovered her daughter's finger in the betel nut basket. Distraught with grief and remorse, she rushed to the nearby cliffs and threw herself from the end of the precipice adjoining the waterfalls. The falls has ever since been known as Nohkalikai which means the "Leap of Likai".
Seven Sister Waterfalls
Take a U-Turn and go to see the Seven Sister Waterfalls. Here, you can first find a place to keep your backpack (Details below) and can head out towards the falls. These falls can be seen from the roadside parking area itself. You can eat Maggie and have a hot cup of 'Chai' here and can peacefully enjoy the serene view from the road.
Garden of Caves (Laitmawsiang)
If you want to explore a remote place in Meghalaya and have a little time in hand then this is the exact place you should go. It is in a silent village, Sohra and the entry charge for this place is just for INR 20, with an additional INR 20 for the cameras. It is the least explored places with lesser tourists here. To reach here, one has to take a detour from the main highway and enter a remote village to explore this place.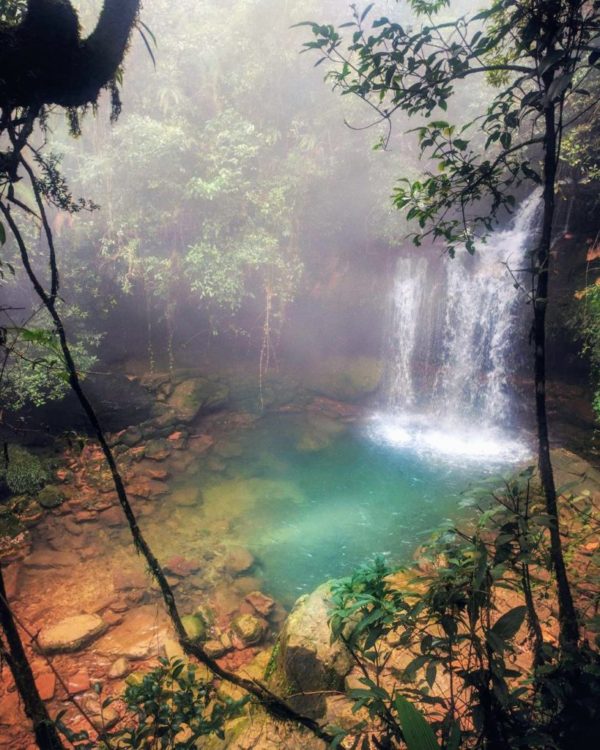 Want to explore a few more remote places? Read this article – 5 offbeat places in Meghalaya
Day 3 – Double Decker Living Root Bridges 
If there are any marvellous wonders around the world, then Nongriat Village is surely one of them. The village is a man-made wonder where the Ariel roots of Banyan tree are spiralled and twisted together to form a sturdy yet completely beautiful bridge.
Located in Meghalaya, it has around 3,000 steps one way. Towards the end of the bridge, your legs will start shaking because it is not easy to climb up or down from it.
Below, you will find all the details of how to reach this place, where to stay and a secluded waterfall named Rainbow waterfalls.
How to Reach 
Shillong – Cheerapunji – Tyrna Village – Trek to Nongriat – Double Decker Living Root Bridges – Rainbow Waterfalls
Reach Tyrna Village First
By Scooty/Bike: I rented an Activa from Awe Rides that charged me INR 650 per day. There are parking facilities available in Tyrna Village so you can easily get your own vehicle to reach here
By Bus+Private Cab: You can also take a government bus to Cherrapunji which starts from Police bazaar in Shillong. This will cost you around INR 350 or you can also take a shared taxi from Anjali Cinema Taxi Stand till Tyrna Village. Well, if you are opting for a shared cab till here directly from Shillong, then you would miss out on the places that are mentioned above. Renting a scooty is actually a win-win situation, but if you do not know how to ride a scooty, buses are your best friend
Reach Nongriat Village 
From Tyrna Village, the trek starts till Nongriat Village where you have to climb down around 3,000 steps. There will be pit stops on the way from where you will be able to buy food items and water bottles. You will also come across two suspension bridges made of iron rods on the way.
Insider: Once you will reach here, locals will start pitching their guide skills to you. There is no need to take a guide for this place as the pathway is very simple and straightforward. In the Tyrna parking area, many people will force you to take a guide. Do NOT get convinced.
Accommodation
I stayed in the Serene Homestay which is run by Byron and his family and would suggest that you stay with them too. Trust me, you will just love their hospitality and the environment. For just INR 300, they provide you with hot water, food and a comfortable bed every night. You can contact Byron at – +91 9615252655 and book the stay for your visit too. Although most of the times his number is not reachable as Nongriat village's connectivity is very poor.
Connectivity
In Cheerapunji connectivity is really good. It is good in entire Meghalaya, to be honest except for Nongriat Village. Expect a loss in the network once you reach this village.
Places to See 
Double Decker Living Root Bridges 
Once you enter the Nongriat Village, the double-decker living root bridges is just 50 steps walk from the Nongriat village which is built by the Khasi tribe. You can take a dive in the river and swim, which will instantly make you feel like you are home again.
Rainbow Waterfalls 
If you want to explore the village further then you can trek for another hour. On a bright sunny day, you will be able to see a rainbow formation on the clear blue water from this place. From Nongriat Village, I took a guide to this place who charged me INR 300.
https://www.instagram.com/p/BfqWgAjFnJH/?taken-by=unravelling_travelling
Day 4 – Nongriat Village to Dawki 
Today, leave early from the Nongriat Village and start hiking. The drive from Tyrna Village to Dawki is for three hours. This is in the Jaintia Hills district and has a famous river Umngot, that lies between the India and Bangladesh border. The water is so clean that you can see the rocks inside the river and you can take a boat ride here to enjoy the clear river water. You can also see Bangladeshis standing across the border.
How to Reach Dawki
Finding a shared taxis from Cheerapunji to Dawki is impossible. You would have to take a private taxi that would cost about INR 3,000. Ideal if you are travelling in a group but not when you are solo! Hence renting out scooty is the best option.
However, if you have extra time in hand you can head back to Shillong, explore Shillong for a day and take a shared taxi from Anjali Cinema Taxi Stand.
Accommodation
You can contact a homestay in Shnongpdeng – 9615762788, which is the best option for budget-friendly travellers
Connectivity
Vodafone and Airtel work poorly here as well. It is best to have Jio.
Have extra time in hand and what to explore more places in Meghalaya? Check the 10 Offbeat Places in Meghalaya that I explored
The Route I Followed – Map
Below, I am providing the route map that I followed in the four days of my trip. You will see that to go to Dawki from Ceehrapunji, I have to again cross Mawkdok. There is no other way to go to Dawki that this one. Hope it helps! 🙂
The Travel Company I Recommend
If you are worried about travelling solo and want a relaxed and worry free travel, there is a company operating in Meghalaya that can sort your travel plans and can also arrange everything – Our Guest.
They also specialise in offbeat travels and I have personally travelled with them and highly recommend their tours. You can check out their tours here – Our Guest Meghalaya Tours.
Typical Costs 
Travelling in Meghalaya 
I rented an Activa for 5 days which cost me around INR 650 per day. However, if you do not want to rent a bike then you can take a government bus that runs from the Police bazaar in Shillong till Cherrapunji for INR 350 only. This bus will cover Mawkdok Valley Viewpoint, Eco Park, Nohkalikai Falls and the Seven Sister falls so you don't have to worry about missing anything.
To reach the Double Decker Living Root Bridges (Nongriat Village), which lies 13 KMs away from Cherrapunji, you will need to take a cab as local transport is not available for this place.
Hotel Prices
Shillong: If you are travelling solo or looking for a budget-friendly accommodation then you can stay at the Isabella Travellers Hostel in Shillong. This place costs around 360 INR per night for a bed and offers free WiFi facility as well. Plus, they also help you plan your trip and arrange for your transportation if needed. You can book your stay by going to this link – here.
Cherrapunji: You can stay in 'By The Way' hotel which is the cheapest and is quite close to the Seven Sister waterfalls. If you wish to check out other stays here, go to this link – here
Nongriat Village: A homestay will cost you INR 300, which will also include dinner and breakfast. You can contact Byron at – +91 9615252655 and book the stay for your visit too.
Dawki: You can contact a homestay in Shnongpdeng – 9615762788, which is the best option for budget-friendly travellers
If you are looking for more options on accommodations, maybe in a homestay or a hotel you can check the website below. The best thing about this website is that you do not have to pay any amount in advance. just reserve the room through them 🙂
Things to Carry in Meghalaya
Now, packing can get a little difficult if you are not aware of the weather. I would first ask you to check the weather, how rainy it is and also how low the temperature could go and keep the things accordingly. I am writing some essentials below that you should definitely not miss out on –
Poncho
Meghalaya is the place where heavy rainfall is a daily occurrence. Having a poncho is a must! Poncho is a better alternative to your umbrellas as it gives you the freedom to walk without holding a covering like an umbrella –
Raincover
For your backpacks make sure you have a rain cover. If you have gadgets and electronic things and your backpack is not waterproof it can damage all your necessities –
Hiking Shoes
Hiking shoes are a must if you are going to Nongriat village. My personal favourite is from Quechua that I wear all the time.
Slippers
Do not forget to pack good slippers. In rain, while walking you cannot roam in your shoes for the fear of getting wet.
Jacket
Do not forget to pack a good jacket with you as in Meghalaya temperature falls quite low.
Meghalaya is a gorgeous place and I am sure you would fall in love with it as I did. It is a place close to my heart where I can happily stay forever. Hope you get to say the same too!