Mathura/Vrindavan is a spiritual place which is full of colours and enigma during this time of the year – Holi. Celebrated as a festival of colours and love that signifies good over evil, Holi is still quite infamous. This is mostly because of the safety issues women face here and thus it is essential to have a few Holi Safety tips up your sleeve.
I was aware that Holi in Mathura won't be safe for obvious reasons, but I was not aware of its magnitude. When I posted about my plans for Holi on Instagram the number of concerned messages and calls I had received was enormous. All of them explained to me how unsafe it is and how women have been molested here.
Despite that, I went to Mathura to celebrate "Phoolon Vali Holi". I would be lying if I say that I was not nervous.  Honestly, for me, the experience was pretty great. I did not face any troubles. Maybe because I disguised myself as a boy which I certainly was not proud of. Honestly, who will be?
So all I am saying is, it is up to you if you want to dress as a man. If not, I would give a few more suggestions that you can take to feel secure and have a butt cracking, fun-loving, adventure-filling Holi.
I am summarizing a few of the safety hacks for Holi you girls can follow, which even I did and worked well
Disclaimer: This article may contain links to our affiliate partners such as Amazon, Booking.com, etc. If you find our website useful, please consider booking through our links. When you do we earn a small percentage at no extra cost to you.
How to Travel in Mathura and Vrindavan During Holi
This is a question which is a major concern of the girls. So here is my take on it.
Once I went one week before Holi and the same week I went on the actual D Day. Below I am giving travel options for both the times – 
One Week Before Holi
A week before the actual festival I went with my brother on his bike and so we had all the luxury to travel around comfortably and freely on his bike. We visited many temples, saw Nandgaon and also witnessed Pholon Vali Holi. So it is always better if you are in a group and have your own vehicle, especially bikes because the roads are narrow in Mathura and Vrindavan and often gets crowded.
If you are coming from far off places, you can reach Delhi and can do a road trip from here. Renting out bikes is easy in Delhi.
On Holi
However, I have also been to Vrindavan and Mathura during the D day of Holi. I reached here on 'Choti Holi' and on that day walking from one place to another was fine for me. Streets were chaostic but if you are fully aware of your surroundings, then walking is not an issue. You can also book a cab (Ola and Uber) or take an auto.
Although, during the actual Holi time, the streets are empty and boys are very rowdy. We booked a hotel near to the main steert of the celebration itself and walked till there. Of course, we were careful with every step we took and used to avoid severely deserted streets.
Changing Disguise
So if you are actually looking to mask yourself in the crowd. Below are a few of the tricks and props that I used. Honestly, it worked really well for me. No one gave me a second glance, except when I mounted a GoPro to my head.
Bandana/Mask
I rolled up my hair and covered them with a Bandana, which in a way helps because from a distance no one will be able to identify that you are a female. I also covered my face with a cloth for extra caution and used a cap on top of the bandana. It also protects your hairs from being ruined by hard colors. *full on street tapori* (tomboy)
Chest Binder
So my basic aim, in the end, was to dress up as guy-ish as possible and hence I purchased a chest binder online which was reasonable and cost just about INR 300/- to flatten the bust area. You can purchase it from here – link
Note: Do not use bandages in any case as it is very harmful for the chest area tissues
Extra-large t-shirts
This again helped to hide my body structure. It also helped me when I was drenched with water as it does not end up hugging to your body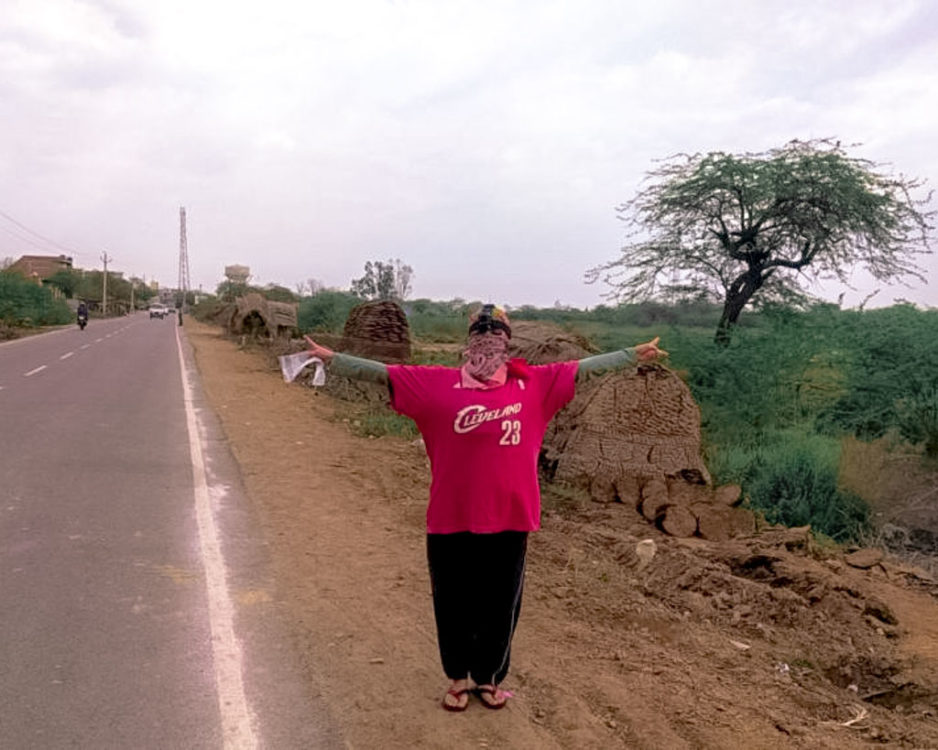 Safety Tips For Self Defence
Jeans Underneath Your Loose PJs
I kept all my lose money and mobile phone in the jeans' pocket and wore PJs on top of it as the number of thefts also increase during this time around. Mathura apart from getting rowdy also gets crowd-y, a lot of crowd! No one will certainly put their hands inside your PJs to steal and Voila your money and essentials are safe as well as right in your reach when you need it.
Further, carrying a bag while playing Holi that has all your important items is a task in itself.
Selfie Stick
When I was not using my selfie stick for pictures, I removed my GoPro/cell phone from it and walked casually around the street with a selfie stick in my hand, extended by two legs. Haha. But I felt so much safer and others got much more cautious. I felt like I was a pretty badass chic! You touch me and be ready to get smashed in the balls!
Confidence
Honestly, after I got comfortable with my surroundings and removed the bandana and the mask, the men still gave a few uncomfortable looks. In a situation like these, all you have to do is give them the evil eye and keep your head high because, in the end, it does intimidate them when you are not intimidated by them.
Pepper Spray
Pepper spar has the facility to disable any assailant so you can escape from dangerous situations. Further, it is simple to operate as well. The pepper spray on the face will cause acute coughing, sneezing and irritation of nose and throat non-toxic, but inflammatory gas. This can act as a great tool if someone is attacking you or molesting.
Go a Week Early
I have been to Mathura exactly on Holi as well as a week before Holi – Pholon Vali Holi. I feel the crowd is less rowdy prior to Holi and it is safer to celebrate and witness this festival at that time. Plus it is less crowded so you can't take enough measures to have a safe one here.
Wrap Up
Holi is an amazing festival and Holi is the hub. Once in a lifetime, everyone should visit Mathura or Vrindavan to see how colourful and energetic this festival is. It is sad to see how women have to hold back but I honestly feel we as a woman should stand for each other and help each other out. We should not be afraid. We should feel empowered and because of a few rowdy men, we should not stop doing what our heart desires. So go and celebrate Holi with full energy and take the situation as it comes. And if in case the situation goes bad, you have a selfie stick and a pepper spray to greet these men on Holi.