Amritsar is not a place, it is a feeling!
Duration – 3 Days
Sadda Pind – Amritsar; from Amritsari naan to Amritsari streets, no matter where you go you will find homely vibes and rich Punjabi culture. I was born in Punjab but brought up in Delhi though. Every year we used to visit Punjab until my 10th standard. So after many years, I got an opportunity to explore its places again with Holiday IQ and Fairfield by Marriott.
Below, you will find all the details regarding the places you can visit, the food you should definitely try, accommodations and itinerary. Read along! 🙂
Disclaimer: This article may contain links to our affiliate partners such as Amazon, Booking.com, etc. If you find our website useful, please consider booking through our links. When you do we earn a small percentage at no extra cost to you.
Best Time to go to Amritsar
October to January
Although Amritsar is an evergreen state and can be visited anytime during the season, however, I would strongly advise you to visit it between the months of October and November.
This is because summers are extremely hot here and winters are way too cold.
How to Reach Amritsar
By Air
The quickest way to reach Amritsar is taking a flight. The Airport of Amritsar – Sri Guru Ram Dass Jee International Airport, is very small and there are several flights going in and out of Amritsar, so getting a flight won't be a problem, however, I would suggest you book flights at least three months in advance to get a good and cheaper deals on it.
By Road
Train: Since Delhi is the capital city close to Amritsar, I will talk about how you can reach from this place. Taking a train to Amritsar is the best option ever. An overnight journey will make you reach Amritsar. The most prominent train that runs between Delhi and Amritsar is Shatabdi. You can check out the timings and prices of all the trains on www.irctc.co.in
Bus: You can also get an overnight Volvo bus for which the price varies between INR 600-INR 1,000 and leaves from Majnu ka Tila of Delhi. You will reach Amritsar in 8-9 hours.
Getting around Amritsar
To travel from one place to another in Amritsar, the best mode of transport is an autorickshaw. Although you can also take a cab. All you need is an Ola or an Uber app. Also, before hopping in the autorickshaw, do check with them the prices they are charging.
For example, an autorickshaw from the train station to the Golden Temple usually costs around IRN 40.
Places to Visit
There are many places to visit in Amritsar, that it might take a week for you to explore this beautiful place, however, I am writing the most prominent ones before that you should definitely not miss.
Golden Temple
Golden Temple, also known as Darbar Sahib is the holiest place of Punjab. There is a man-made pool surrounding the temple and was completed in 1577. The temple suffered a lot in wars and was destroyed several times previously, wherein the Sikh community used to come together to rebuild it. Maharaja Ranjit Singh, the founder of the Sikh empire built the temple with marble and copper and after a few years, he plated it in gold.
Tip: To soak in the culture, go to the temple early in the morning at 4 AM. This is the time when Guru Grant Sahib is taken to the temple in a Palki from Akal Takht. Also, do visit the museum of the Golden Temple.
If you are here, do not miss out on the langar and 'prasad' which is of utmost importance. Also, if you visit the Golden temple during its prominent festival which is Vaisakhi (second week of April), it will a sight to withhold 🙂
This pilgrimage site will bring you to peace eventually. If you are looking for some similar places like this, do read a list of other 7 pilgrimage sites in India.
https://www.instagram.com/p/Bs-m6lFgLqT/
Gobindgarh Fort
This fort is located right in the centre of Amritsar that shows the history of the museum in the form of live music and light show. The light during the night makes the fort a sight to see. You should not miss the light and sound show here. There are two shoes that happen, one in Punjabi language and the other one in English. It happens late in the evening after 7 PM and the timings to enter the fort is from 10 AM to 10 PM.
Further, you can also enjoy the 7D movie on Maharaja Ranjit Singh which will enrich your knowledge on the history of Punjab. Also, do try the food from Ambarsari Zaika which is located inside the fort itself.
Check out the ticket prices in this link – Fort Prices
Jallianwala Bagh
6:30 AM to 7:30 PM, all days
Whatever happened in Jallianwala Bagh is sad. It was strange that as soon as you enter this place, you can still feel the remorse in the air. Thousands of people were killed here just for their peaceful protest against the Britishers, by the order of General Dyer. The stories of the people that you read in the museum are even more heartbreaking. The Indian government built a memorial for the people who were killed on 13th April 1919. The Bagh is near to the market only and you can explore the street by walking.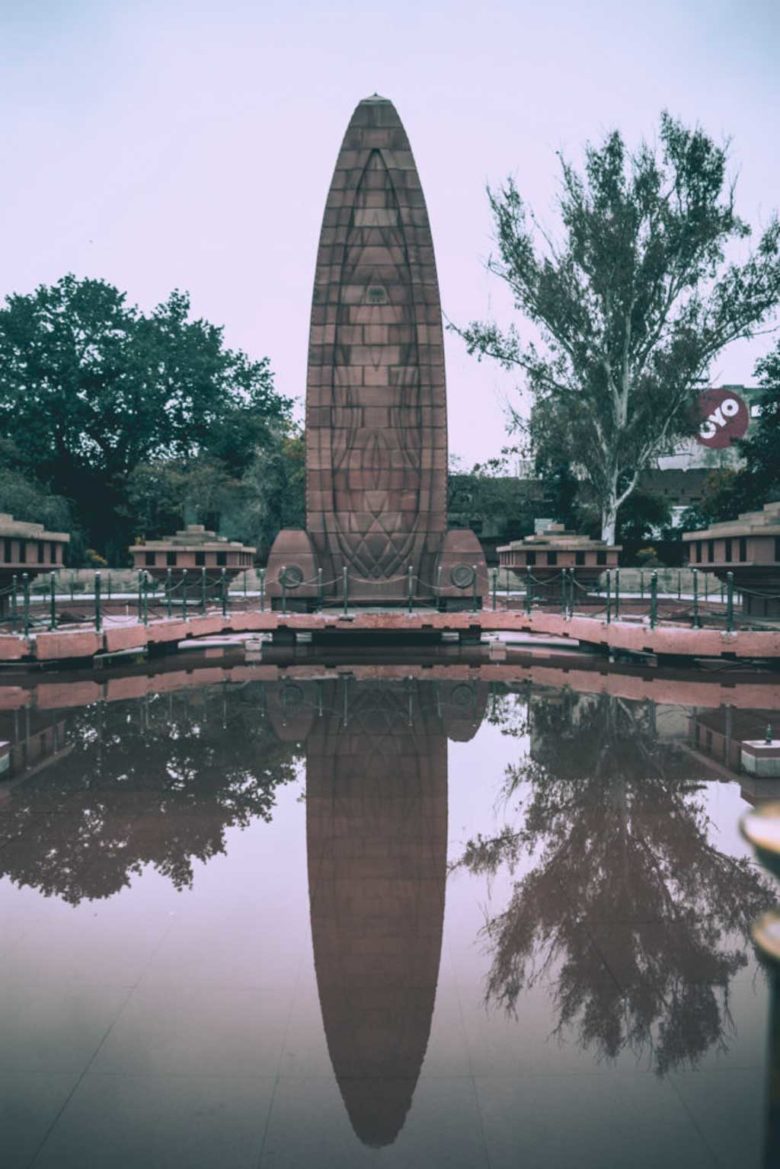 Durgiana Temple
Even though it is a Hindu temple, the structure looks like the Golden temple itself. The temple is close to the Railway station and the temple is located in the middle of the sacred lake.
Wagah-Attari Border
4 PM to 5 PM, all days
Wagah Border is a little far from the main city and takes about 30-45 minutes to reach here by cab. It is a ceremony that occurs in the border of India and Pakistan. No matter where you go, you will find a transport facility the for Wagah Border. Every cab person is willing to take you and bring you back from INR 1,300. Plus, once you visit the Jallianwala Bagh, there are many men standing on the street selling this package.
The parade starts at 4 PM and lasts for about half an hour to 45 minutes. I would suggest you reach a little early so that you can get a seat to watch the parade up close. We reached by 2 and took the seats closer to the gates.
If you want to get VIP seats, you have to come early in the morning to give your ID proof and fill up the form for the seats. 🙂
The entry ticket is free of cost and is open on all days for the spectators. Although I will advise you to not visit this place during the weekends or public holidays as the crowd comes in heavy numbers.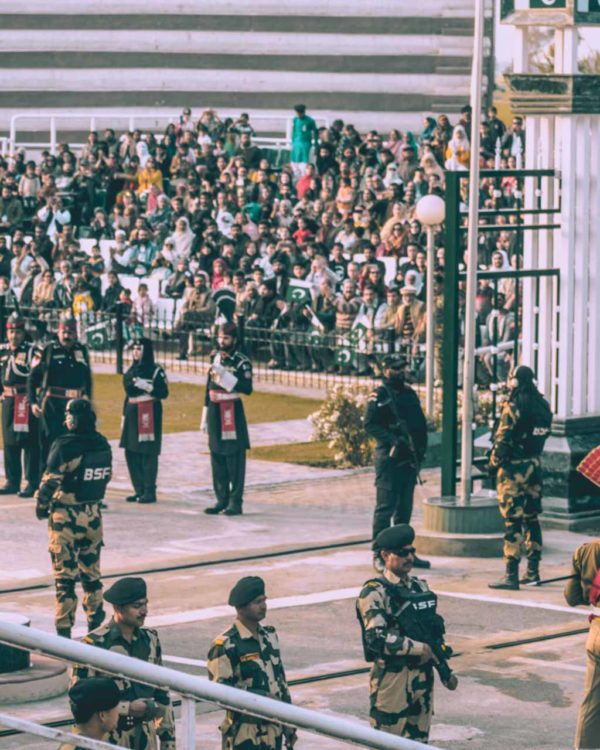 Sadda Pind
This place is spread over 12 acres and portrays the true picture of Punjab – its rich culture, delicious food and vibrant colours. It captures the essence of a Pind, each house features the life of a rural artisan and the entire place is lit with Punjabi folklore and vibrant lights. In fact, apart from visiting this place, you can also stay here instead, right in the middle of the Pind in this resort. You can look out for the bookings here – link.
Maharaja Ranjit Singh Museum
This museum is dedicated to the founder of the Sikh empire. Here you can find paintings, 3D art and sculptures that depict the story of Punjab and Maharaja Ranjit Singh. Maharaja Ranjit Singh who was called the lion of Punjab used to call Amritsar as a spiritual capital. The art placed in this museum dates back to the 18th and 19th century.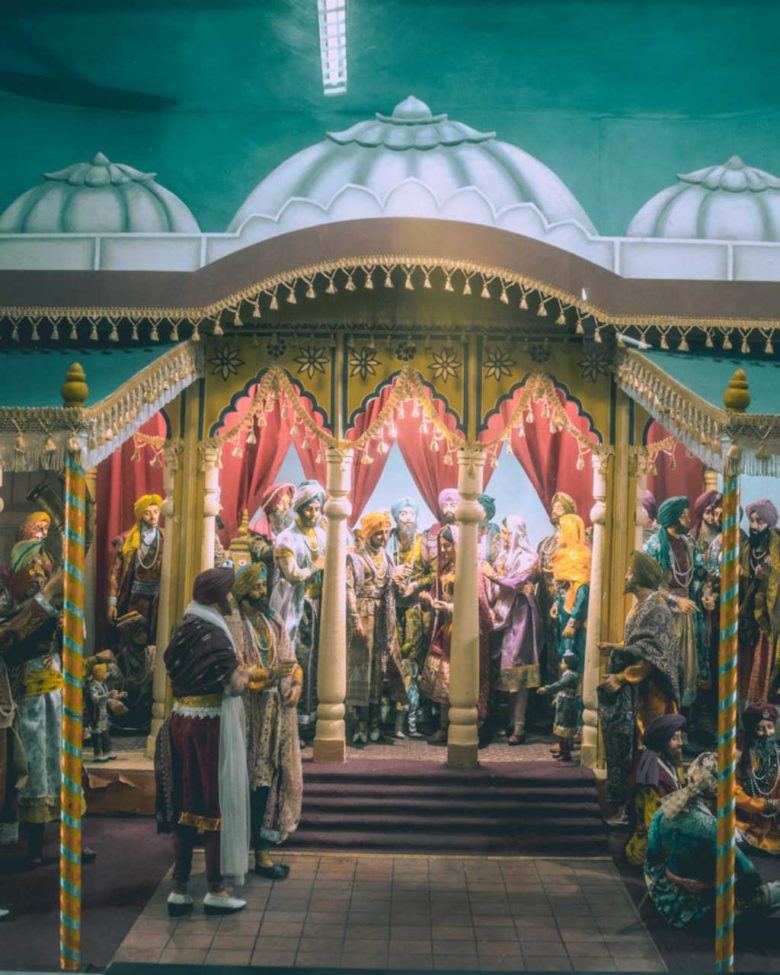 If you are looking for a few offbeat experiences in Amritsar, check this out – Your Guide to Exploring Offbeat Amritsar
Food to Eat/Restaurants
I am a Punjabi but I am a vegetarian and I dislike promoting non vegetarian food. Below, I am listing down a few restaurants where I tried some kickass vegetarian cuisines. They were absolutely delicious (my mouth is watering currently)
Guru ka Langar
Now, do not confuse this with a perfectly lit restaurant, but this one is not to be missed no matter what. This place is none other than our Golden Temple. The place where a very simple but finger licking food is served. The daal and the rotis here are to die for. It is a free meal served to every single visitor with so much love. It is blissful!
Kulcha Land
If you are in Amritsar, there is no way you can miss the kulchas of Amritsar. Kulcha Land is famous for this which is served with choles.
Kesar Da Dhaba
This 100 year old dhaba serves delicious food. Do not miss out their lassi and firni. You can also see men cooking kulchas and parantha in the dedicated kitchen.
Kava Grill and Lounge
Kava Grill is a restaurant right inside the Fairfield by Marriott. You can find a variety of cuisines here with the best one being the Masala Kulcha. You name it, they will serve it for you. Apart from the dining area, there is a dedicated bar area that offers tempting signature cocktails, mocktails, premium malts and fine wines. You can find the menu in this link.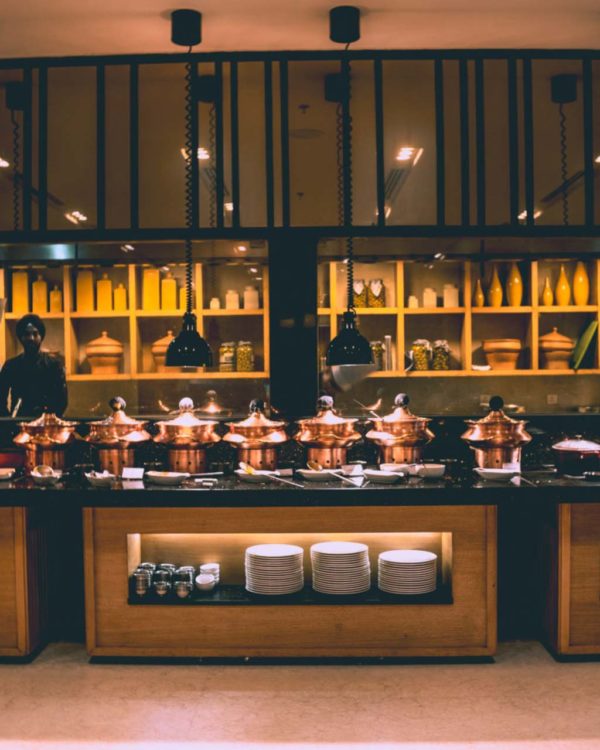 Shop My Photography Gear
Map I Followed
Below, you will find all the details of the distance of all the tourist attractions were from Fairfield by Marriott. You can plan your trip and commute accordingly 🙂
Accommodation
Now, since I collaborated with Holiday IQ folks I had a pleasure to stay at a beautiful property – Fairfield by Marriott. If you are into luxury and are looking for a relaxing vacation, poolside fun, amazing restaurant as well as the luxury to hit the gym, Fairfield is for you. However, if you are a budget-friendly person, I will give the option for that as well below.
Luxury Stay – Fairfield by Marriott 
I stayed in Fairfield by Marriott and it had the perfect location as a hotel in Amritsar. Fairfield is just 5 minutes walk from the railway station and is at a half an hour cab drive from the airport. Further, the Kava Grill restaurant is right inside the hotel. The places to explore are very near to the hotel as well.
But that is not what sells this hotel as the best hotel to stay at. It offers fantastic views of the city, and the hospitality here is excellent. We were given the facility of laundry, hot shower and everything luxury you can think of. I felt so much loved here. I remember, after a long hectic day I came back to my room to find out it was neatly organised with sheets and bed folded. There was a towel art in the shape of a dog with a note that said to have a nice day.
You can check out the prices of the room and book the hotel here – link.
Budget Friendly Stay
Now, not all of us want to stay in a luxury place while travelling. Sometimes we are happy with just a comfortable bed and a place where you could spend a night at. If you are looking for cheaper accommodations you can check the website below. The best thing about this website is that you do not have to pay any amount in advance. Just reserve the room through them 🙂
Also, if you are the adventurous kind who would like to stay with a local and get the local experience, you can also try couch surfing.
If you wish to know what couch surfing is, read here – Why You Need To Try Couchsurfing and How?
Conclusion
Amritsar is a beautiful place. It is rich with history and its culture. But more than that the food here is not to be missed out on. Remember to eat a lot here and walk even more. Discover khet, sit on tractors and watch sunsets. Every place in Amritsar has something beautiful to offer.