The Land of the dragon that follows the Gross National Happiness philosophy needs no introduction. It's a small nation but well known for its cultural wealth. Yes, it's Bhutan, the world's last remaining the Buddhist Kingdom. Bhutan is a small landlocked nation surrounded by snow-peaked mountains of the Himalayas.
If you are a person with a strong affection for culture and history, then you will relish this place. There are fortresses, Buddhist monasteries, ancient artifacts, trekking spots, valleys, shopping areas, and many other magical places to explore. Wait for a second, this small nation has more stuff to astonish you. Around 72% of Bhutan blanketed with forests, and this is making it the only carbon-negative nation in the whole world. This environmentally friendly country has so much to offer you.
It is a classic stop for a honeymoon, family holidays, and even for adventurous souls. To make your experience unforgettable, a guide of the top 5 places to visit in Bhutan is ready for you. Let's dive in to explore the magical and mystical place to visit in Bhutan.
Thimphu
Approximately 2000 meters above sea level, Thimphu is located on the bank of the Raidak River. Thimphu, earlier called Thimbu, is the first place to add to the bucket list of your Bhutan tour.
Thimphu is the capital city of Bhutan. Snuggled in Goddess lap, this city is a classic exemplar of the modern and cultural blend. Here you will also discover internet cafes, eateries, and pubs to chill with your mates. The noteworthy thing about Thimphu is that in addition to modernization, it has also preserved Bhutanese Traditions. Thimphu is offering Bhutan's cultures and traditions in the most wonderful style.
Did you know that Thimphu is the only city in the world that has no traffic lights? People here consider red traffic lights not as good, so instead of traffic lights, traffic policemen wearing colored shoes control traffic. So cool!
Thimphu offers so much to us besides its natural beauty and traditional wealth. That is why it is called the heart of Bhutan. Buddha Point (Kuensel Phodrang), Tashichho Dzong, National Institute of Traditional Medicine, Centenary Farmers, Market, National, Library of Bhutan, Memorial Chorten, The Folk Heritage Museum, Changangkha Lhakhang, Dechen Phodrang, Dochula are the main tourist attraction in Thimphu.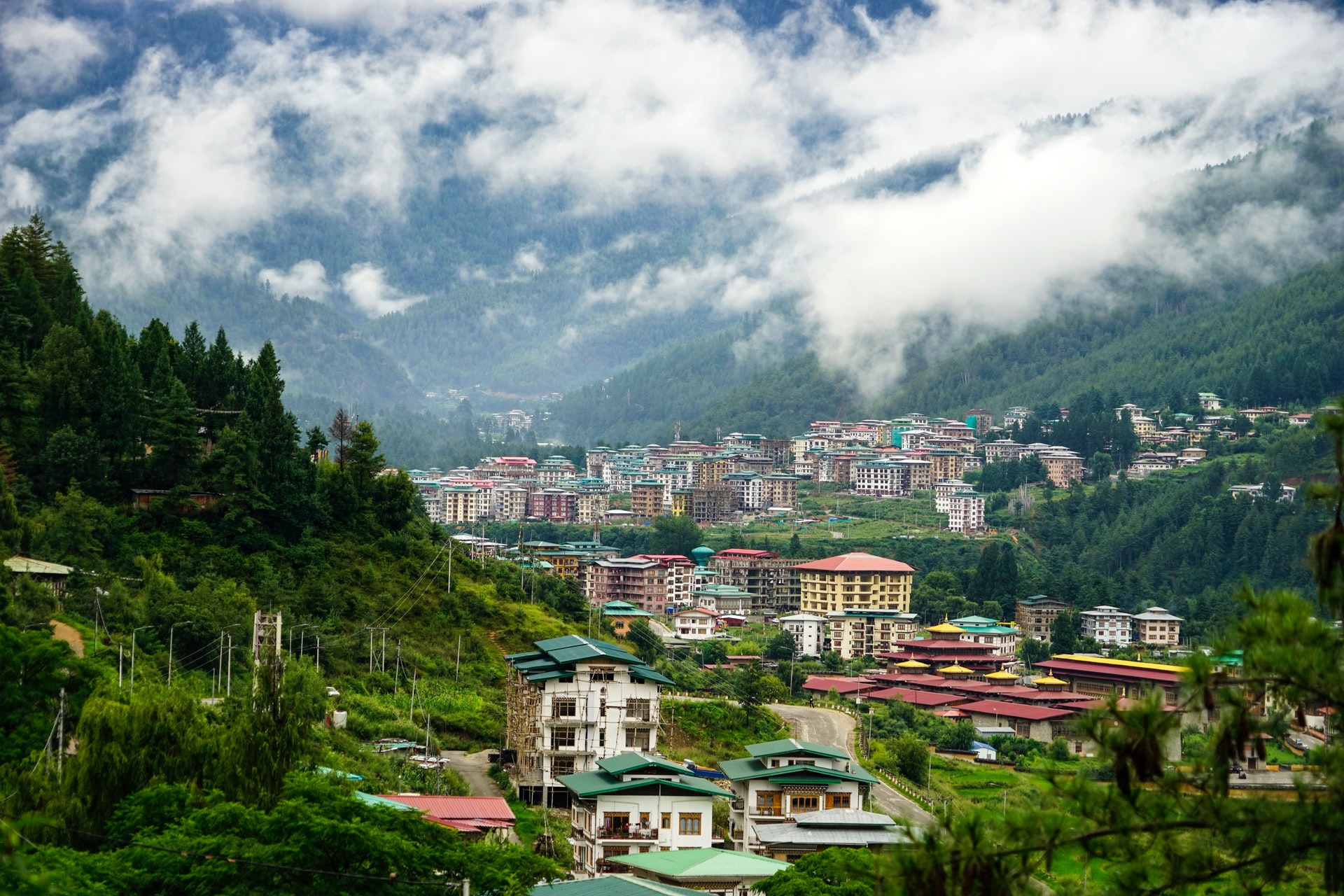 How to reach Thimphu: Thimphu is a 4 and half hour bus journey from Phuentsholing -the border check post from where the majority of the travelers from India enter Bhutan by getting an entry permit. For travelers arriving in Bhutan via flights, Thimphu is only an hour by cab from the International airport in Paro.
Paro
Nestled amid the mountains, Paro is the most alluring valley in Bhutan. With the fresh air and tranquil environment of Pora, you will start falling in love just like I did. Due to the international airport in the city, the highest number of vacationists visit here regularly.
As soon as Paro is named, the monasteries, temples, mountains, rivers, culture start coming to mind.  Paro is all about nature,  culture, and adventure. The cafes, museums, restaurants here make your trip fascinating.  Adrenaline junkies can enjoy their adventurous activities like trekking, rafting, and stargazing. Summertime is most suitable for adventuresome activities and panorama landscapes, and if you are a snow enthusiast then the winter season is perfect for you.
Paro's alluring spots like Paro Dzong (Fortress), Paro Tsechu, Taktsang Monastery, Kyichu Lhakhang, Drukgyel Dzong will make your trip super fun.
How to reach Paro: Bhutan's only international airport is in Paro. Direct flights are available daily from all major airports in India, as well as from Katmandu airport (Nepal) and Bangkok airport (Thailand).
Punakha
What things fascinate you when you are in Punakha? And what things can make your trip memorable?  The answer is nature, adventure, and most importantly the traditional wealth. Punakha is offering everything on a single plate. If you are an adventuresome person, then this place is bliss for you.  When you are in Punakha, let's experience something new like rafting/kayaking. The Mo and Pho rivers are exemplary for the Rafting / Kayaking experience. Many small companies are providing rafting services there.
You can approach any of these. Punakha is very famous for fortress Punakha Dzong. It hosts the foremost spiritual festival of Bhutan (Punakha Tshechu), mainly popular for masked dance and traditional music.  People relish visiting this place not only for nature and adventurous bliss, but this town is has conserved its Bhutanese tradition so well. Some of the most beautiful spots of Punakha are Chimi Lhakhang,  Punakha Dzong, and Limbhukha.
How to reach Punakha: The easiest way to travel to Punakha is by road from Thimphu – it takes only 2-2.5 hours.
Haa valley
Haa valley, the most tranquil destination of Bhutan is known for its retained traditional life. It is just 1.5-2 hours drive from Paro.  Why Haa valley is a must-visit when you are in Bhutan? Haa valley is one of the best destinations that offers so much to the tourist and make their trip worthy.  Haa valley's ancient cultural life and landscape beauty will spellbind you, for sure. Haa valley stretches over 1706 sq. km. It is a traditional home for the Royal Grandmother and the famous Dorji family. You can join the famous Haa summer festival to explore Bhutanese cultural life deeply. There are not so many options to stay there because  Haa has opened for tourists since 2002 only. And the development of hotels has been stopped to retail the culture of Bhutan. Haa valley is also called " HiddenLand Rice valley." It is a land of rice, wheat, and barley. And now what for adventurous people? For them, hiking from the summit of Chele
La to Kila Nunnery is the best. On its way, you can retreat your eyes with magnificent picturesque views. So don't stop in Paro, Haa valley is waiting for you.
How to reach Haa valley: Although Haa Valley is only 35-40 km from Paro, it takes 1.5-2 hours to reach because of the elevation. This road is known as chele-la pass and it is the highest motorable road in Bhutan.
Tiger's Nest Monastery
Tiger's Nest Monastery is the most famous heritage site of Bhutan. It is built on a cliff of around 900 meters from the ground. It is one of the 13 monasteries where Guru Rinpoche meditated in the 8th century.  Tiger's Nest temple fascinates tourists with its beauty. If you are planning to visit Tiger's Nest Monastery, then let me tell you that no transport drives to the monastery.
You will have to hike there or you can hire a horse to reach the monastery.  A breathtaking cafeteria arrives on the way to the monastery. There, you can do a little rest, delightful enjoyment, and again continue the hike to Tiger's Nest temple from the cafeteria. In the monastery, photography is not allowed at all. You cannot take the camera with you inside so monastery. Tiger's Nest temple visit fills you with harmony and holiness.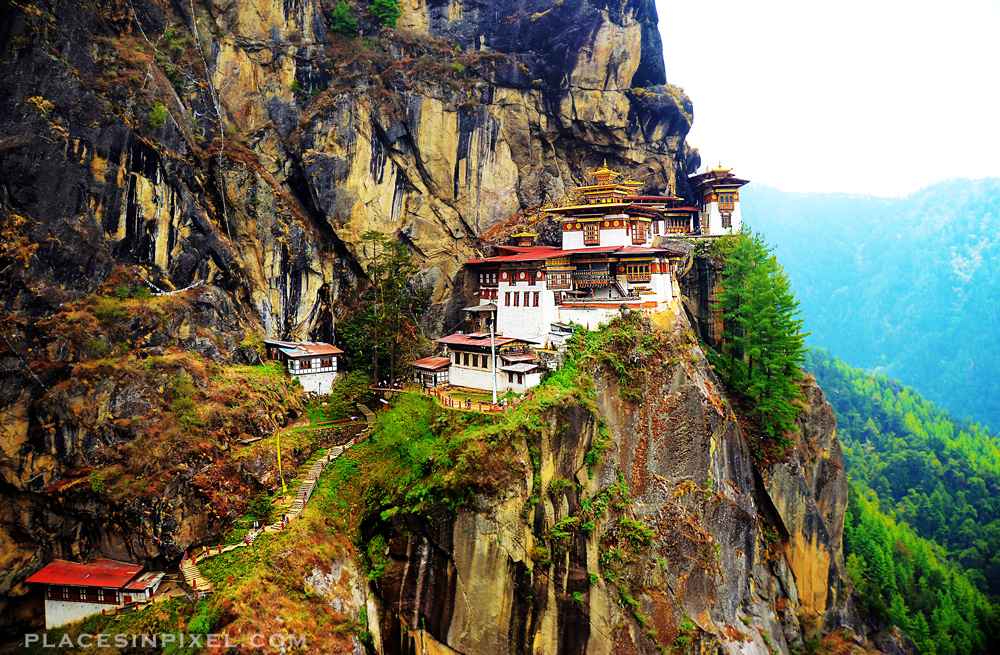 How to reach Tiger's Nest Monastery: the base point or 'starting point of the hike' of Tiger's Nest Monastery is just 10 km and takes only 20 mins by cab.
"Few places are of Bhutan are lesser-known. Due to their mesmerizing and mystical beauty, these places deserve a visit. Spare some time  to treat your eyes with panorama views and  to challenges your fear because Bhutan is waiting for you."
Author's Bio
This blog-post has been contributed by Sonakshi andMainak from placesinpixel.com. Places In Pixel is a Travel and Photography Blog, wherein we share our travel-planning 'how-tos' and travel-photography tips and hacks. We love a little bit of luxury-travel, but on a tight budget. And hence we share the same affordable and sustainable luxury-travel planning tips on our blog.
Feel free to connect with them via Instagram, Facebook, or Email.