As one of the liveliest, sunniest, and most exciting cities in California, San Diego makes the perfect long weekend getaway destination. As a huge cruise port, cruising from San Diego is easy, and spending a few days in the city before you head off to the high seas is a wonderful way to extend your vacation. To help plan your weekend, here's a guide for how to spend three days in this delightful little corner of Southern California.
Disclaimer: This article may contain links to our affiliate partners such as Amazon, Booking.com, etc. If you find our website useful, please consider booking through our links. When you do we earn a small percentage at no extra cost to you.
For cheap transportation option, check out Bookaway.com

Day One in San Diego
Arriving at San Diego International Airport, it is an easy ride by bus or taxi to the city center. Start your weekend off with a wander along the seafront, take in the delightful vista of Big Bay, and grab something to eat. Marion's Fish Market is a great choice for a light lunch.
From Seafront Village, head over the USS Midway, an aircraft carrier that saw combat during Desert Storm, and is now open for self-guided tours.
The Gaslamp Quarter, the most charming and historic neighborhood in San Diego, is just a short walk away and is a great place to spend an afternoon, taking in the beautiful architecture and historic ambiance. It is also one of the best places in town for drinks and dinner, the electric versions of the historic gas lamps adding a touch of magic to your evening.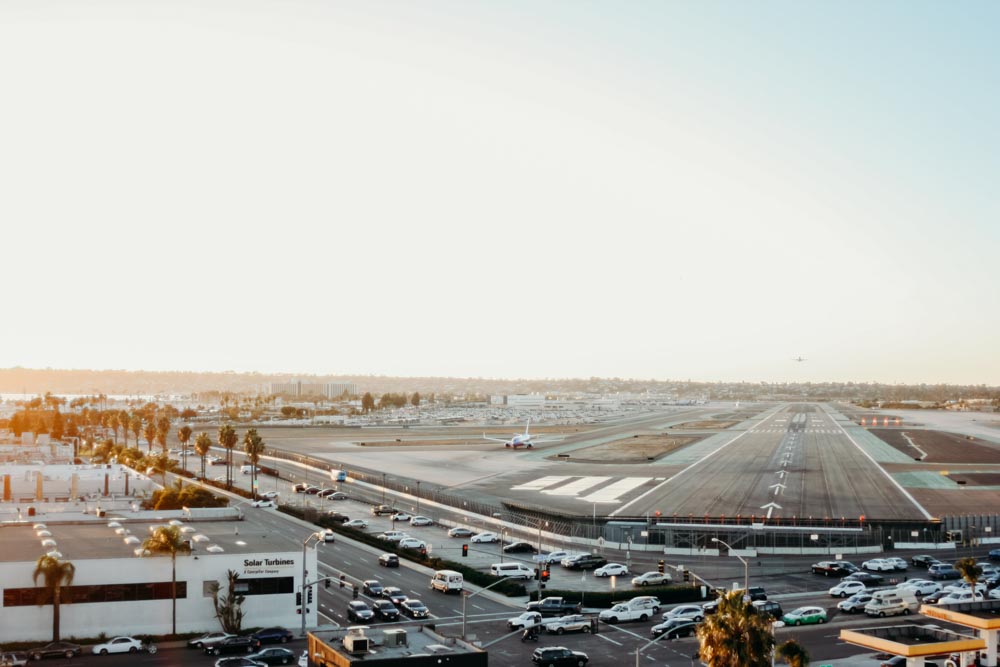 Day Two

in San Diego
Fortify yourself well with a good breakfast at somewhere like Richard Walker's Pancake House or Daniel's Coffee, and head for Balboa Park, San Diego's magnificent 1,200-acre cultural and entertainment hub. This exemplary urban park houses 17 museums, some wonderful gardens, and the brilliant San Diego Zoo.
You'll need most of the day to explore, with the Japanese Friendship Garden, the San Diego Museum of Arts, the Natural History Museum, and the Museum of Man just some of the highlights. You'll also want to allow enough time to fully explore the world-famous zoo, which boasts over 3,700 animals in their natural habitats.
In the evening try exploring San Diego's delightful Little Italy quarter. Unsurprisingly it offers exceptional Italian cuisine, as well as an elegant, historic atmosphere and some superb late-night wine bars. Try Barbusa for incredible Sicilian cuisine, and the superb San Diego Cellars for the best in Californian and Italian wines.
If you are curious about how to reach and other details of Italy, read our guide here – Italy Travel Guide
Also Read – Italy Visa Guide 
Day Three

in San Diego
Of course, any vacation in California would not be complete without a trip to the beach, and San Diego is lucky enough to boast some of SoCal's best stretches of sand right on its doorstep.
The iconic La Jolla is just a short twenty-minute drive from downtown, and offers a little something for everyone, from great breaks for surfers to family-friendly shallows and inquisitive seals and sea lions at 'The Children's Pool'.
A short way down the coast, Mission Beach offers a more classic, old-fashioned atmosphere, complete with a boardwalk, traditional arcade, and fantastic amusement park. The restored Giant Dipper Roller Coaster was built in 1925 and evokes a feeling of authentic Americana.
Finish off your weekend by trying San Diego's exquisite seafood, either at one of Mission Beach's excellent fine dining restaurants (Tidal is a particularly fine option) or head back to town and try the Harbor House at Seaport Village.