New Orleans is a popular city destination in the US. Despite the nearest New Orleans beach being an hour away, this historical city has a lot to offer. New Orleans is famous for its hospitality, loads of restaurants, booming music scene, and proclivity for booze.
While 48 hours isn't nearly enough time in this charming city, there are plenties of sights and activities to see and do within this period that will unequivocally show you why New Orleans is the best city. New Orleans climate is mild with warm summers and mild winters, but the best time to go would be in autumn or spring.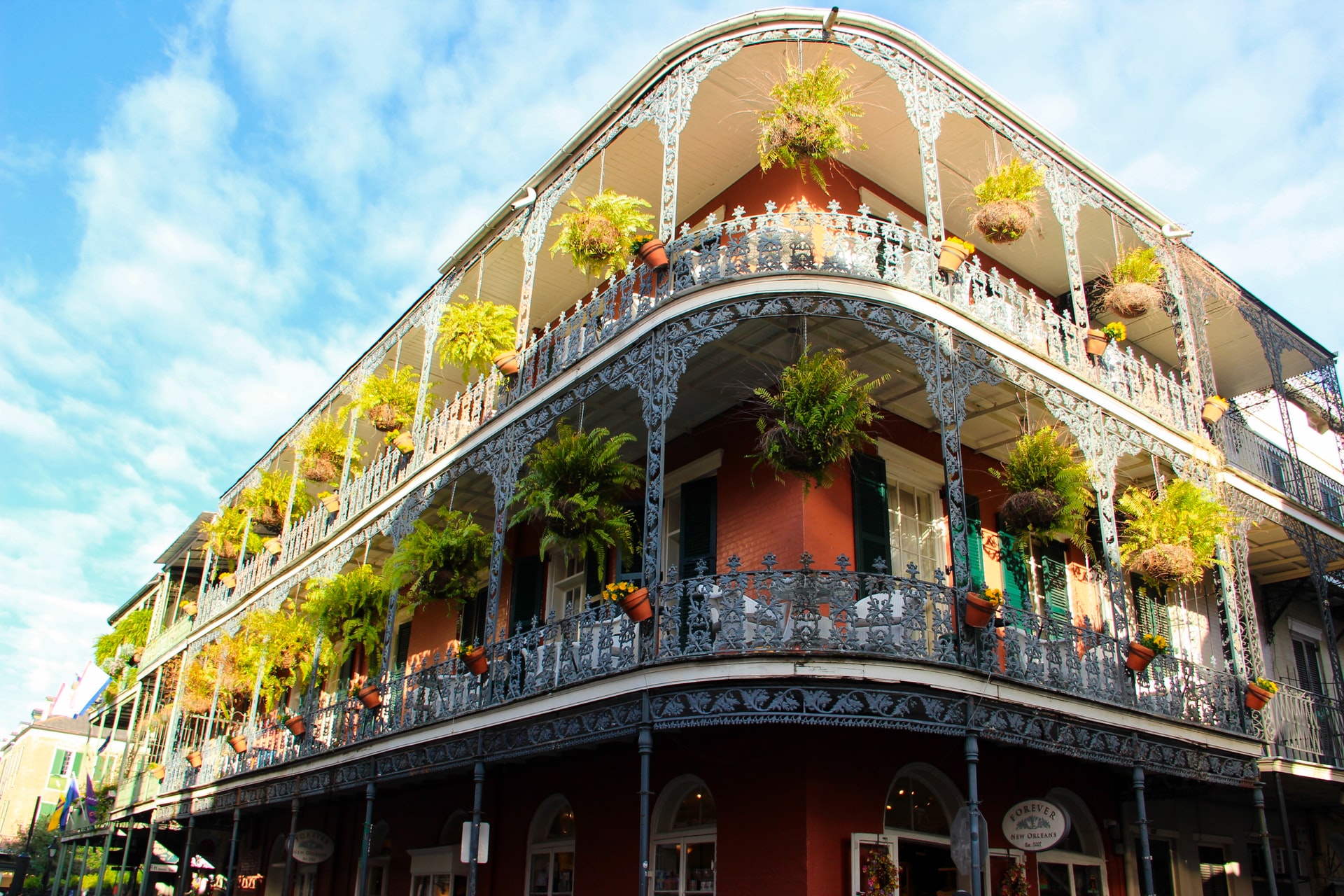 The bar has a wide range of beer, cocktails, and a wine bar with helpful staff who'll offer you wine recommendations. After you pick up a bottle, order a cheese and charcuterie plate, and head to the patio. With live jazz playing, delicious food, and drinks flowing, the Bacchanal is truly a tranquil place to enjoy your first night in New Orleans.
While New Orleans is in the Gulf of Mexico, it is also part of the Atlantic Ocean. So this city boldly carries the proud title of Lord of the Ocean on an equal footing with other large cities in America.
If you're trying to maximize your long weekend, coming into New Orleans on Friday is your best bet. This way, you'll have the whole of Saturday and Sunday to explore this magical city. You're probably going to arrive at New Orleans airport, Louis Armstrong Airport (code MSY) in the evening. We recommend staying at any hotel located in New Orleans' Central Business District.
Night: Unwind at the Bacchanal
A chill venue to usher in your long weekend in New Orleans is Bacchanal Wine and Spirits in Bywater. Featuring a gorgeous tree-covered outdoor patio with heaters if it gets chilly and live music playing every night of the week, this spot is one of the coolest places you can spend your first night in New Orleans.
Day One in New Orleans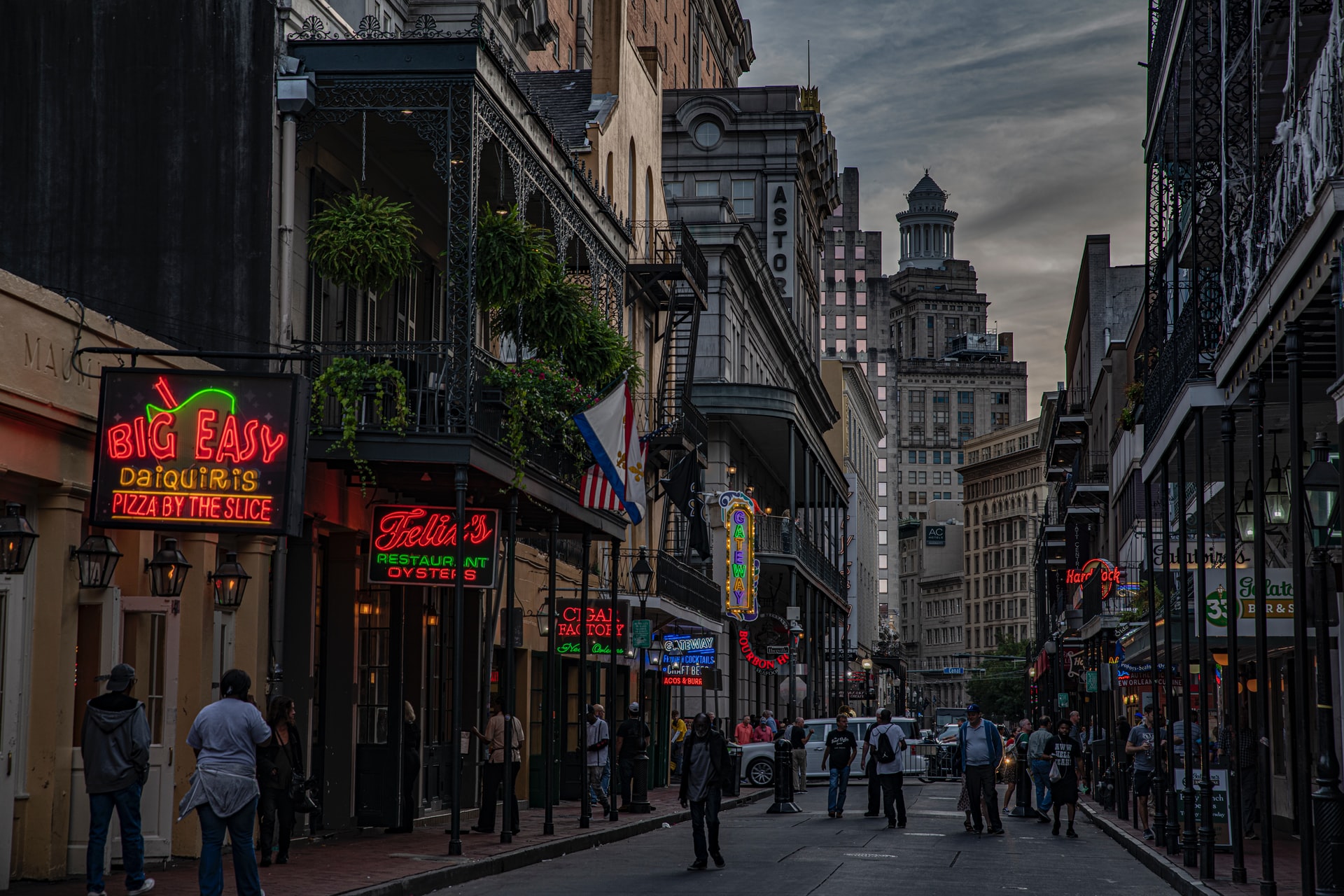 Morning: Café du Monde & the French Quarter
Kickstart your New Orleans 48-hour experience with breakfast from Café du Monde, a popular coffee shop known for its café au lait and beignets. It's open 24/7, but it can get crowded, especially if you're getting take-out. But don't let the long lines scare you away; we promise the beignets will be worth it.
After your sumptuous breakfast, start your exploration of the iconic French Quarter, New Orleans' old town. The whole quarter is 0.5 square miles and can easily be done in a few hours. If you're more of a wanderer, you can walk around the Quarter alone. But if you'd like to learn more about New Orleans culture, history, stories of NOLA's colorful background and architecture, we recommend taking a French Quarter walking tour.
If you're touring the Quarter on your own, start with Jackson Square across the street from Café du Monde. There, you'll find the St Louis Cathedral, a staple landmark in New Orleans, and other enticing attractions. Walk around the Square and interact with vendors selling artwork (you can buy one or two), let a tarot card reader and psychic read you, or watch the street performers.
Walk through Chartres Street admiring the beautiful New Orleans architecture, and explore the galleries and antiquities shops on Royal Street.
Afternoon: Cocktail Crawl in the French Quarter
After spending the whole morning exploring the Quarter, we know you must be tired and hungry. So, head over to Bourbon Street in the French Quarter and grab a bite in one of the many eateries in the area. With a full belly, you can now begin your New Orleans cocktail crawl.
New Orleans is famous for its cocktails and specializes in quite a few like the Hurricane, Vieux Carre, Mint Jelup, Milk Punch, and New Orleans' cocktail of choice, Sazerac. There're many incredible bars to get these cocktails and more on the Bourbon Street.
You can explore the several bars in the area, and since New Orleans has an open container law, you can take a cocktail as you explore. You can catch an early evening show at the famous Preservation Hall, where they have different jazz bands play 45-minute sets before heading to dinner.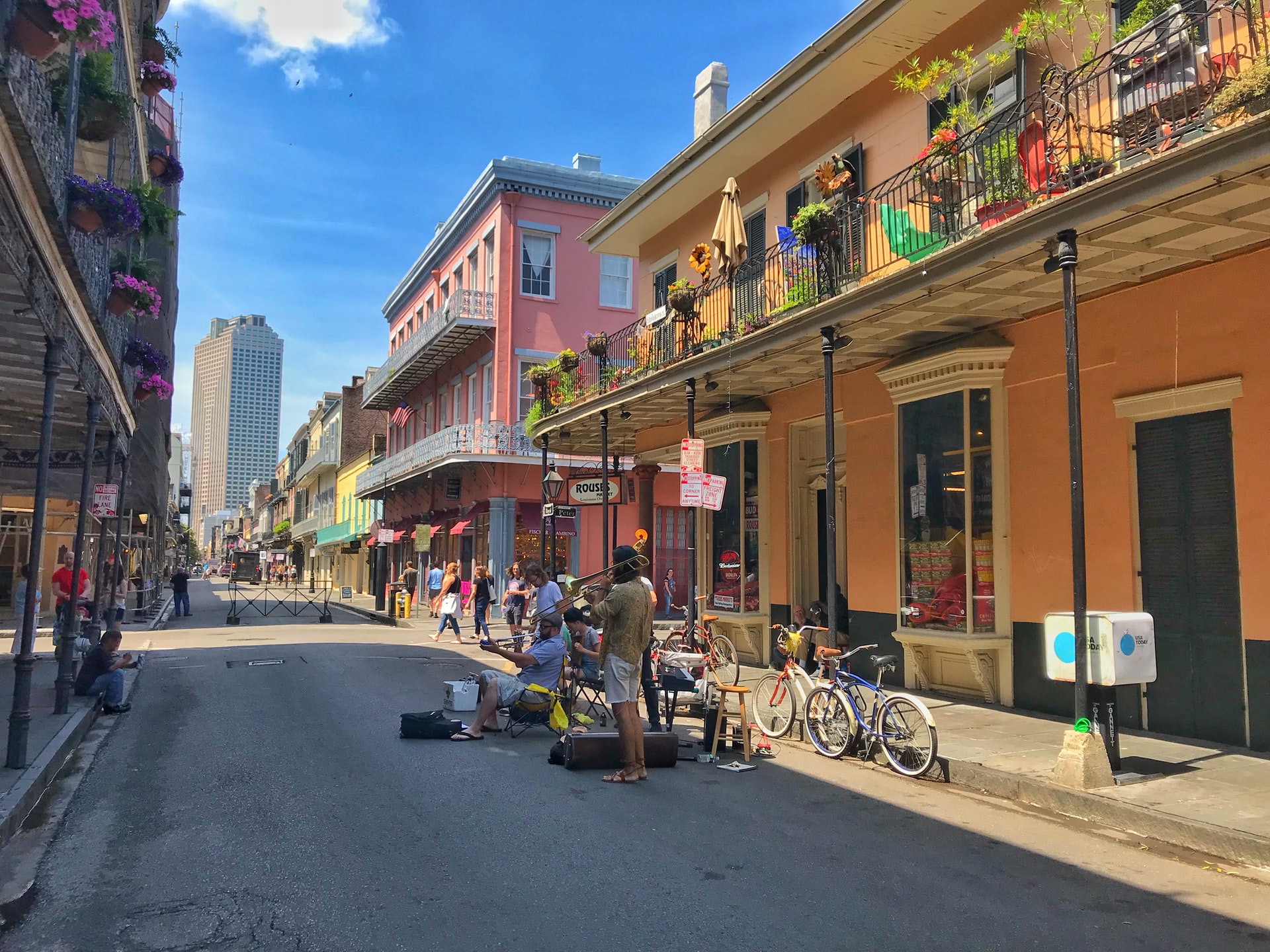 Evening: Dinner & Haunted Tour
New Orleans' cuisine is one of the most diverse in the country, so you'll have various delicious foods to choose from. Take a walk to the Central Business District, where several New Orleans' finest restaurants are located. If you'd like to sample New Orlean's seafood, Peche is the perfect spot, but if you're in the mood for meat with a Cajun twist, Cochon is the best option. Maypop is New Orleans' newest restaurant and famous for its modern dishes that merge Louisiana and Asian cuisine.
After a delicious New Orleans dinner, it's time to walk off the calories. Go for a haunted walking tour and learn about New Orleans' occult and voodoo traditions and ghost stories going back to this historic city's founding. Most of the tours start in the French Quarter and end in the city's cemeteries, so wear comfortable shoes.
Night: Live Music on Frenchmen Street
Shake off the creepy ghost stories and get into a party mood. The Frenchmen Street is a local New Orleans favorite offering multiple live music venues where you can enjoy the best blues and jazz. If you're lucky, you might find some locals swing dancing.
It's also easy to bar crawl since most bars have a small cover charge of $5 or less and stay open late. We recommend checking out the Snug Harbor Jazz Bistro and the Spotted Cat but feel free to explore Frenchmen's other bars. They're all excellent.
Day Two in New Orleans
Morning: Brunch at Commander's Palace & Bike Ride on Magazine Street
For your second day, venture uptown to the Garden District using the iconic St. Charles Avenue streetcar and enjoy the beautiful tree-lined boulevard dotted with stunning New Orleans mansions. We recommend making a reservation at the Commander's Palace, a go-to destination for Haute Creole cuisine and whimsical Louisiana charm. Here, you can enjoy a decadent breakfast as you catch upon New Orleans news and browse for New Orleans upcoming events.
Walk off your breakfast by heading to Magazine Street, which has many cool establishments. We think the most effective way to explore this quaint part of New Orleans is to take a bike ride. There are several places you can rent a bike from, and off you go. Magazine Street is lined with shops, boutiques, galleries, and restaurants, so if something catches your eye, pull over.
You can't leave New Orleans without having po'boy, so head over to the lively Tracey's restaurant or the homey Parasol's on Magazine Street. Their roast beef po'boys are hearty, delicious, and easy on the budget.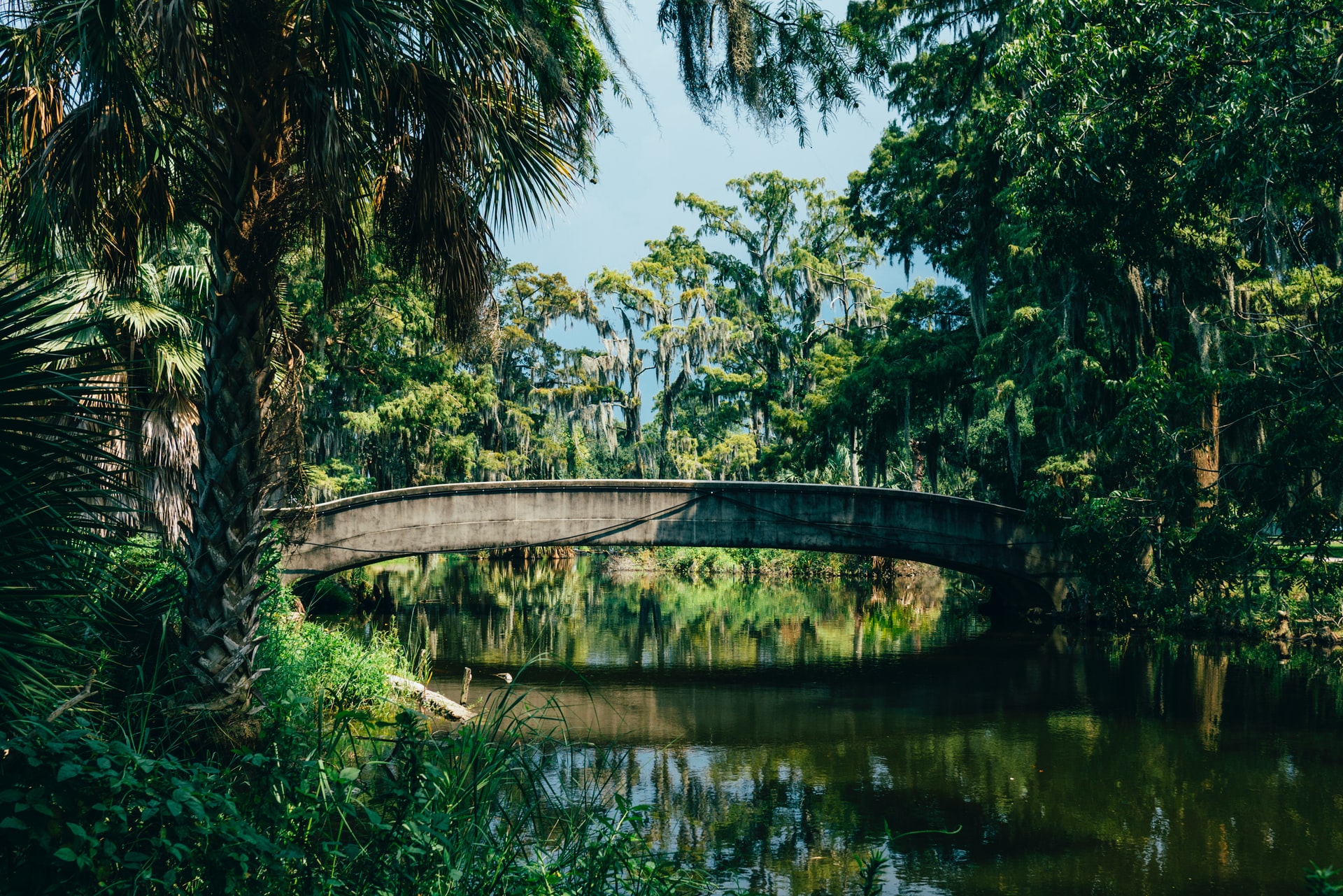 Afternoon: Stroll through Audubon Park
Relaxing in New Orleans' Audubon Park's natural ambiance is the perfect way to spend your afternoon. This sprawling park is home to several birds, waterways, a golf course, centuries-old oak trees, an aquarium, insectarium, and the New Orleans Audubon Zoo. The park has a nice paved loop, so you can keep riding your bike as you explore. You might want to pack a small picnic with the help of New Orleans' many takeaway restaurants. When you're done exploring, find a comfortable spot, and enjoy your picnic.
Evening: Dinner at Jacques-Imo's
For a relaxed evening, take a stroll to the Riverbend neighborhood and grab a to-go daiquiri from Original Daiquiris, a drive-thru daiquiri joint. You can get dinner at one of the many restaurants on Maple Street, but we recommend Jacques-Imo's on Carrollton Avenue serves some of the tastiest, authentic New Orleans Cajun dishes.
Night: Drinks at Maple Leaf Bar
After dinner, go for drinks at the popular Maple Leaf Bar just next to Jacques-Imo's. The bar has a festive atmosphere and typically features local New Orleans acts and attracts a mixture of young professionals and tourists. It's also in a location popular among college students, so you'll find spots for late-night food.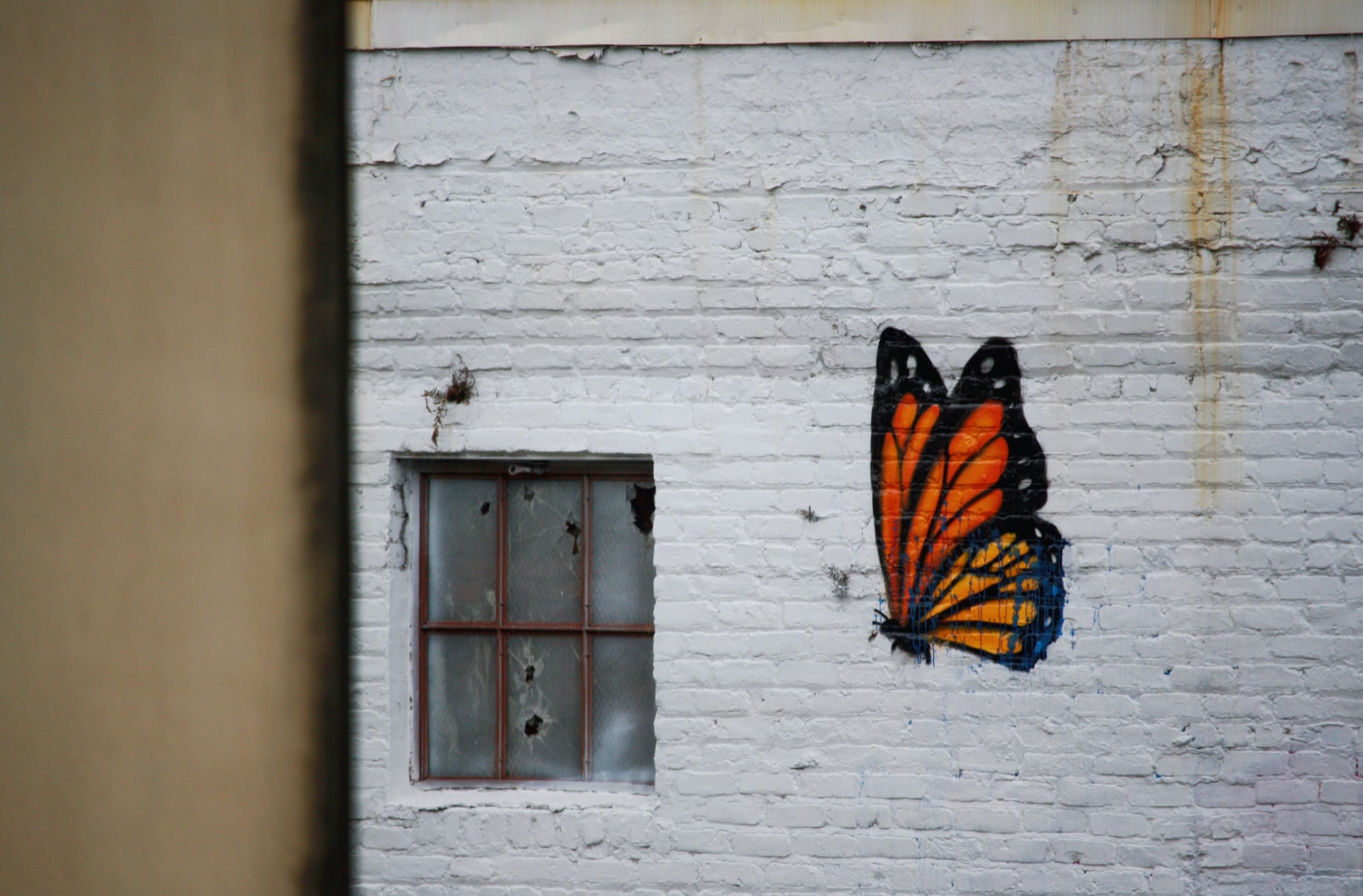 Conclusion
Fifteen years after Hurricane Katrina, New Orleans is still recovering. But the city and the people are tenacious and have made significant progress in rebuilding the city. New Orleans today is a bustling city with lots of exciting sights, bars, restaurants, and attractions like Mardi Gras, which put New Orleans on the map. This New Orleans event doesn't feature in our to-do list because it's seasonal, spanning a few weeks in January and February. You can keep an eye on the parading schedule and plan your vacation to coincide with it. Did we leave out any of your favorite New Orleans activities? Let us know in the comments.
Author Bio
Derek Greene is a great photographer and a travel blogger. The photography tips he has shared here are simply based on what he always does to get great travel pictures with no people in them. He believes that these tips can work for most people out there.