Duration in Italy – 15 Days
What happens when you take a step into Italy solo? Fun. Ultimate fun. 
Italy is one of the best cheap places to visit in Europe as you can enjoy history, nature, amazing food and wine all over here. I went here on a backpacking trip in the month of October and fell in love with it. From seeing multiple colours in Cinque Terre to flying down extreme South to Sicily. From sky diving in Rome to relaxing beside the canals of Venice. I experienced the best of it.
Well from this trip, I learned that Italy is an amazing trip destination for solo female travelers and should be explored slowly. Do not rush and spend enough time in a particular place and if I ever go to Italy again that is what I am going to do.
Below, I will talk about all the places I visited, how to reach, visa, itinerary, cost-cutting and budget tips on travelling to Italy.
Disclaimer: This article may contain links to our affiliate partners such as Amazon, Booking.com, etc. If you find our website useful, please consider booking through our links. When you do we earn a small percentage at no extra cost to you.
Visa Requirements and Formalities
One key thing to remember while applying for Italy's visa is to be patient! Sometimes getting an Italy visa can take a quite a lot of time and is a long tedious process that requires a lot of formalities to be checked of.
Being a tourist you can stay up to 90 days within 180 days of duration and you will be needing a Type C visa.
VFS Global Services Pvt. Ltd. is a commercial company working in partnership with the Italian Embassy in New Delhi, Mumbai and Kolkata to provide Italian Visa Application services in India.
Further, it is always better if you apply for the visa way in advance. Also, ensure that you are aware of all the formalities as they are a bit different for North Indians and South Indians. With respect to the state, you live in you can find all the details here – Visa to Italy.
To read more about all the formalities and services offered by VFS to Indians, read our detailed guide on Visa here – Italy Tourist Visa Requirements for Indian Citizens
Entering and Exiting Italy
Make sure you book the tickets months in advance. I booked some 8 months prior to my departure and the flight costed me about INR 36,000 (return).
One essential tip I would like to give while booking flights is to check www.skyscanner.in
This website tells you the cheaper available flight to a particular country on any given date. This helps in better planning and choosing the dates which suit the best for you in accordance to your budget.
By Air
Traveling by air is the easiest way to reach Italy. I chose Milan as my landing region as the tickets cost me the cheapest for this region, however, there are several other airports that you can look out for – Rome, Florence, Pisa, Milan, and Sicily. Although since the flight was the cheapest it was the longest as well and for the first time I realized how jet lag feels like.
Further, Alitalia is the national airline of Italy that links Italy to the rest of the world.
By Road
Italy is well connected by road to the countries that it shares the borders with. You can either take a bus or a train or hop into a shared taxi.
Shared Taxi: You can use Bla Bla carpooling services (to travel around where you pool in with other travellers to travel from one place to another. You can download the app and check the timings over there. However, you need to make advance payments using a credit card
By Train: Trains can be booked using Italo Rail or the EuRail. There is the Eurail website where you can book the tickets. You can also check the Italia Rail as well for train bookings – link
By Bus: Further, there are regular buses from France, Switzerland and Austria to Italy. Flixbus is the European leader in coach travel and connects several cities in Italy and Europe
Reaching Italy by Water
There are numerous ferries leaving from Greece, Albania, Montenegro and Croatia. Most of them arrive in Venice.
How to Travel City-to-City
Travelling in and around Italy is really straightforward. Italy is well connected via trains. Where you can even order medicines. There is no place that you cannot reach via trains. plus, train rides are not only comfortable but super clean and less crowded. Further, you can also opt for domestic air travels or buses. More on it below – 
Trains
If you are planning to cover short distances then travelling on a train is the best option.
Types of Train
1. Regionale Trains
Slow but often cheaper and I mostly travelled in this one. They are not high speed but they run in huge numbers. If you are on budget travel, then these tickets are the most affordable. 
Note: Do not forget to validate the ticket to avoid the fine. It is basically a small yellow machine on every platform in which you have to insert the ticket
2. High-Speed Trains in Italy
Inter City (IC): Faster services and a little costlier than the Regionale
Alta Velocità (AV): With speed of up to 300km/h it reduces the journey times but is also very expensive
In fact, long journeys such as between Rome and Milan or to Sicily can be covered during the night. This will cut the cost further, you would not have to spend on extra accommodation, save a day and rather sleep in the train which is very comfortable.
Also Read – Rome 3 Days Itinerary
3. Metro Networks In Italian Cities
Rome and Milan have a local transport system to help people get around. Naples also has underground railway systems. 
Tip: Train pass is helpful if you are planning to stay for a long duration or if you are a resident
How to Book
1. Through Mobile – Train Italia Application
You need to have a Train Italia application on your phone! This app will guide you on how you can go from one destination to another. Further, this application ensures that you can book your domestic tickets within Italy as well as sleeper trains at cheap prices with no booking fee. International train tickets for Paris, Switzerland, Austria, Germany and Slovenia can also be booked and collected at stations in Italy
How to Use www.trenitalia.com:

Booking usually opens 120 days before departure.  I would suggest you book at least days or weeks in advance as you will get cheaper train tickets. Also, t

he train stations are in the Italian language. Firenze means Florence, Roma means Rome, Milano means Milan, Venezia means Venice, Torino means Turin, Napoli means Naples

Choosing Your Fare:

Base fare

is the fully-flexible fare that one pays at the station itself in the day. This ticket is refundable before departure or at the station up to an hour after departure. On the other hand,

Economy & Super-Economy

are Trenitalia's cheap fares that one needs to pay in advance. There are limited refunds on this kind of fare so make sure you book these tickets only if you are sure of the journey
How are Tickets Delivered: You can travel

ticketless. All you need is a booking reference to show the conductor. You can also pick up the tickets from the self-service machines. All you need is to enter your name and the booking reference number.

Payment Problems: If your card doesn't work, it may be your bank is blocking it. In this case, you can call your bank and ask them to unblock Trenitalia.com or contact Trenitalia's web team at areaclienti@trenitalia.it.

You can also call them at +11 3906 6847 5475.
Italy Itinerary – Italy in 1 & 2 weeks
2. At the Station – Trenitalia Self-Service Ticket Machines
If you want to book a train in person at the station itself, there are 'fast ticket' machine installed in all the stations that accept both cash and credit cards. They also have an English language facility and are quite self-explanatory to use. However, below are the steps that you need to take so that you have the confidence –
Touch the UK flag on the bottom of the touch-screen for English

Touch 'Buy Your Tickets'

Select destination, which usually is the station you are at by default but can be changed

Choose a departure from the timetable list

Choose a class & price, and buy

Make payment with Euros or credit card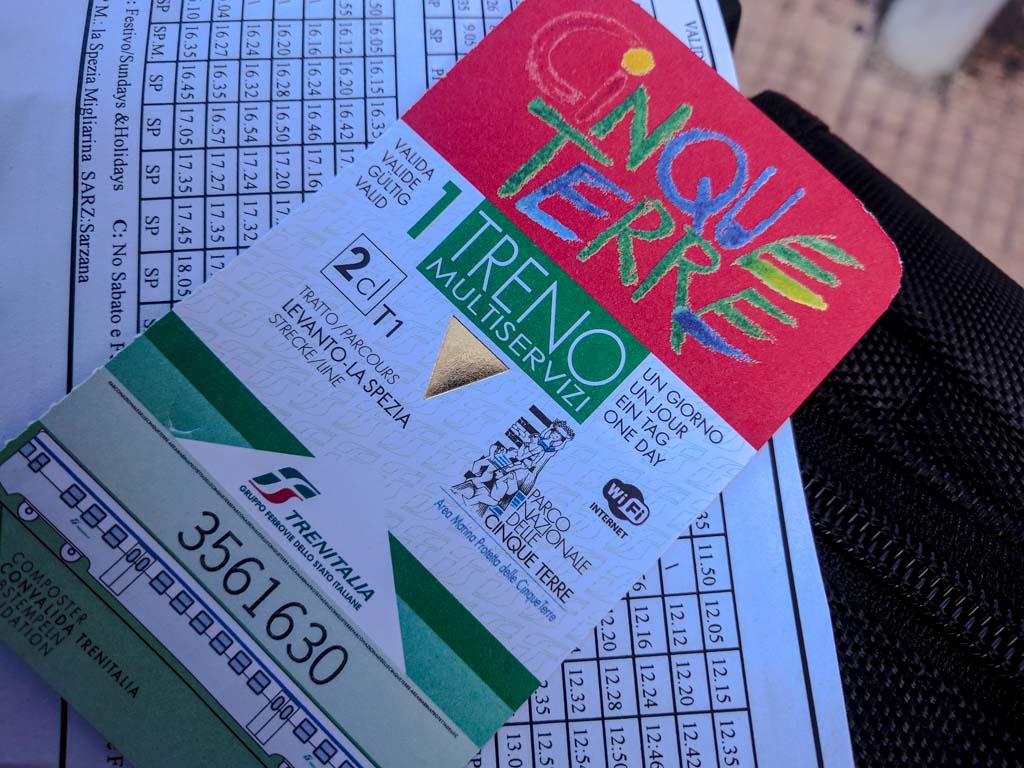 Bla Bla Car
Bla Bla car is a carpooling option which can take you from one place to another. This option is even cheaper than trains. Train Italia app also provides the schedule of Bla Bla car (if available). Book the ride in advance and in most cases you have to pay in advance with the help of a credit card.
Yes, it is safe and trusted and if you are travelling solo you will also get to talk to the locals.
Buses
Trains do not connect smaller towns or tourist centres inside the region. This is when the bus comes into the picture. Further, you will mostly find bus terminals near the train station itself. 
Flixbus is the European leader in coach travel and connects several cities in Italy and Europe. You can check their website if you want to travel out of Italy or within.
You can check out some offbeat places to visit in Rome as well to make your trip more exciting. 
The Best Time to Visit Italy 
Avoid going to Italy during the summer time. Not only it gets really unpleasant because of the weather but the price also skyrockets. It is best to explore Italy in the months of April to June (springs) or September and October (Fall).
While the summer is hot, crowded, and expensive, the winters, on the other hand, are wet and cold in the north.
Accommodation in Italy
Couch Surfing
Couch surfing is by far the best option to opt for when travelling to foreign countries. Not only it helps in cutting cost but with the help of this, you can connect with the local culture a little better.
But what exactly is couch surfing you ask? Read this – Why You Need to Try Couch Surfing
Hostels
Personally, I would prefer couch surfing any day. But another great way to cut cost is by staying in hostels. Not only hostels are cheaper but you get to interact with other travellers. Booking.com is a great way to book hostels elsewhere. Plus, using this website all you have to do is reserve rooms for yourself without paying anything in advance.
Since most of these places are quite popular like Rome, Florence, Venice, etc., you shoul easily find reasonable hostels to stay here.
Hotels
If you want to have a chill time with yourself and want solitude with a personal room to yourself, Italy has tons of hotels to choose from. No matter where you go you will have massive options to choose from. Although this will increase your cost a lot as well.
Typical Cost
Accommodation
Typically, hostels will cost an average of 20-25 EUR per night, which also includes Wi-Fi facilities and breakfast. If you plan to book an entire room for yourself, the price varies from 50 EUR to 70 EUR. You can also try Airbnb for cost-effectiveness. But I would advise you to try couch surfing instead. This is very common and popular in the European countries and the trip will cost you peanuts.
Transportation
Like I said earlier, the best way to travel around Italy is by taking trains. The cost of Regionale trains varies from 6-25 EUR per trip. Take them! But if you are planning to travel a long distance you can also opt for domestic flights, as the cost difference isn't that much and will save a lot of time, however, for shorter distances, trains are a big yay!
For instance, from Sicily to Venice the difference between the train cost and the flight cost was not that much. Plus, if you are sure shot of your plan it will be better if you can make the booking in advance to get cheaper deals on your flight bookings.
Museum Entry
Entry to the museums varies between 13-20 EUR. The rates increase if you are planning to take a guide in places like the Vatican and Colosseum.
Cost-cutting tips
Tips for Flight Bookings
While booking airfare, you can use the services of kiwi.com which will give you the best options and availability of the flights wherein you will also be able to compare the prices on different dates and time and thus book accordingly.
Italy Itinerary – Italy in 1 & 2 weeks
Hostels
If you want to have a flexible plan you can reserve your rooms on booking.com instead of booking the hotels. Advance reserving will not only provide you with the cheapest price but won't cost you anything as you do not have to make any payments. However, do read the policies and if your plan is changed, cancel the reservation else you will be charged if you do not show up. 
Tap Water
Well, you do not have to necessarily buy water bottles in Italy to drink. The tap water can work fine and they are absolutely clean! Also during your meals ask for tap water else that cost of the water will automatically be included in your bill. Moreover, you can also fill your bottles at any drinking fountain, which will make you feel like a local
Walking Tours
A city in Italy can easily be covered on foot. For instance, in Florence, I walked all the way from one place to another. This works best as you can soak in the culture more deeply. And who knows while walking what an unknown corner surprise you with
Buying Souvenirs at 99cents Store
There are many souvenirs shop in every corner of the street in major cities which will cost on an average of 2-3 EUR but if you have many souvenirs to buy for a lot of friends you can opt for 99cents store. The same 2 EUR souvenir will cost just 99 cents.

Couch Surfing
Hotels and stay in Italy are costly, and it should not be surprising since Italy is visited a lot by the tourists. Instead of spending 20 EUR every day on a hostel, it is best to stay at a local's place instead. You can find many couch-surfing websites and check their ratings on it, talk to them and stay as per your comfort. Not only it will save the cost but will give you wonderful experiences and you will be able to learn the culture of Italy even better.
If you want to try couch surfing and don't know how to go about it, read this – Why You Need to Try Couch Surfing
Things to Pack for Your Trip
Money
The official currency of Italy is Euros and 1 EUR is INR 78 (2019). Well, I did not carry any dollars or euros from India. I rather took my credit card and used to withdraw right there in Italy. ATM's are very easy to find in the cities but make sure to bring cash money when you visit remote villages and regions.
Power Adaptor
Indian sockets are different from the sockets used in Italy. Electricity in Italy conforms to the European standard of 220V to 230V, with a frequency of 50Hz. Wall outlets typically accommodate plugs with two or three round pins. Do buy a power adaptor for Italy.
Clothes
Italians love to dress well. Of course you will find many people wearing casuals but usually, most of them are well dressed. So be fashionable here. Have a pair of sunglasses, good dresses and a pair of heels while exploring the streets.
Further, if you are like me you will go from extreme North to the extreme South. So it is essential to pack in such a way that is not a burden to your shoulders, light as well as you blend in with the locals.
Travel Insurance
It's not mandatory to have travel insurance for your visa purposes as well. Plus, it's always a good idea to have international travel insurance! If you want to understand more about insurance, please read our visa guide here – Italy visa guide
Food and Drinks
Italy is famous for its wine as well as pizza. No matter where you go you will find tons of cafes serving these. Further Gelato is originated here. So you know you have to try the ice cream from its home country.
Further, if you are a vegetarian (like me), finding vegetarian food won't be an issue. The least you can find is a Margherita pizza.
Food and Drinks to try in Italy are – Italian Coffee, Tiramisu, Pizza Margherita and Risotto.
Some Key Things to Remember
Don't Put Ketchup on Pasta or Pizza:

Every time you ask for ketchup in a restaurant you break an Italian chef's heart. Ketchup is totally acceptable on a burger or fries, but do not put it on pasta or a pizza

The Closing of Shops: Most of the shops close at lunch break in Italy, especially in summers. Relax during that time and try finding food post 4 PM
Drinks to Have: With food, have water, beer or wine. Most restaurants don't serve cocktails
People & Culture
In Italy, people are not only stylish but very patient. No one is in a rush really. If you start talking to them they will talk with you as well in length. Chatting with locals is important during travels to better understanding the local way of life. Start the conversation with the phrase "buona giornata" which means "have a good day".
Further, Italians love to spend time with their family. Their family solidarity is focused on extended family and you will come across many family gatherings as well.
Planning to go here solo? Read this – Tips for Solo Traveling
Religion in Italy
The major religion in Italy is Roman Catholicism. This is also because the Vatican City is located in the heart of Rome and that is where the Pope resides. The population of Roman Catholics make up 80 per cent of the population.
If you wish to know more about this place, check out all the Instagram worthy places in Rome. 
Italian Holidays
Italians celebrate most Christian holidays. Below is a list of public holidays for 2019 – 
| Date | Day | Holiday |
| --- | --- | --- |
| 1 Jan | Tue | New Year's Day |
| 6 Jan | Sun | Epiphany |
| 21 Apr | Sun | Easter Sunday |
| 22 Apr | Mon | Easter Monday |
| 25 Apr | Thu | Liberation Day |
| 1 May | Wed | International Workers' Day |
| 2 Jun | Sun | Republic Day |
| 15 Aug | Thu | Assumption Day |
| 1 Nov | Fri | All Saints' Day |
| 8 Dec | Sun | Immaculate Conception |
| 25 Dec | Wed | Christmas Day |
| 26 Dec | Thu | St Stephen's Day |
Language
The official language of the country is Italian. While the majority speak the Italian language, however, there are a number of dialects such as Sardinian, Neapolitan, Sicilian, Venetian, etc. Milanese is also spoken in Milan. However, the majority of the Italians are fluent in English so there is no language barrier.
Do comment below if this guide helped you or you have any further tips to share with our readers. Ciao!