Lombok is one of Indonesia's most stunning hidden gems. This island is often overlooked due to its location beside the very famous island of Bali. However, if you are traveling around Asia a stop on the beautiful island of Lombok is a must.
Lombok has an untouched and authentic feel that is missing from Bali and most other travel destinations around the world. A visit here feels like you are one only of a select few who have made the journey to Lombok to explore the natural beauty of the island. Lombok is home to the very famous Gili islands which is where most people visit and spend their time in Lombok, but there is so much more to see and discover on this island apart from the Gili islands.
This Lombok travel guide will tell you everything you need to know about when planning a visit to Lombok and what you can do and see in 5 days. Be sure to use it to ensure your travel goes smoothly and you are fully prepared.
Lombok Travel Guide
Things to Do in Lombok
Visit Kuta
When visiting Lombok a trip to Kuta is a must. Although Kuta is small it is one of the "biggest" cities on the island and is home to some delicious restaurants and unique shops. It does not look how you'd imagine one of the largest cities on the island to look, especially if you've visited Bali. It is a lot more rural and underdeveloped, but this does not take away from its charm.
If you are traveling around the Southern part of Lombok, Kuta is a great place to stop in for a bite to eat and some relaxing. The main street is full of delicious restaurants ranging from traditional Indonesia restaurants to Italian, to vegan! A visit to Kuta, Lombok will show you just how different it is from the touristy and commercial Bali. 
Go to Tanjung Aan Beach
Tanjung Aan Beach is one of Lombok's most beautiful beaches. Like most beaches on the island it is characterized by glowing white sand and vivid blue waters, but what makes it different is its undiscovered charm. The beach is huge and with few tourists on the island, you can almost feel as though you are some of the only people in the world.
Tanjung Aan is the perfect place to venture to for a day of sun, sand, and stunning scenery. The road to get here is a little bumpy and underdeveloped but you can hire a driver to bring you there or rent a scooter for the day. Once there you can rent a sunbed and purchase fresh coconuts and other drinks. There are also two restaurants on the beach that offer delicious authentic Indonesian cuisine. The best being the Pink Swing Cafe, where you can get a huge meal for around 60,000 IDR (4 euros)!
Spend a Day on the Gili Islands
The Gili Islands are undoubtedly the most famous attraction in Lombok. The group of three islands – Gili Trawangan, Gili Meno, and Gili Air – sit along the coast of Lombok and offer beauty, excitement, and wonderful snorkeling conditions. The Gili Islands are widely known as the place for the best nightlife from both Bali and Lombok. It is a great place to head to for a few nights of fun with a ton of like-minded people.
However, it is also a great place for those looking for a relaxing stay. There are unreal snorkeling conditions, quiet beaches, and low key hotels. You don't have to want to party to head here.
Explore Additional Beaches
Indonesia is a beach lovers paradise. There are a ton of beautiful beaches in Lombok that are simply lovely to explore and discover. All around the coast you can find beach after beach with their own unique qualities. Another beautiful beach to visit after you visit the beautiful Tanjung Aan beach is the Pink Beach! There are only a few pink beaches in the world and Lombok is lucky enough to be the home to one of them. Simply searching for some beaches by scootering around the island to find them is a great way to spend a day.
View the Rice Fields
The unique rice fields in Asia are some of the most impressive things to see. The most famous are in Bali, however, these are created purely for tourism. While the rice terraces in Lombok are actually used by the locals to feed the community. The best thing about the rice terraces in Lombok is that you must hire a local to bring you on a tour through them. With this, you get an in-depth explanation about the growing process and everything you could want to know from someone who's lived here their whole life. You can also purchase local goods and spices which make for the perfect souvenirs.
Go to a Waterfall
Discovering and enjoying waterfalls is one of the best things to do in Asia. There is nothing better than a roaring waterfall surrounded by lush jungle and luckily Lombok has some of the world's most beautiful. The two best are Tiu Kelep & Sendang Gile waterfall and can be found in the Northern region of Lombok. These waterfalls are absolutely amazing and what makes them even better is that you can enjoy them with little company. All the waterfalls in Bali are packed with tourists while the ones in Lombok can be explored in their authentic form. 
Best Time to Visit Lombok
Lombok is a travel destination that you can visit any time of the year. Its tropical climate makes it warm and sunny virtually every month. Although, Lombok does experience a "rainy season" which is from December to March. During this time you can expect quite a few rainy days but they are nothing to be concerned about. The rain lasts around one hour then the sky clears up again! What's nice about the rainy season is that fewer people visit Lombok during this time which means attractions and beaches are less busy and the prices for flights and accommodation are cheaper.
Where to stay in Lombok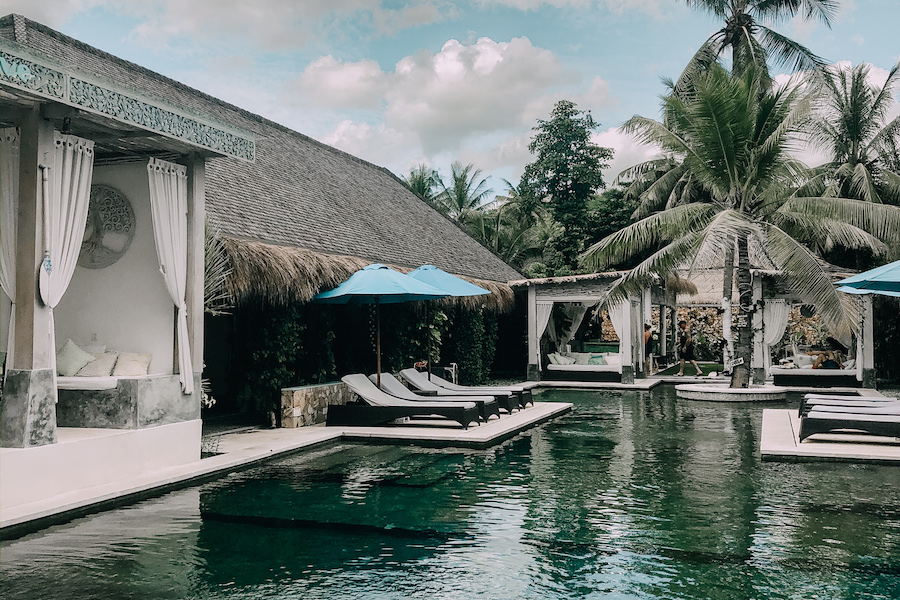 Lombok is an island full of different areas that are all unique and special in their own ways.
The Northern part of the island is great for anyone looking for a more adventurous and nature-focused visit. This is where Mount Rinjani is and some of the local rice terraces.
The South of the island is where you will find many of the stunning, picturesque beaches. The best place to stay in this area is in Kuta!
While the islands around Lombok, like the Gili Islands, are a good place to stay for anyone looking for beauty and a good time. These islands are always hosting fun parties and events that everyone loves.
Lombok Travel Tips
When visiting Lombok it is important to prepare before the trip and during. Before the trip it is important to look into the vaccines you will need. Plus, Lombok is located in an area where malaria is very prevalent, and getting anti-malaria pills before you go can help you if you get malaria while traveling.
Lombok offers very low prices, and this is especially true for accommodation. It is best to spend a little bit more to get a nicer accommodation because the perks that come with it are very worth it. For example, with most higher-end accommodations you can rent reliable scooters from them and hire drivers directly from the front desk. It may be tempting to opt for a 5euro a night hostel but when you can get a 5-star experience for 30 euros a night, it is best to snag the deal.
How to Reach Lombok
Luckily, Lombok is very easy to get to. You can get here in one of two ways – by boat or by plane. If you are traveling from another country you can fly straight into the Lombok airport and arrive this way. From here you can hire a driver to bring you to your accommodation safely and securely.
You can also get to Lombok from Bali in two ways. One way is by taking a short 20-minute flight from Denpasar to Lombok. Not only is this flight very quick but also very cheap! You can find them for about 20 euros per person. The second way to get to Lombok from Bali is by taking either a fast boat or a public ferry. The fast boat is more expensive than the ferry but much quicker (around 3 hours). The public ferry is cheaper but takes longer (5 hours).
If you are planning to spend 5 days in Lombok prepare to enjoy a full itinerary of fun, excitement, and something completely unique. Use this Lombok travel guide to ensure your trip goes smoothly and as well as possible.
Author Bio
Samantha Karen is the founder of the travel bog Sam Sees World. She is a twenty-something traveler on a mission to explore the world to seek the new and unknown so she can document her experiences and inspire others to explore this wondrous world. Her objective is to learn about the world while also searching for her place in it. Check out Sam Sees World for valuable information on the best things to do, see, eat, and experience while traveling and making memories along the way.
Pinterest: Pinterest.ca/samseesworld/
Instagram: Instagram.com/samseesworlddd/