Cherrapunji or Sohra is a place we all have heard of as the wettest place on Earth. A quiet suburban town in the East Khasi district in Meghalaya, Cherrapunji is known as the abode of clouds and is nothing short of a dream. It is a town where the clouds come so low to sweep you off your feet. You can literally walk amidst clouds and that is just the beginning of the wonders in North East India.
Cherrapunji has several natural scenic landscapes to see and activities to do. While you might find the most common ones like Nohkalikai Falls and Root Bridges in every list, read on to know the 5 off-beat things that you can do in Cherrapunji.
Read more on how you can spend 7 days in North-East India
Disclaimer: This article may contain links to our affiliate partners such as Amazon, Booking.com, etc. If you find our website useful, please consider booking through our links. When you do we earn a small percentage at no extra cost to you.
Mawlynnong
Mawlynnong is a tiny village in the East Khasi Hills that is popularly known for its cleanliness. This will definitely rank first in the list of offbeat places in Meghalaya. It is lined with small cottage shaped houses and surrounded by colourful flower gardens. The narrow lanes through these houses are spotless and a delight to walk around.
There is no entrance fee to enter the village. Further, the bonus of this place is that if you do not have the time to go to the double-decker root bridge trek, you could still catch the living root bridge which is just 10 minutes from Mawlynnong.
A short climb down from the starting point, it will cost INR 10/- and take less than 15 minutes for you to reach this beautiful root bridge. The mesmerizing ways of the roots and strength over the streams is overwhelming to see with the naked eye.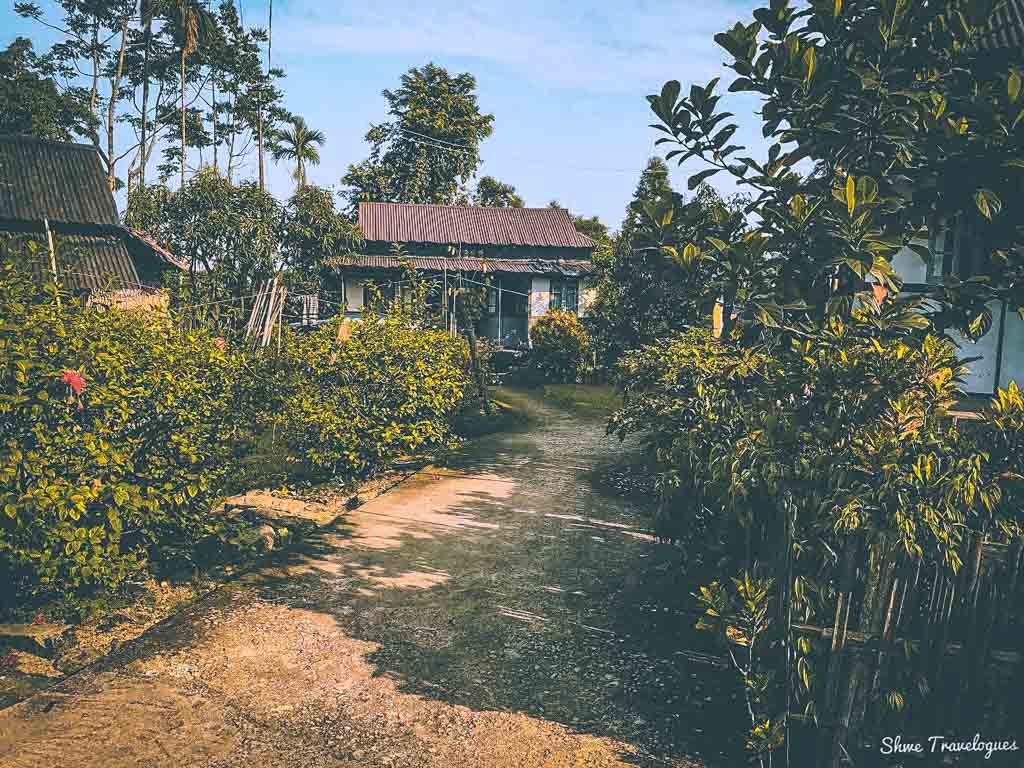 Nohsngithiang Falls
Nohsngithiang Falls or Seven Sisters Falls as it is commonly known as a seven segmented waterfall located near the Mawsmai village in Cherrapunji. It is one of the fourth largest waterfalls plunging from a height of 1035 metres, the seven sister falls is a sight to see during monsoons. Further, it has an abundance of water that gushes out in parallel from the plateau.
The falls are visible from the carpark itself and have no entry charges. While the waterfalls may not be much prominent in the non-monsoon period, they have amazing swings just before the cliffs where the waterfalls begin. It is fabulous. Further, more than the waterfalls itself, one would not like to get off those amazing swings.
If you want to a detailed travel guide on Meghalaya, read our blog post here – How to Travel Solo in Meghalaya in a Budget
Mawsmai Caves
The caves are a very different experience in Cherrapunji. It is an experience of looking at natural limestone rock formations in darkness in contrast to the rest of the town that is usually filled with sunshine, lush green hills and cliffs. While the caves itself are much longer, only a small portion of them are open to visitors.
The best part being the entrance fees is a mere INR 20/-. Enter the world of darkness as you walk into the caves and follow the dimly lit path to find your way out. There is no better offbeat place to discover in Meghalaya than this one.
You will find also yourself mesmerized by the varying shapes and sizes nature has taken in those rock formations. I found a small opening in the caves wherein natural light fell from above. I was completely awe-struck by its beauty.
Also Read – 54 Hill Stations in India that We have Explored
Orange Roots
A restaurant all run and managed by the Khasi women should be on the top of your list if you are in Cherrapunji. With a lovely car park just by the Mawkdok Dympep Valley view point, this restaurant offers lovely vegetarian Indian cuisine options for travellers. A great place for a breather amidst hopping view-points. Further, the service here is quick and excellent and the food is extremely tasty and very reasonably priced.
Sa-I-Mika Resort
We managed to stay in Sa-I-Mika Resort and I cannot recommend how good this place is to stay. A beautiful resort with cottages built in the traditional Khasi architecture spread out in the Hills. It feels like each room is in the lap of nature.
Every cottage has a lovely sit out balcony with a view. The approach is slightly worse with the maps pointing you to a location that seems to be inaccessible. But believe me when I say that the bad roads are worth it. If you are staying elsewhere, still make a trip to this lovely resort. Within the resort premises, you will find a small park with swings, see-saws and slides amidst a gushing stream and beautiful lush green gorges.
For those who choose to stay here can experience waking up to the beautiful hills in the morning. Also, you can enjoy a lovely on idyllic stone chairs outside and dinners with a campfire and lovely live music.
If you are looking for more options on accommodations, maybe in a homestay or a hotel you can check the website below. The best thing about this website is that you do not have to pay any amount in advance. just reserve the room through them 🙂
Author's Bio
Shwetha Sivaraman is a travel blogger and writer based in Mumbai. Founder of the blog Being Meraklis it is her endeavour to make travel easy and accessible for fellow travellers with limited time to research and plan their travels. You can find her work on Instagram, Facebook, Pinterest and Twitter.