I visited an offbeat place in Uttarakhand that lies silently between Mukteshwar and Almora – Mauna. According to me, this place has to be the most photogenic place in the Nainital district. It is still an untouched place and thus apart from experiencing the beauty of the surroundings you will also receive immense peace here. Further, Mukteshwar and Almora both can be visited easily from this place.
Below, I will talk about the accommodation option along with places you can see in this beautiful hill station.
P.S. Want to learn blogging, Instagram, YouTube from me? Hire me as your mentor. Check out my Patreon for more details.
Disclaimer: This article may contain links to our affiliate partners such as Amazon, Booking.com, etc. If you find our website useful, please consider booking through our links. When you do we earn a small percentage at no extra cost to you.
For cheap transportation option, check out Bookaway.com

https://www.instagram.com/p/CCIJvCdAmyE/
Best Time to Visit Mukteshwar
Mukteshwar is accessible all around the year. During the summers, the weather is pleasant, which is between March and May. In winters you can expect heavy snowfall, which is between January to March.
Summers offers majestic sceneries with the trees heavy with fruits, while it is at its best during the monsoons as the entire area is full of greeneries.
If need be, avoid going during the heavy rainy season and snowy winters as there might be traffic blocks.
You can check out our other list of hill stations if you are not sure where to go for your perfect holiday to the hill stations – Top Hill Stations in India
How to Reach Mukteshwar
There are several ways to reach Muketshwar. Below, I am listing down the modes of transport from Delhi which you can take to reach Mukteshwar.
By Train
The cheapest way to reach Mukteshwar is to take a train to Kathgodam from Delhi. From Kathgodam you can catch a bus for Mukteshwar. The frequency of buses between Kathgadom and Mukteshwar is excellent.
It takes about six to seven hours to reach Kathgodoam and then another three hours to reach Mukteshwar.
By Bus
You can also take a bus from Kashmiri Gate or Anand Vihar ISBT to either Kathgodam/Haldwani. There are regular buses running from these places to Mukteshwar.
Alternatively, you can also book a luxury bus to Nainital/Haldwani. From Nainital or Haldwani regular buses or shared taxis operate till Mukteshwar. It takes about seven to eight hours to reach Nainital/Haldwani and then another 2 hours to Mukteshwar.
Planning to go solo to Muskteshwar? Read our solo guide here – Solo Travel Tips to Adopt in India
Places to Visit In and Around Mukteshwar
Below you will find both aspects to Mukteshwar – a few mainstream places and also some offbeat ones.
Mukteshwar Temple
Located on a hilltop at an elevation of 2,312 metres, this temple is dedicated to Lord Shiva. From further here, you can visit Chauli ki Jali which is the most magnificent making of nature.
Chauli ki Jali
Apart from the beautiful views, this place is also famous for its adventurous activities such as rock climbing, zip line, paragliding.  The panoramic view from here is breathtaking and during the sunset, one can see the red streaks in the sky shining brightly in the valley.
Mauna
Mauna is about one and a half hours from Mukteshwar and is one of the most amazing places to visit. You can also see Nanda Devi and Trishul peaks clearly. Below, I am covering a few places that you can cover in Mauna –
Kapileshwar Temple
An ancient temple dedicated to Lord Shiva that was built somewhere around the 8th century. Further, you can enjoy the river streams – Kumiya and Sakuni here.
Pine Forest Hike
You can also go on a short hike, inside a pine forest where you can witness the locals farming happily.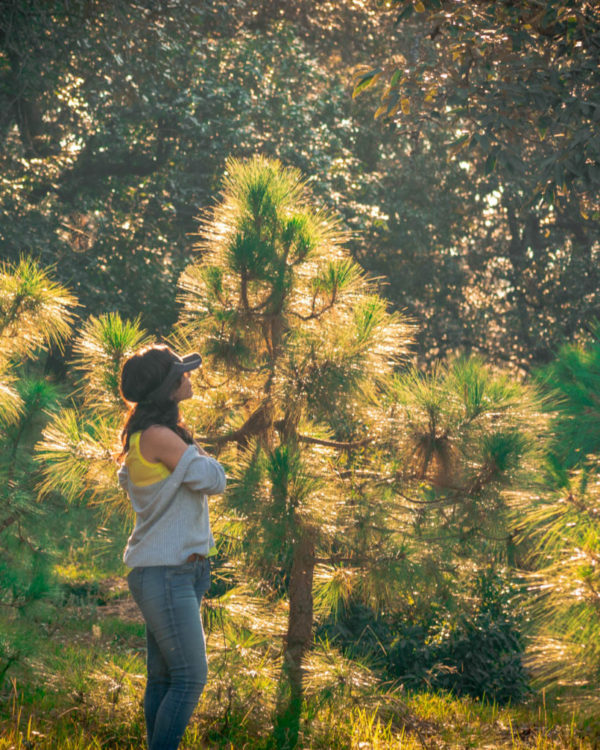 Breathtaking Views from Mauna
As a part of the 'Stay on Skill Accelerator' program, I got a chance to experience Machus Cottage, a paradise hidden in the Himalayan region. Their tagline is "a home away from home". The roads were empty with not a single vehicle to be seen even at a far off distance.
There were Nanda Devi peak (the second highest peak of India) and Trishul peak right in front of us. It was mesmerizing!
Want to travel for free if you are new in the travel industry and not sure how to go about it? Read more about it here – How You Can Travel for Free Around India
You can see my camping essentials over here – https://www.amazon.in/shop/radhika_nomllers
Accommodation in Mukteshwar
A Cottage
Machus Cottage is located in the Kumaon hills from where you can see lovely views of Almora hills. If you are looking for a luxury stay in the lap of Mother Nature, then Machus cottage is the one for you. Surrounded by green hills, this place offers a perfect weekend therapy. The wooden floor and antique structure offer a vintage look to the entire experience.
Either you can book the entire cottage for INR 15,000 or book a single for INR 4,500 to INR 5,000. The king-sized beds, bathrooms with all the facilities and a living area to relax is exceptional.
Food in Machus Cottage
This property also offers mouth-watering cuisines with a homely vibe. You have both vegetarian and non-vegetarian options. They also have menu cards in every room where you can easily opt for snacks, beverages and proper meals.
Budget Friendly
If you are travelling on a budget then you can check out the website below in that case. The best thing about this website is that you do not have to pay any amount in advance. Just reserve the room through them 🙂
The Route I Followed
Below, you will find the places I visited during the weekend. This will also show you how you can get the best of both the worlds – Mukteshwar and Mauna.
Typical Cost
Bus and Train
The bus would cost about INR 600-700 till Kathgodam/Haldwani and another INR 200 to Mukteshwar.
Although, if you plan to take a train instead, you can opt for a chair car for INR 110/- or 3rd AC for INR 1,500/-.
Accommodation
The cost of the entire cottage is INR 15,000. However, if you plan to opt for a single room it will cost you between INR 4,500 to INR 5,000.
You can also get cheaper stays for as less as INR 1,000 per room.
Private Taxi Cost
If you want to book a taxi for a day tour, then that might cost you about INR 3,000/-. You can also take buses or shared taxis, but some places might become inaccessible, such as Kapileshwar Temple.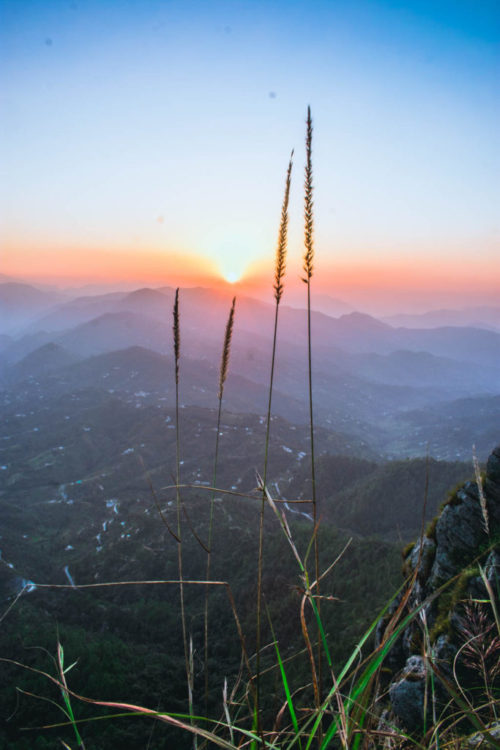 I hope you will enjoy the stay in Mukteshwar. Do comment below if you need any help further with the planning!