We chased sunsets every single day in Goa
I was chilling in Goa in one of the most famous (also infamous) beaches of Goa – Baga Beach! Of course, I was being a tourist then and since we found a cheap accommodation near Baga beach we decided to stay there to witness the best of both the worlds – partying and relaxing on the beach.
However, I met two Goans on this trip who luckily showed me a few places that travellers like us hardly know about.
Below, I am listing down 13 Offbeat Places in Goa that we explored, with a map towards the end of it so that it helps you in your Goa planning a little better!
I am very excited while writing down the names below of the places I can't even tell you. My brain is on fire!
Disclaimer: This article may contain links to our affiliate partners such as Amazon, Booking.com, etc. If you find our website useful, please consider booking through our links. When you do we earn a small percentage at no extra cost to you.
13 Offbeat Places in Goa
Church of Our Lady Mount
Winding roads and wooden pathways led me to a sorrowful place to make me watch the most beautiful sunset of my life!
The place is very quiet with absolutely no tourists. The church goes unnoticed because it lies on a wooden hilltop having a sealed road around it. In fact, while walking towards the Old church, you will still not feel the thrill of the place and will only be surrounded with beautiful pine trees.
But once you will reach the steps that lead towards the Church you will be able to see the beautiful town of Old Goa along with Mandovi river right in front of you. The view is so excellent and the sunset is mesmerizing.
The church was first built in 1519 by Afonso de Albuquerque. It has been destroyed twice due to the earthquake and hence rebuilt in 1818. Because of the perfect sunset this place absolutely tops our list of Offbeat places in Goa to be visited.
https://www.instagram.com/p/Bpqq18oAaz7/
Shop this Look (comfortable and classy) –
Cidade/Vainguinim Beach
This beach is one of the most colourful ones with European vibes that I got to witness in Goa! It is near Panjim from where you take a detour and drive down the highway for 10 minutes. The Google Maps will guide you to a resort, however, there is a winding road right next to the resort that will lead you to this beautiful and secluded beach. Locals love the vibes here and you will mostly find foreign tourists and locals here.
In fact more than the beach, I liked the pathway that leads to the beach. A narrow lane that connects to this tranquil beach and within a minute you will be transported to a quaint Portuguese village.
Also Read: 16 Magnificent Beaches to Visit in Goa
Divar Island
To enter into the land of forgotten, to walk on a small island of the beach capital of India, to be secluded, to drive your car on a single lane road which is surrounded by marshy water, to live!
To reach Divar Island, you have to take a ferry. There is no other way to reach here (of course, it is an island). We took our car inside the ferry itself (so cool!). The place is so sleepy yet so picturesque. It is completely different from the rest of the Goa. In here, you will be able to find temples that were built before the Portuguese invaded the island.
The famous site that can also be seen from the "Church of Our Lady of Mount" is called the Church of Our Lady of Compassion. There is also a small cemetery right next to the church. Learn more about Divar Island and Chorao Island and make sure to include it in your Goa itinerary.
You will also love this Heritage Trail of Portuguese Mansions & Museum
For cheap transportation option, check out Bookaway.com

Fontainhas
Lying in the capital city of Goa – Panjim, this place is colourful and lively with Portuguese touch due to the Portuguese influence in its architecture. The winding roads have painted balconies with yellow, green, red, blue roofs. The walk here is famously known as the "Heritage Walk."
Fontainhas dates back to the late eighteenth century and was established by Antonio Joao de Sequeira. In fact, it is the only area in Goa where Portuguese is still the main spoken language.
You will also love this Guided Panjim Heritage Walk
Accommodation
I will suggest you to stay close to Fontainhas if you are planning to cover Panjim, Old Goa and the nearby area. I personally love staying in hostels. However, I am providing three options below that you can look into with regards to your budget and comfort.
Budget Friendly – Marquito's Guest House, a highly recommended property to stay in. It is not only pocket friendly but also has a shared lounge and a garden. It also provides other facilities like free WiFi room service and currency exchange for guests.
Villa – Casa Tropicana Hotel & Homestays is the perfect villa! You will be blown by the beauty in and around it. The property is 1 km from the Caranzalem Beach and the Cobo Palace. There is also a balcony over here through which you can enjoy epic views.
For more option you can search with the help of the below widget! The best part about this website is that you can reserve your room in advance, without actually paying for it (awesome!)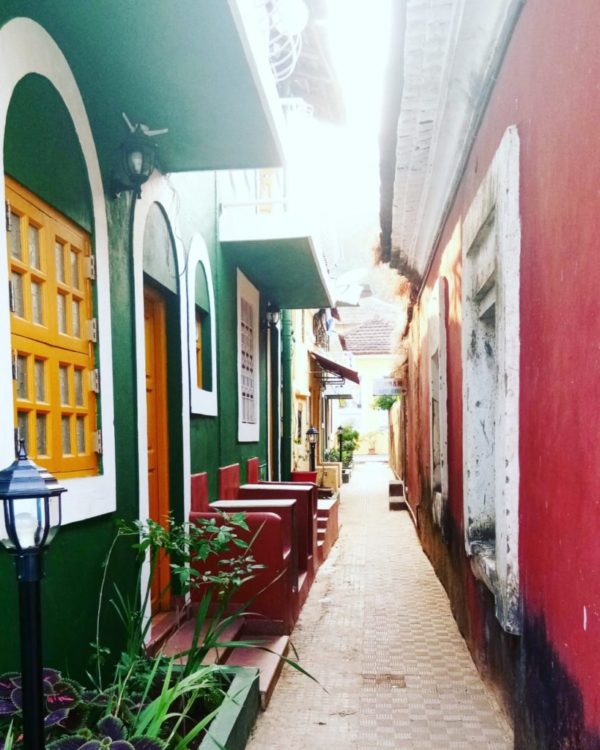 Joseph Bar
I grabbed the cute wooden table and sat down on the stool to flip the pages of my old book, observing the bylanes of Fontainhas and also the Portugal vibe still lives quietly in the broken ceilings of its colourful walls.
Joseph Bar is a super cute bar in Fontainhas itself. I am highlighting it especially because this place deserves all the glory. It is one of those bars which is away from tourists and really quaint with vintage vibes. Goans go here for a fresh beer and this tiny joint is so lively that Goans usually occupy the entire street to themselves.
Looking for cheap flights. Check out Kiwi.com – For Best Price


Reis Magos
While going to Panjim from Baga beach, you will cross the usually unnoticed village called – Reis Magos, another one of those offbeat gems that no one talks about. This place is famous for its fort and church. The fort offers spectacular views of the sea during sunsets.
The fort has been used to accommodate viceroys in the earlier times and later as a fortress. Post this, it has also been used as a prison. From here, you can also see the "Chopati" of Goa.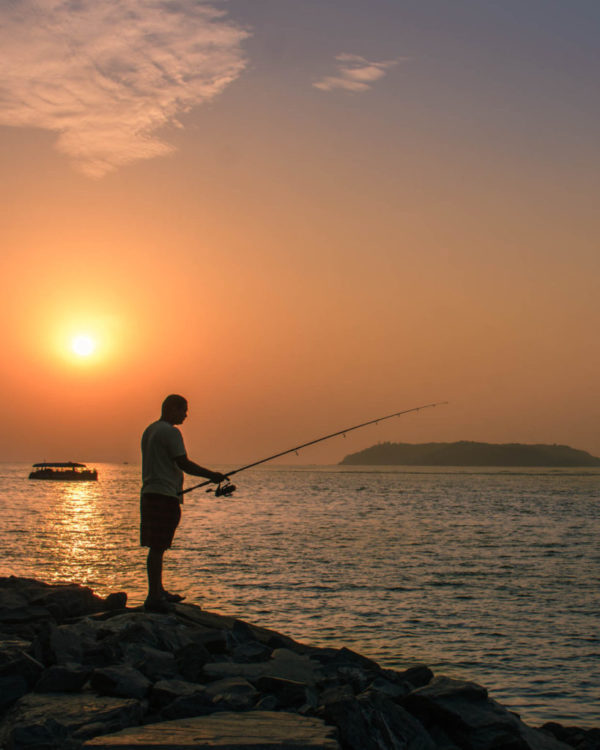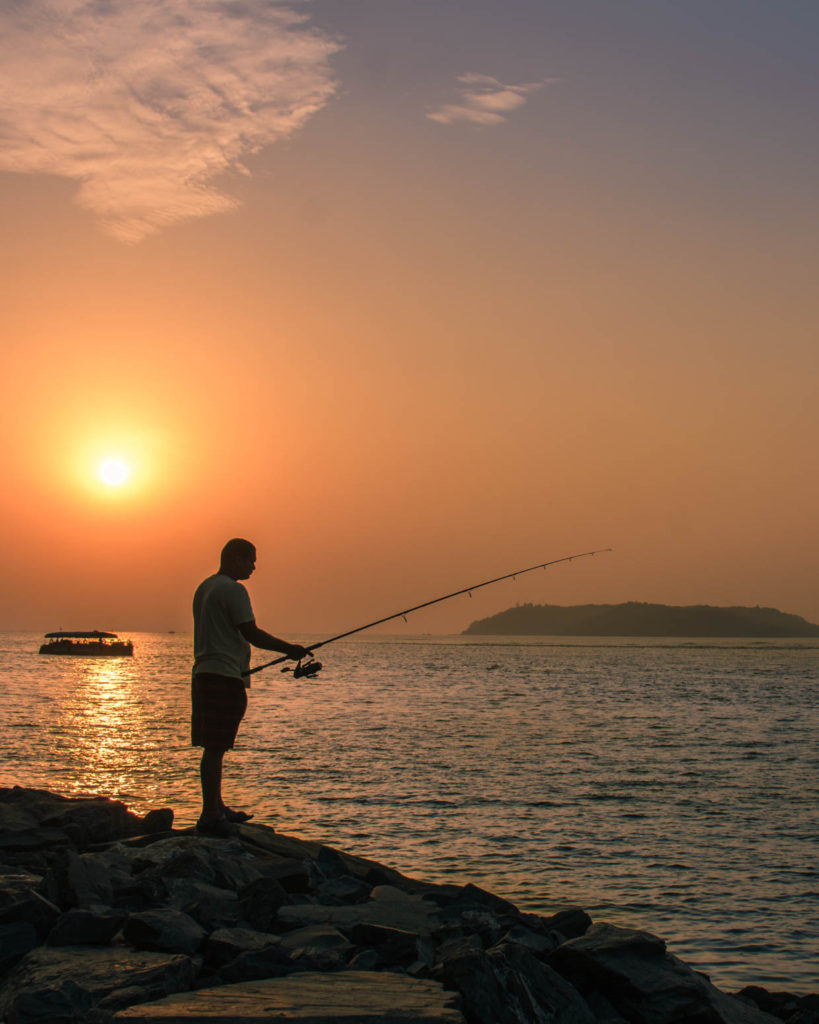 Aguada Fort
Okay, before you roll your eyes that how can I include Aguada Fort in this list of offbeat places in Goa, I would first like you to see the below image.
https://www.instagram.com/p/BpbYSYjgXht/
I know right? Such views from Aguada Fort? A view where one can see the ocean meeting the sky and nothing else? A place where the horizon line becomes blurry and ocean waves seem calm and almost so close to you that it feels like you can touch them?
This place is not exactly in the Aguada fort where tourists mostly go to see the lighthouse. The place is only known to the locals and lucky for us, Nawaz and Zenin showed us the path that leads us to this point near the Aguada Fort. I won't reveal the exact spot of this place.
Let this be a puzzle to solve. You have the picture (take a screenshot) and you know it is at a walking distance from Aguada fort. If you really want to see this place, talk to a local, show them this picture and ask them where it is. 🙂
P.S. Also not revealing the exact path because I do not want this spot as well to be flooded with tourists.
Bridge Close to Arambol Beach
Arambol Beach is in itself an offbeat place to go to. While many people avoid going here as this beach is really far and an hour drive from Baga, but the places and vibe here is very special. You will find the place mostly flooded with hippies and foreign tourists! Earlier, foreigners used to visit Baga beach, but due to massive crowd and loss of peace in Baga, foreigners moved to further North – Arambol!
Here, there is a bridge that no one talks about, in fact, even locals don't know about it. It is on the Dando Road! And once you step on the bridge you won't even realise that you have actually discovered it. That is how lost we were. It is when we stepped out and moved away from it to see the reflections and the beautiful oval like construction below, is when we jumped to our photography skills.
Tip – Visit the place early in the morning. The sunrise hues make the place look very divine!
https://www.instagram.com/p/BpT_wHfgHyl/
Bambolim Beach
Bambolim Beach, another one of those that we discovered after taking a detour from Panjim. The drive through the winding roads was so beautiful. There were greenery and nothing else to see in that tiny road. We once felt like we have reached Meghalaya instead, this is how we discovered this offbeat place in Goa.
In Bambolim Beach, I saw the most beautiful sunset of my life! Plus, there were no tourists here! The beach is secluded and finding the tiny path that leads to the beach was difficult! There is a sharp curve and a path reaches out towards the beach from the road. This small path is right next to the Grand Hyatt hotel!
https://www.instagram.com/p/BpoOwTNAee-/
Church of St. Augustine
This church lies in a secluded corner of Old Goa! It dates back to 1597 and was built by Augustinian friars. However, the church was later abandoned that led to its improper maintenance. This led to a collapse of one its vaults in 1842. The remains again collapsed in 1931 and later again in 1938.
Earlier, this mighty church had four towers, however only one of them now remains! It was also one of the largest buildings in Goa once but is now shredded to just a few remains.
Also Read: 23 Stunning Places to Visit and Things to Do in Goa
Safa Masjid
This beautiful mosque is located outside the Ponda district. The mosque is elegant and has withstood the rages of time long gone.
'Safa' means clean and pure. To go back and talk a little about its history, Goa, during 1489-90, was under the control of the Adilshahi kingdom which was then led by Yusuf Adil Khan, a Turkish. Later, in 1510 this kingdom was captured by Afonso de Albuquerque, a Portuguese. It is also one of the 27 mosques that were built by Ibrahim Adil Shah.
The structure of this masjid is very impressive. There is a huge tank right in the middle of the Masjid with 44 hammams (hot air baths). If you see the Masjid from the opposite side of the road, the tank acts like a mirror of the Masjid.
There are arch-like structures has Mihrab designs in all the four corners. It is also beautifully decorated with yellow and pink flowers.
Mala Temple
Next to Fontainhas one can also visit a pre-Portuguese Hindu temple – Mala. The temple bells will be calling you from a distance and once the road turns, you will spot a bright saffron coloured temple. You can either take a flight of stairs or drive up in your car on the winding road. From here you will also be able to see the entire city of Panaji.
Palolem Beach
Do you want to visit a postcard-perfect beach? This beach lies in the South Goa where you will witness perfect sunsets. In fact you can also attend the "Silent Party" (headphone party) here..
The party happens every Saturday in the Neptune Point and the entry fee is INR 500-600.
Also Read: Goa Travel Guide – Key Tips and Information
Do you know of any other offbeat spots in Goa? Comment below and I would love to visit them 🙂