When I reached Srinagar and got out of the shared taxi a man approached me and asked to stay in his houseboat. He started to regard me as his sister.
I had food along with his family – elder brother, a wife, a son, and a daughter. 
Kashmiris treat tourists with respect! Below, you will find all the details regarding Srinagar and how you can spend your two days here, including accommodation, budget, itinerary, and places you can visit.
Disclaimer: This article may contain links to our affiliate partners such as Amazon, Booking.com, etc. If you find our website useful, please consider booking through our links. When you do we earn a small percentage at no extra cost to you.
Accommodation
Shangri La House Boat – 9906629903
There are many accommodation options in Srinagar. You can stay in a hotel or in a hostel as well since Zostel has now opened in Srinagar. I personally prefer staying in a houseboat and especially in Shangrilla House Boat! I haven't met such a kind family! In them I trust! They took care of me like their little sister and I am truly thankful for it! Further, their rooms, washroom, and amenities are perfect and hygienic! They also serve home cooked food and have a separate dining area where you can sit and enjoy Dal Lake while munching your food.
Cost: In the off-season, the cost of one room is INR 1,500 while during the peak season (mostly in May and June) the cost goes up to INR 3,000. This also includes all the meals as well (lunch, dinner and breakfast).
Contact: You can contact them on 9906629903 (Wahid) or 9831183948 (Ajaz) for bookings.
https://www.instagram.com/p/BoRl0b-gFWX/?taken-by=radhika_nomllers
Best Time to Travel to Srinagar
Srinagar is a gem of a place and can be visited in any season or month. Of course, the winter months are extremely cold. So cold that at times Dal Lake freezes as well. I visited Srinagar in the month of September which I feel was the best month because it was not too cold and mostly pleasant. So if you are not very fond of the colder season visit Srinagar between April to October.
How to Reach Srinagar
By Bus
Srinagar can be reached either directly from Delhi or you can also break the journey in between at Jammu. The roads between Jammu and Srinagar are properly constructed.
Delhi to Srinagar
There is no way to book this bus online, however, there are buses that leave from Sarai Ala Khan of Delhi that drops you off directly to Srinagar's TRC bus stand. The cost of a Sleeper non AC bus is INR 1,500 while the Volvo costs about INR 2,000. You can find the prices here in the link – JKSRTC Bus.
Note that, if you plan to get down in the middle of your journey, you still would have to pay the full amount which is INR 1,500 or INR 2,000.
Delhi to Jammu to Srinagar
Overnight journey on a bus can easily be done to Jammu. You can book the bus online or catch a bus directly from Majnu ka Tilla or RK Ashram. The cost of the bus is about INR 1,000/-
From Jammu, you can catch another bus or a shared taxi that runs regularly to Srinagar. The shared taxi usually charges about INR 1,000 and takes about 10-12 hours to reach Srinagar. You can book a shared taxi on the go, however, if you want to travel more economically you can book a bus as well instead. JKSRTC buses run daily and have a fixed time of departure. You can find the prices here in the link – JKSRTC Bus.
By Train
The closest train station to Srinagar is Jammu. You can take a train to Jammu and then a bus or a shared taxi till Srinagar. The train will take about 10-13 hours to reach Jammu. Then from Jammu, buses are infrequent and have fixed timings of departure. However, you can get a shared taxi easily. It takes about 10-12 hours to reach from Jammu to Srinagar's TRC area.
Don't forget to book the train well in advance on www.irctc.co.in since the seat fills up fast.
By Flights
Srinagar has an airport and is connected to all the big cities in India. If you book well in advance the difference of cost between a flight to and fro from Srinagar and bus to and fro from Delhi is not huge. The cost comes down to almost the same as both the modes of transport. So I think taking a flight to Srinagar is your best bet until you are planning it at the end minute.
Note that, when you are leaving Srinagar and have a flight from here, ensure that you reach the airport a little early because the checking here is stricter as compared to the other airports of India.
From Airport to TRC
There are several shared taxis that operate between Airport and various places of Srinagar. The charge is very nominal of INR 100/-. In fact, if you want to reach the airport, then you can take an airport shuttle that runs from TRC. There are 3 airport shuttles – 9 AM, 10 AM and 11 AM and takes INR 90/-.
2 Days Itinerary
Day 1
If you are taking a flight directly to Srinagar, you can leave from your respective place early in the morning and reach Srinagar by 10 AM. From the airport, there are regular buses, private taxis or shared taxis (that costs INR 100/-) that runs to all the corners of Srinagar. The ride to ghats from where you will take a shikara for your houseboat will take about an hour. Rest, get freshen up and enjoy the shikara ride today to the places as mentioned below –
Char Chinar
Seen as an island in Dal Lake, the corners are decorated with Chinar trees (Maple trees). The reflection of these trees in Dal Lake is so mesmerizing. In fact, you can take your snacks or lunch here and enjoy a meal sitting on this small island as I did. Plus, if you are visiting this place during the month of October (basically winters), you will see the red colour trees sparkling in Dal Lake. Google it and you will know what I mean 🙂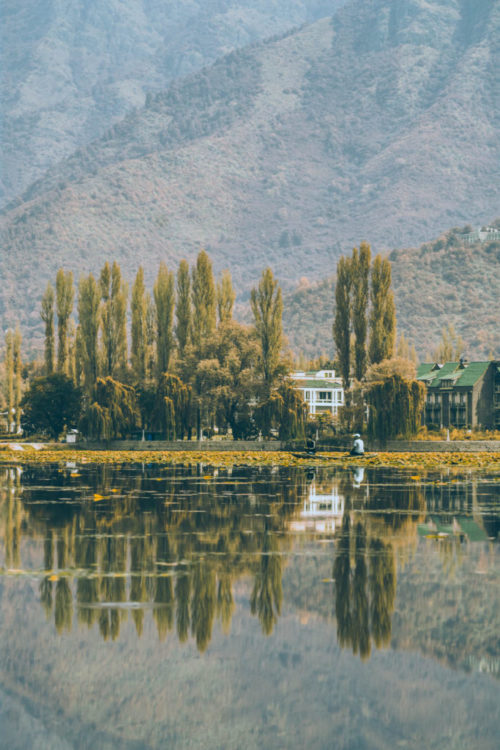 Dargah
From Char China, move towards Dargah. In between, you will cross several beautiful gardens and reflections of other houses and trees. Hazratbal Shrine is a heaven on Earth. It is so peaceful with such glorious vibes. Women are not allowed to enter, however, even from outside the white marble has something spectacular speaking out and you stand there in awe marveling the glory of its structure. In fact, nearby you can stroll around the market and eat street food (especially for non-vegetarians). I am a vegetarian so I bought their sweet halva wrapped inside a roti and walked around the nearby garden savoring the moment.
TIP: Ladies, do not forget to carry dupatta to this place and cover your heads even if you are strolling in the market. It Marks a sign of respect among the community.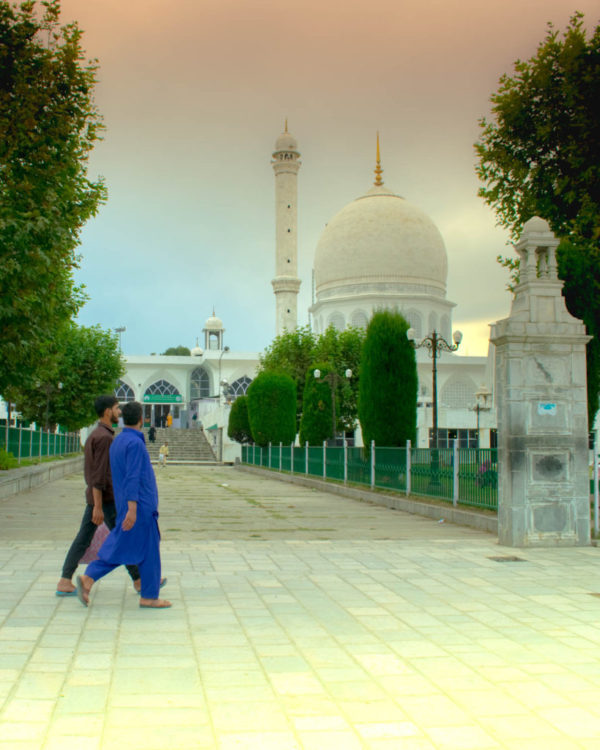 Nigeen Lake
A eutrophic lake that is connected to Dal Lake through a narrow strait. This lake is so full of greenery due to grass and algae that you feel you have entered a whole new world! In fact, many tourists prefer staying here as well because of the calm and serenity as compared to Dal Lake. It can be easily reached by shikara once you turn from Dargah. You can also reach this lake directly from the ghats itself.
Chai Jai
After the shikara ride, you can spend your afternoon having lunch or snacks at Chai Jai. Chai Jai is a really authentic cafe and one should not miss this place. The vibe of the cafe is really tremendous and we spend the evening while playing jenga over a cup of tea. You can have snacks here – from pizza to shakes, this place offers everything. Not only the food, but even the interiors of this place is also commendable.
Strolling Through the Market
From Chai Jai, move out to the streets to explore the market area. You can shop and buy Kashmiri dresses here. The lane is full of such shops and has European vibes during the sunset time.
Day 2
Start today early to get the best of the Vegetable Market. You can also go for some Kashmir Tour Packages on this day for a seamless experience. 
Vegetable Market
Today, start the day early at 5 AM. This is because the Vegetable Market happens only early in the morning for an hour. We left on shikara from the house boat itself early in the morning. Here you can buy seeds of various plants and see shikaras strolling from one corner to another selling vegetables. The early morning hues and chirping of the birds add a peaceful essence to the entire scene. It is something one should not miss in Srinagar.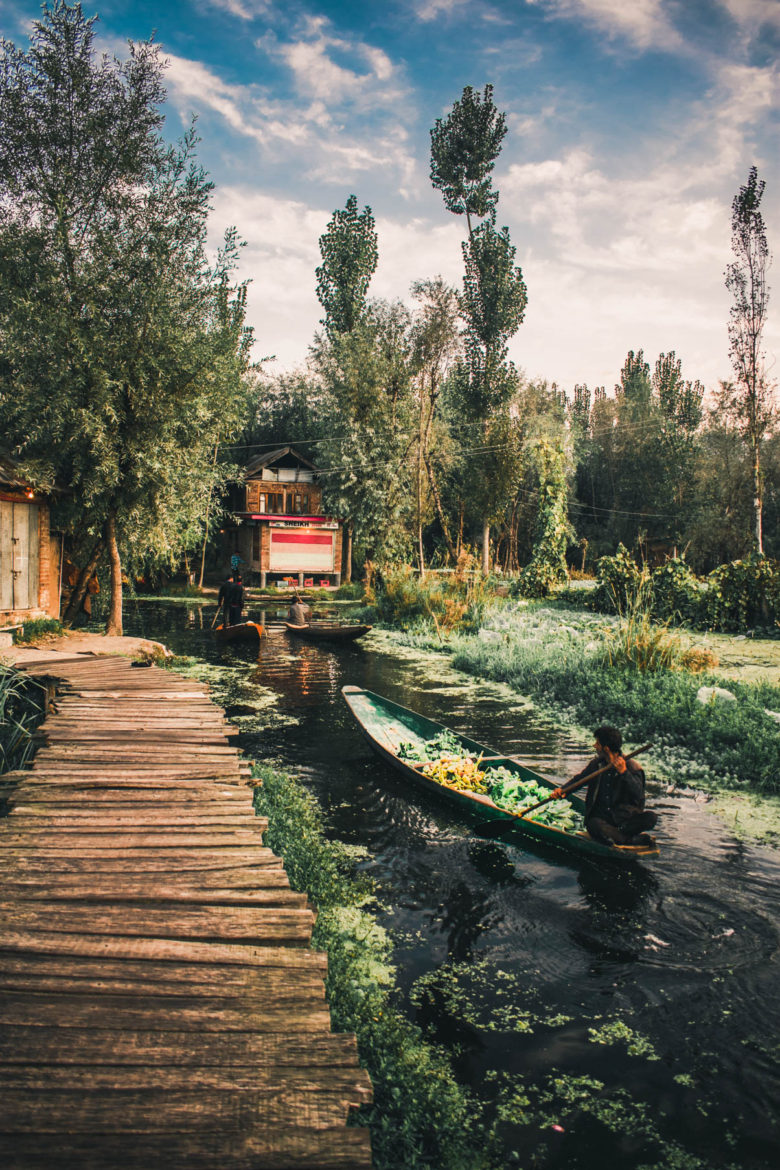 Pari Mahal
After the vegetable market, come back to the house boat, have breakfast, freshen up and leave for the roadside adventures. Pari Mahal cannot be reached with the help of a shikara. You have to hire a cab to reach here but the place is worth every penny. From here, you will be able to see the entire stretch of Srinagar along with the beautiful Dal Lake. This place is an abode to fairies.
Shankaracharya Temple
This temple is the highest point in Srinagar and can be seen from the farthest off the location. Half of the journey needs to be commenced on foot to reach this temple. A bus or a taxi can drop you off midway. Note that, cameras are not allowed here but you can capture the beauty of Srinagar by going a further down on the roadside.
Have extra time in hand? Consider going on a trek – Tarsar Marsar Trek
Shop My Photography Gear
What to Wear and Things to Carry
I really wanted a local touch and be as involved in the culture as possible. Hence decided to wear ethnic. The colour of the suits was perfectly blending with the subtle colours of Dal Lake and I felt comfortable as well. Of course, if you will see the tourists, you will as well see them in shorts. So its up to you what you chose.
For men, it is simple, isn't it? But maybe try wearing kurta for a day to blend in the culture. TIP: In Nehru Park (which is near Shangri La house boat), you can also get yourself clicked in the local Kashmiri suits and dresses.
I am also listing down some key things that you should not miss while in Srinagar –
Identity Proof – 

It is always better to keep an identity proof with you all the time. It is not because something might happen or due to something I faced. Srinagar is heavily guarded and you will notice this as soon as you enter here. At every road and every corner, you will see policemen. And I was told at times they do ask for identity proofs just for a simple check

Postpaid Sim Card – 

In Kashmir, the local sim of your city won't work, especially the prepaid sims. Please have a postpaid sim ready before leaving for Kashmir (More on that below)

A Sweater or Warm Clothes – 

Even if you are planning to travel to Kashmir during summers, do carry a sweater despite the weather. Early mornings and nights gets colder and if you are going to the Vegetable Market or riding in a shikara, you will feel very cold due to the cool breeze from the Dal Lake
If you are going to Ladakh after Srinagar read our Ladakh guide here – Leh Ladakh Itinerary
For Leh Ladakh Packages check this out – Leh Ladakh Tour Packages
Connectivity in Srinagar
In Srinagar, prepaid sim cards do not work, unless the prepaid sims are bought from Kashmir itself. So it is better to carry postpaid sims along with you while travelling to Srinagar.
I bargained from a local who was ready to give me a sim card for 10 days for INR 100/-. Otherwise, you can also go to a mobile store in Srinagar to get a sim for yourself.
Note, Jio has a network in Kashmir in case you have Jio postpaid sim.
https://www.instagram.com/p/Bos3WEHAHZ6/?taken-by=radhika_nomllers
Typical Cost for Two Days Stay in Kashmir
Transportation To and Fro From Srinagar
You can easily commute from Delhi to Srinagar and back within INR 3,000 to INR 4,000. In fact if you book in advance you can easily get flights (including return) for INR 4,000.
Stay in Shangri La House Boat
Shangri La House boat during the off-season costs INR 1,500 and in the season it costs INR 3,000. This costs also includes food.
Alternatively, if you are travelling on a budget you can also check out the hotels on www.booking.com or Zostel.
Shikara Ride
A full day Shikara ride will cost about INR 1,000 to INR 1,500. In this ride, you would be able to cover most of the places like Dargah, Char Chinar and Nigeen Lake.
Cab Cost
One can only reach Pari Mahal and Shankaracharya Temple by taking a cab which again would cost INR 1,200. To visit Shankaracharya Temple you can also take a bus that goes halfway to the temple and rest half way you can cover on foot.
Food
Chai Jai would cost about INR 300-400 for a full meal. If you stay in Shangri La house boat, the cost of your food is covered in INR 1,500/INR 3,000 itself. However, you can easily go to the market and have meals for INR 200.
Hope this was helpful! Kashmir has my heart but if you have any questions, please drop a comment below! Enjoy Srinagar!
https://www.instagram.com/p/BoytV_HA7VK/?taken-by=radhika_nomllers