Khama Ghani from Jodhpur!
Jodhpur can be described as a vivacious city, laden with historical richness and situated at the edge of the Thar Desert. Having spent a lot of summers in this 'Blue City', I am still not immune to its allures.
The colorful city is bound to seduce the most skeptical tourists. This is where picturesque lakes, handsome forts, imposing palaces and well…stray cows (Hondiya in local parlance) jostle for your attention.
Top 5 Things to Do in Jodhpur in a Day
Cherry-picked from a plethora of activities to be enjoyed in the narrow by-lanes of Jodhpur, here is a Cheat-sheet of the best things to do in Jodhpur.
Kick-start Your Day With Masala Chai At Bhati Tea Stall
Masala Chai is inherent to the rhythm of life in India. People of Jodhpur love their morning cup of tea. In fact, no day in Jodhpur begins without a cup of masala chai. Shops with steaming pots of tea made with milk, cardamom, cloves, sugar, ginger, and tea leaves can be found everywhere in the blue city.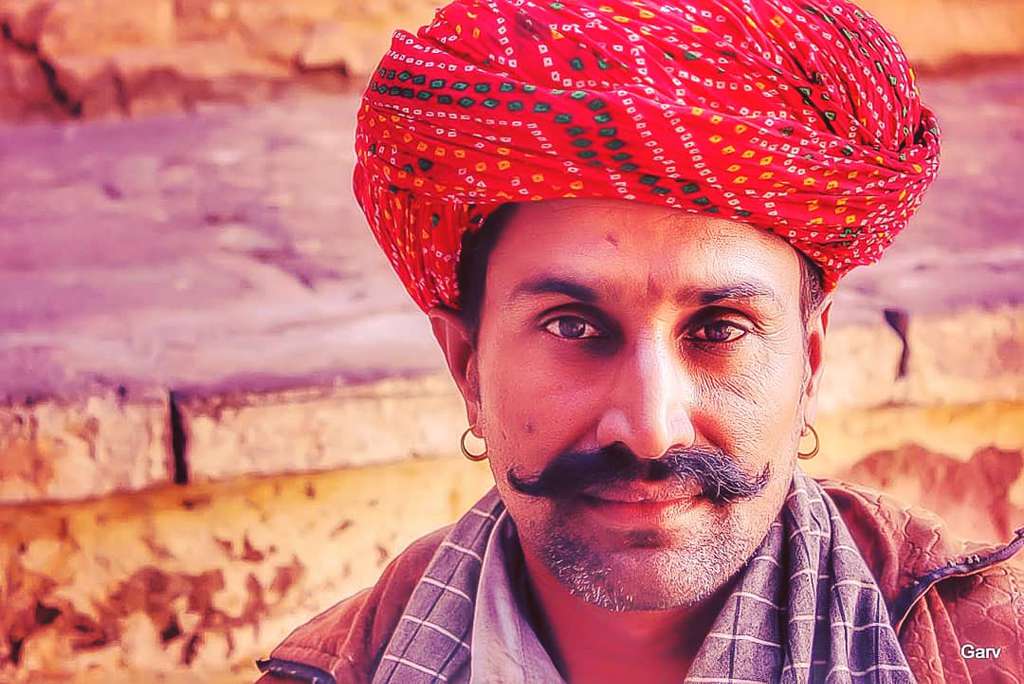 So, naturally, one of the top things to do in Jodhpur is to try a local cup of tea here. Apparently, it's difficult to find a bad cup of tea in Jodhpur but locals are partial towards Bhati Tea Stall.  The concoction of masala chai at Bhatti Tea Stall is so flavorsome that there is always a crowd brimming at this tiny shop.
Know Before You Go
A cup of chai at Bhati Tea Stall will cost you around 10 – 30 INR.
Also Read: Udaipur City Guide: Food, Stay and Places to Visit in Udaipur City
Explore the Grand Mehrangarh Fort
No list of things to do in Jodhpur is complete without a mention of the imposing Mehrangarh Fort which oversees the entire 'Blue City'.
One of the largest forts in India, it stands tall, atop a perpendicular cliff. It is easy to spend the better part of a day exploring the expansive complex and listening to colorful stories on your audio guide. As impressive as it is, as a well-preserved heritage structure, there's much more to discover inside.
The fort has been privately restored and its museum has an exceptional display of royal souvenirs, comprising of more than 15,000 items from Maharaja Gaj Singh II's personal collection. The fort also boasts of having the only professional museum shop in India.
Once you have explored the fort complex, make sure you walk towards the compound at the back of the Mehrangarh Fort to enjoy the panoramic views of the city of Jodhpur.
You can also revel in traditional Rajasthani folk music by numerous performers in the corridors of the fort.
Know Before You Go
Renowned for: History, Architecture, and Photography.
Tickets: 60 INR for Indians and 400 INR for foreign tourists. A trip to the Museum will cost around 70 INR for Indians while for the foreign tourist, it will come around 600 INR. For photography and videography, it is 200 INR and 100 for foreigners.
Timing: Open on all days from 9 am IST to 5 pm IST
Duration of Visit: 2-3 hours
Also Read: Places to Visit in Jaisalmer
Walk around Jaswant Thada
One of the best things to do in Jodhpur is to explore the historical relics and monuments here. And so, just a stone throw away from the Mehrangarh Fort, you will come across Jaswant Thada.
Jaswant Thada is an ivory marble relic built at the turn of the twentieth century. It is a remarkable memorial commissioned by the royal family in commemoration of Maharaja Jaswant Singh II.
It oversees a noiseless blue-green lake from a considerable height, masking the sounds of the busy city around it. The most you'll hear at Jaswant Thada, apart from fellow visitors gasping in amazement at the cream-colored cenotaph, is the sound of the flute coming from inside the temple.
Know Before You Go
Renowned for: History, Architecture, and Photography
Tickets: 15 INR for Indians and 30 INR for foreign tourists. Photography and videography charges are 25 INR and 50 INR respectively.
Timing: Open on all days (except on gazette holidays) from 9 am IST to 5 pm IST
Duration of Visit: 1 hour
Ramble Through The Old City Market And Explore The Clock Tower
One of the top things to do in Jodhpur without which a trip to Jodhpur would be incomplete is to visit the lively Old City. Many people choose to stay in this area too, as some of the best budget hotels in Jodhpur are located there which also offer fabulous Fort views.
The Clock Tower, also known as Ghanta Ghar, stands at the heart of it—and it's still working! The clock tower was constructed by Maharaja Sardar Singh during his tenure between 1880 and 1911.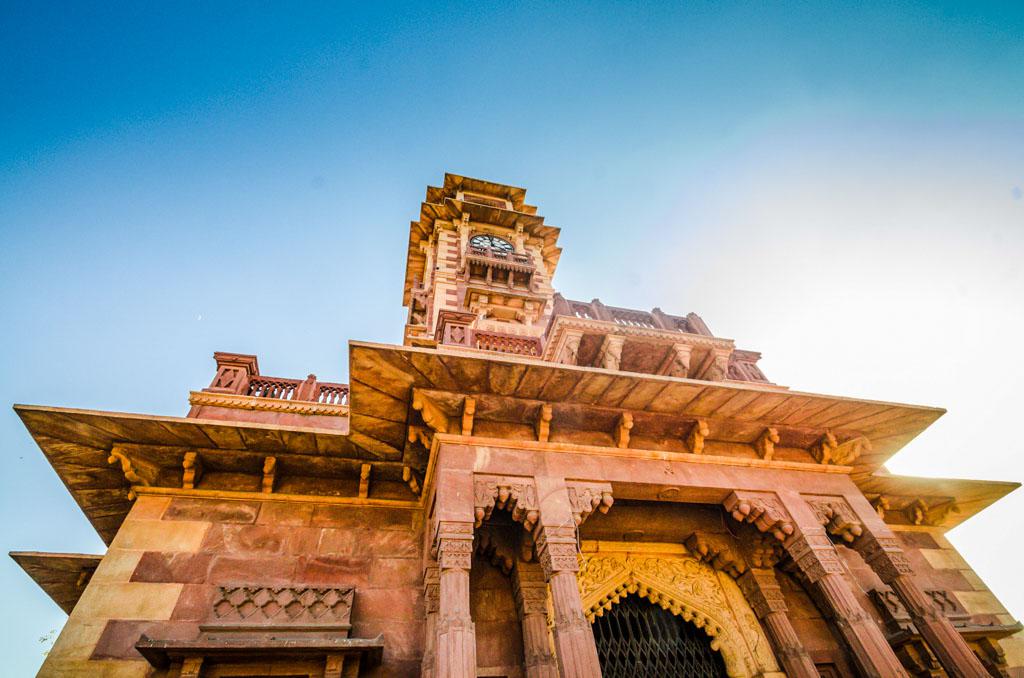 The lighting during the night makes the clock tower even more beautiful to look at. And the Sardar Market around the clock tower still maintains a traditional village bazaar feel. It's chaotic and colorful and sells almost everything, including handicrafts, spices, saris, and fabric. There are over 7000 shops and you can have a great shopping experience here.
If you feel uncomfortable in crowds, you might choose to take a walking tour rather than explore the market area yourself, as the congestion can be slightly overwhelming.
Know Before You Go
Renowned for: Shopping, History, Architecture, and Photography.
Tickets: No Fees.
Timing: Open on all days from 10 am IST to 9 pm IST
Duration of Visit: Two to three hours
Also Read: Places to Visit in Bharatpur
Savor Lip-smacking Dishes in This Foodie's Paradise
Food is the closest to a Jodhpuri's heart. So, one of the most important things to do in Jodhpur is to try out the delicious food here. You simply can't leave Jodhpur without sampling a plethora of local delicacies. If you are foodie then the numerous sweets and namkeen shops in Jodhpur are bound to satiate you.
There's a host of Indian sweets and snacks on offer, but Jodhpur's most famous offerings include Jodhpuri Mirchi vada (Breaded and fried green peppers stuffed with potatoes) Shahi Samosa (a small triangular pastry case containing spiced potatoes and served fried. ) and Pyaaz ki Kachori (crisp pastry with a spicy onion stuffing).
These calorie-laden Marwadi delicacies are served with sweet tamarind chutney, the perfect antidote to the spiciness of the snacks. Wrap up your meal with Gulab Jamun, Ghewar and Desi Ghee Ki Chakki.
Trust me, these flavorsome delicacies are going to leave you wanting for more.
Also Read: Jaipur City Travel Guide: Exploring the City in 2200 INR
Wander Around Toorji Ka Jhalra
An Urban Regeneration Project was commenced to transform the Old City back to its former glory. Thus, Jodhpur boasts of a newly restored yet ancient step well, located just north of the clock tower.
Built in the 1740s, Toorji ka Jhalra sat still for years, until the owners of RAAS hotel cleansed the pool and sandblasted the steps.
The area around it has been turned into a modern square with numerous cafes and shops. Also, a private door at the RAAS hotel will take you directly to the Step Well Square.
Step Well Cafe has the same owners as RAAS and provides the best view over the step well. It serves Continental and Indian cuisine, plus alcohol. However, the menu is quite limited here.
Know Before You Go
Renowned for: Architecture, and Photography.
Tickets: No Fees.
Timing: Open on all days
Duration of Visit: One to Two hours
Author Bio
Garv Dave currently lives in Mumbai and can usually be found traveling to far-off places. When not traveling to far-off places, Garv loves photography, sings very badly, enjoys riding his Bullet(fondly called as El Toro) around town. Writing a blog was always on his bucket list, and eventually, with this blog, it became a reality. You can follow his journey on his Instagram account.