Queenstown is known as the adventure capital of New Zealand. Its surrounding landscape comprises of deep gorges, stunning mountains, and fierce rivers. It is because of this landscape that Queenstown has become so famous all over the world now.
And it is also one of the reasons why so many adventure activities can be done from a single small town. From bungy jumping to hiking, there is a lot to explore and do around Queenston.
In the summer months, there are more water-related activities while the winter sees more snow-related activities. However, there is still a huge range of things to do in Queenstown throughout the year.
Top 5 Things to Do in Queenstown Throughout the Year
Here are 5 things to do in Queenstown all year round! Trust me, you are going to have a blast trying these out here.
Go Hiking on Amazing Trails
One of the most popular things to do in Queenstown definitely has to be hiking. The town is surrounded by literally hundreds of hiking trails that wind and weave their way through the mountains.
From short to long trails to the harder full-day mountain summits, there is a hike in Queenstown for everyone!
In the winter, some of these trails can be dangerous. However, there are plenty of other trails that you can hike all year round. Some of the best and most scenic ones are:
Queenstown Hill 
This trail can be hiked all year round and the entire trek takes only 3 hours to be completed, both ascent and descent. Queenstown Hill is also the closet trail to town and can be hiked without leaving the city premises.
The journey to the top of the hill passes through the lower pine forest areas in Queenstown before breaching the tree line. Once past the tree line, the views become spectacular. This short trail is a must-try trail for any hiking and nature lover visiting Queenstown. You can also find stays in Queenstown Hill that will make it going on these hikes even more convenient for you.
Bob's Cove Trail 
Another good hike to try from Queenstown is the Bob's Cove Trail, which is a short hike located approximately 15 minutes from Queenstown.
This trail is suitable for all ages and is safe to hike all year round. The trail actually leads you through the Queenstowns' natural forest which is located along the edge of the lake and finishes at a viewpoint that overlooks the Bob's Cove.
Ben Lomond trail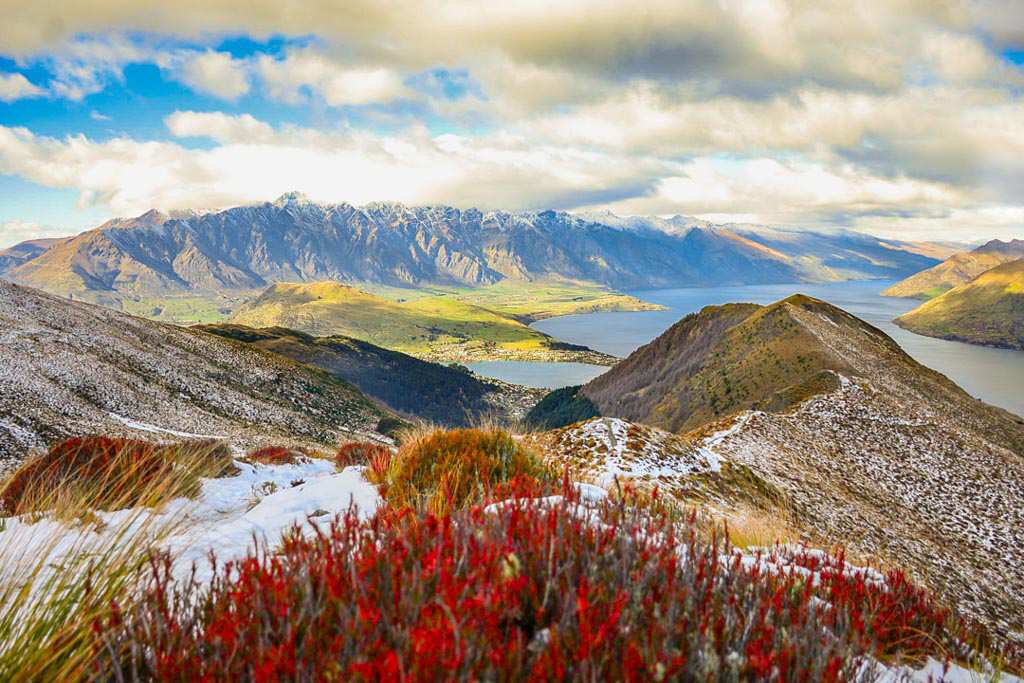 This list wouldn't be complete without a harder hike for the more experienced hikers. And, well the Ben Lomond Trail is just that. This 8-hour hike leads to the Ben Lomond summit – a mountain that towers over Queenstown. Although the trail can be much more difficult in winter, it can still be hiked all year round providing you have adequate experience.
However, you don't need to summit Ben Lomond to get the best view. In fact, you can get an amazing view from the saddle itself. The saddle is only around 3 hours up and takes only 2 hours from the descent. So, you can still get amazing views with almost half the hiking. And the saddle is also safe to hike throughout the year!
Also Read: Mauritius Travel Guide: 25 Days in 15K INR
Enjoy Jet Boating in Queenstown
Jet boating was one of the first tours operated in Queenstown. Because of the deep gorges and shallow rivers, jet boats were the only marine vessels that could navigate the rivers. For this reason, jet boaters have traveled from all over the world to test their skills in Queenstown's stunning rivers.
So, of course, one of the most happening things to do in Queenstown is to go on a jet board ride.
However, you don't have to be a pro to participate in this.
In Queenstown, there are four different jet boat operators who run tours around the many rivers and gorges in Queenstown. On these tours, a professional driver will speed through narrow and shallow rivers missing rocks and sandbars by mere centimeters!
You will do a few 360-degree spins, hitting speeds of over 85km an hour and take in stunning views all at the same time. It's an activity that left a smile on my face for many days to come and one that I really recommend.
Cruise the Lake Wakatipu 
Not all the things to do in Queenstown are catered to those who like to be a little crazy. A cruise on Lake Wakatipu is a very relaxed and peaceful way to take in the breathtaking landscape around you. This is why this is such a popular activity to do in Queenstown.
There are two scenic cruises available in Queenstown and both are very similar when it comes to the views they offer. But there is one major difference, one of the cruises is aboard the TSS Earnslaw – an old, coal-powered steamship left over from the gold rush days.
On this cruise, you can actually enter the engine room and watch the sailors shovel coal into the furnace. So, you can actually see all the moving parts of a coal-powered steamship. I mean, how cool is that?
This was a very unique experience that I have personally never done elsewhere and would definitely recommend you to try!
Also Read: Seychelles Travel Guide: Essential Tips for Exploring this Island Nation
Take a Scenic Flight Above the Southern Alps
I did my first scenic flight in New Zealand and it's something I will never forget. The Southern Alps are a truly beautiful sight to witness. On a scenic flight in Queenstown, you can see places you simply can't any other way. Most flights offer a landing experience so you can get out and explore an area that would take you hours, if not days, to hike too.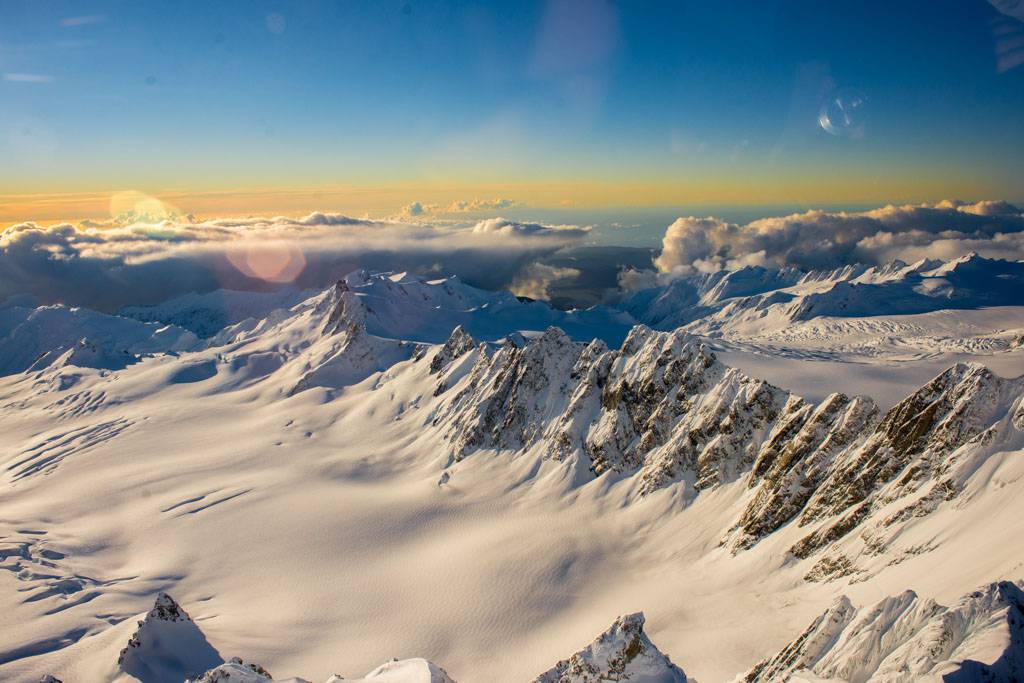 One of the best things about Queenstown is that it has a highly competitive tourism industry. This means that you can actually get a scenic flight for a much cheaper price than you would expect.
For around $150 NZD, you can get a 20-minute flight with a landing experience. This is a great price when compared to other tour prices around New Zealand.
Try the Delicious Ferg Burger
During the time I lived in Queenstown, there was a lot of debate as to whether Ferg Burger was actually that good and worthy of a spot on a "top things to do list". However, after eating there about 15 times, I must say it is the best burger I have ever had.
Its homemade burger patty and bun are the two things that make it so amazing. And my favorite burger is the Ferg Deluxe. There's just one problem with Ferg Burger… it's just so popular! Ferg Burger is so popular that it is open 18 hours a day from 8 am to 4 am!
And the line to Ferg Burger is very rarely not spilling out of the door and around the corner. As a local, I only ate Ferg burger during the offseason or during the early hours of the morning after a night out. But trust me, it's so worth the wait!
Also Read: 14 Cafes and Restaurants in Bir Billing That I Tried
Summary
Queenstown will forever hold a special place in my heart as it does for many people who have either lived there or visited on holiday.
There are literally hundreds of things to do in Queenstown on a budget and this list only scrapes the surface. But it does cover all the major things that you can do here around the year. As Queenstown is a very seasonal place, this is a very important piece of information!
Author Bio
Daniel is a full-time travel writer and photographer who, along with his partner Bailey, runs the travel blog Destinationless Travel. He specializes in writing helpful articles filled with useful information that makes traveling easier for others.