Living in the Loops
Lying in the East Sikkim, Zuluk is a small hamlet famous for its Sikkim Silk Route and beautiful valleys. Although an offbeat destination, Zuluk is quickly emerging as the perfect travel destination as it offers some of the unique views as a hill station.
Below, you will find all the details with regards to Zuluk's temperature, accommodation and what all to cover this beautiful place in a most cost-effective way.
Disclaimer: This article may contain links to our affiliate partners such as Amazon, Booking.com, etc. If you find our website useful, please consider booking through our links. When you do we earn a small percentage at no extra cost to you.
About Zuluk
Zuluk was the transit point used by traders between Tibet and India on the Sikkim Silk Route. The Sikkim Silk Route was closed a few decades back and it used to connect Lhasa to Kalimpong. The distance between Zuluk and Gangtok is roughly 90 kms and from Zuluk you can get the gorgeous views of Mount Kanchenjunga.
This is not it; you can also see 32 hair pin like structures known as the zig zag road. It is one of the most astonishing structures created by a man.
But before going to this place be prepared for network loss and checking of the permit. Checking here is stringent since this place is very close to China.
I travelled to Zuluk alone. It was my first solo trip and I was cautious at every step. If you want to know how to have a fruitful solo experience on travels, read a few tips here – Solo travel tips in Sikkim
Best Time to Visit Zuluk

 
Trust me when I say, do not go here during the monsoon season!
Zuluk's weather is pleasant most of the year. Of course, since it is at a height, winters are comparatively cold! Plus, the benefit of visiting Zuluk during the winter season is that you can see the loops covered with snow.
Below, I am mentioning the temperature of Zuluk month by month –
October to February — If you are a snow person, this would be the best time for you. Zuluk is mostly covered with snow and temperature is colder
March to May — Pleasantly cold temperature
June to September — I strongly advise you to avoid Zuluk during these months as the loops are covered with fog due to which you won't be able to see the main thing that Zuluk is famous for –

Sikkim Silk Route

. It is mostly raining as monsoon hits Sikkim during these months.
Also Read: Souvenirs to Buy in Sikkim
How to Reach Zuluk
Not a single bus runs in Sikkim. If you have to go from one place to another you either need to hire a private cab or find a shared taxi. Zuluk comparatively is an offbeat destination hence sadly there are very limited shared taxis that go to this place. When I went solo last time, I had to book an entire cab for myself as I could not find any companions to this place.
From Gangtok: The distance between Gangtok and Zuluk is 90 kms. It will take about 3 hours to reach here and on the way, you will see Tsomgo Lake and Baba Mandir.
From NJP/Bagdogra: If you are coming from Bagdogra or NJP side the first entry point to Zuluk would be Rangpo. Take National Highway 10. Further, the total duration is the same as Gangtok, which is 3 hours. Do ensure that you have the permit to enter Zuluk.
Below, I am giving a detailed guide for permits of Zuluk.
If you want to know how to reach Gangtok, read our guide that talks about this as well as here – North and West Sikkim
Permit for Zuluk
Both Indians and foreigners need a permit to enter Zuluk. This is because Sikkim is a border state that shares its boundaries with 2 other countries. You can book it online or contact the tourist information centre.
Below, I talk in length about the permit requirements for both nationals and foreigners along with providing links to the respective website.
Indians
To visit Zuluk, you will be needing a Protected Area Permit. You can get this done either by going to a tourist centre or contacting a travel agent. An application form is given that costs about INR 150-200.
It takes an entire day so I would suggest you submit the documents a day in advance. You would also need to submit your ID proofs as well as passport sized photos for this.
You can find the list of information centre here – link
For children and seniors – For a child, the birth certificate needs to be carried as an identity proof. Children below 5 years do not need a permit.
Foreigners
The formalities for foreign nationals are a bit different.
They have to travel in groups, Solo foreigners are not permitted in protected areas

Secondly, if they have to apply for permits then they should contact tour operators who are registered with the Sikkim Tourism Department. You can find a list of them here – link
Foreigners need Restricted Area Permit or ILP. There are no charges for this permit. All you need is a passport and visa, along with a passport size photo.
I am listing down a list of offices from where you can get the IPL –
New Delhi – Sikkim House, 14 Panchsheel Marg, Block F, Diplomatic Enclave, Chanakyapuri, Phone: 011 – 26115171
Kolkata – Sikkim House, 4/1 Middleton Street, Phone: 033 – 22817905
Siliguri – Sikkim Tourist Information, 2nd, Sevoke Road, Ward 10, Dasrath Pally, Janta Nagar
Rangpo Check Post – This is when you have to go to Zuluk directly from NJP or Bagdogra airport
Melli Check Post – On the way to Jorethang/Namchi/Pelling/Yuksom etc.
Pakyong airport near Gangtok
Burtuk Helipad near Gangtok
Validity: IPL is issued for 60 days that can be increased by 30 more days. For extension purposes, you need to visit Foreigners' Registration Office (FRO) at Tadong which is 5 kms from MG Marg, Gangtok.
Note that, private vehicles are not allowed in this Protected areas. You need to organize your trip with a recognized tour operator that is registered with Sikkim government.
Online Inner Line Permit has been launched and will soon be operating under the name www.sikkimilp.in
Places to Visit in Zuluk from Gangtok
Below, I am giving a list of places that will come on your way to Zuluk from Gangtok. You can hop on and off at these places, or split your journey into two by staying in Nathang or Lungthung and then heading to Zuluk.
Tsomgo Lake – 3,753 metres
Tsomgo lake is a beautiful sacred lake formed naturally by the melting of the snow. Over here you can enjoy a yak ride and witness the scenic lake while having tea or Maggie. You can either walk around the lake or sit on the yak to go from one point to another.
The lake is very peaceful and you can stare at it endlessly.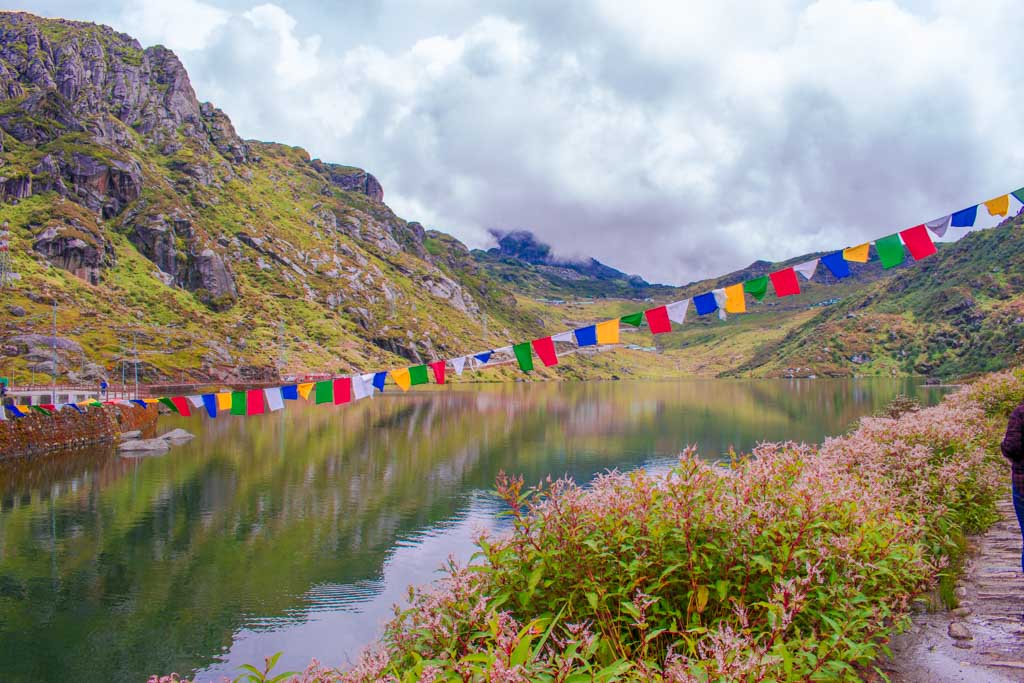 Nathula Pass – 4,310 metres
Nathula Pass is the India China border. You can see the oldest gate that divides India and China.
Permit
Note that you need a separate permit to visit Nathula Pass

You can skip it as well and head straight to Zuluk, but if you are up close to a border, why miss the chance

Both foreigners and Indians require a separate permit known as Protected Area Permit (PAP) to visit such places
Baba Mandir – 4,000 metres
There is a great history associated with Baba Mandir which is a temple built in the honour of Harbhajan Singh. There are two temples which are maintained by the Indian army themselves. It is such a unique experience to visit a temple to pay respects to an army soldier who martyred in the battle at the 14,500 feet (4,400 m) Nathu La.
Kupup – 3,752 metres
This is the highest golf course in the world and is a beautiful lake that resembles an elephant. You can come here to play golf but remember to always play by the rules!
Sikkim Silk Route
Sikkim Silk Route was a trade hub between India and Tibet. Over here there are 32 hair pins, famously known as the zigzag road of Sikkim. There are several view points from where you can see the entire Sikkim Silk Route which I will talk about in length below.
But do ensure the weather of Zuluk before going here. I went there during the monsoon season and could not see the full version of the Sikkim Silk Route.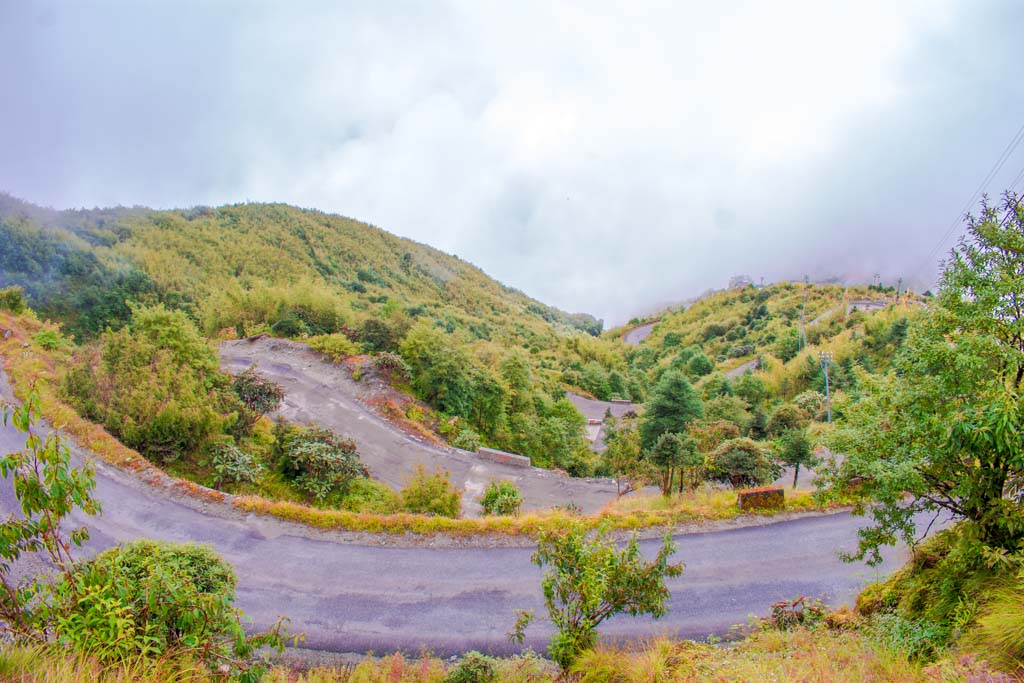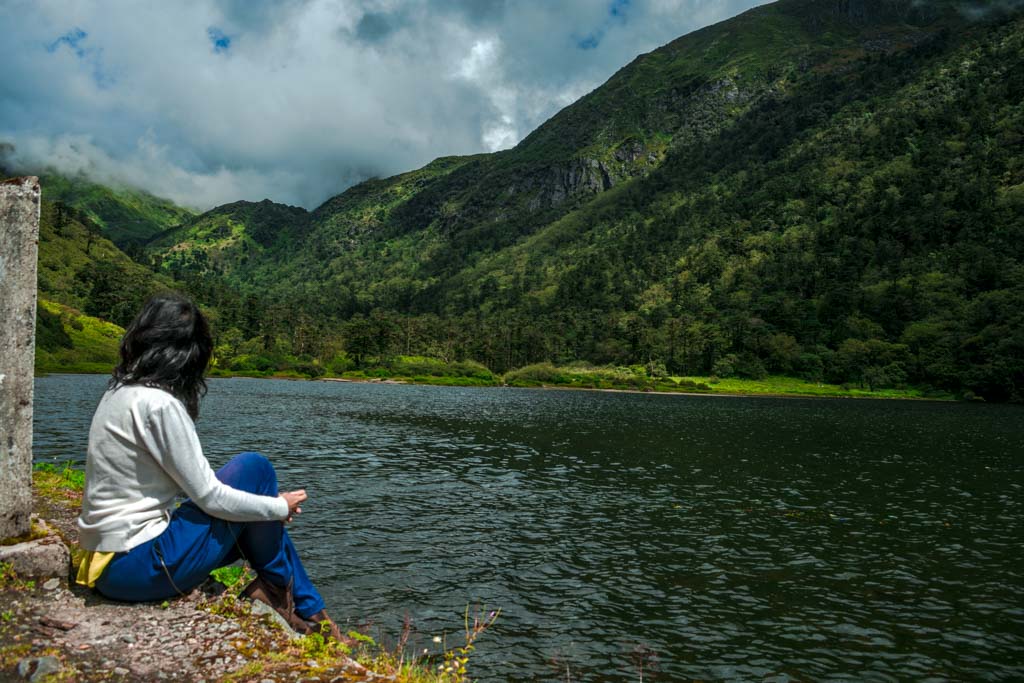 Nathang Valley
Nathang Valley is a perfect hamlet to relax. If you have time you can stay a day in Nathang before moving to Zuluk. This valley is around 8 KMs ahead of Thambi View Point and is mostly covered in snow for the most part of the year. This is the place where Tibetan yak herders took their yaks to graze.
Lungthung
If you are in Zuluk, then you would not want to miss the view of Mount Kanchenjunga. Lungthung lies at an altitude of 13,000 feet and you can get excellent views of sunrise right behind Mount Kanchenjunga.
Thambi View Point – 3,400 metres
This view point is at an altitude of 11,200 feet and is the best place from where you can see the entire loop of Zuluk, with 32 hair pins. The zigzag road is stretched over a distance of 14 KMs.
Although if you are going elsewhere in Sikkim apart from Zuluk, read our list of places here – Places to Visit in Sikkim
ATM and Network Availability
ATM – There are no ATMs available in the Zuluk region. So, it would be best to just withdraw the cash from Gangtok or Siliguri, before leaving for Zuluk
Connectivity – The Mobile network is very poor here, it is best to take a BSNL sim. Although even the connectivity of BSNL is poor
Hotels in Zuluk
There are no proper or luxury hotels on the Sikkim Silk Route or Zuluk. You have to opt for a homestay which in my opinion is the perfect place to stay and have an experiential travelling when in Sikkim. You can easily book a homestay on the Sikkim Silk Route called Living Away Home on the go here – link.
If you are looking for other economical accommodations you can check the website below. The best thing about this website is that you do not have to pay any amount in advance. Just reserve the room through them 🙂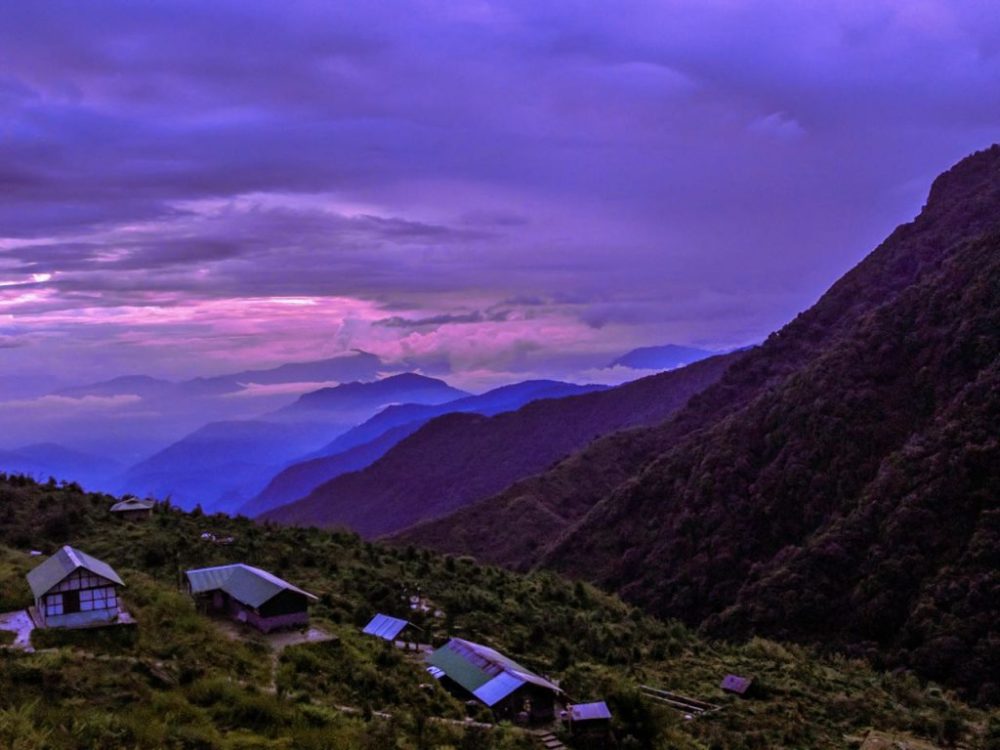 Typical Cost

 
Cab charges – Cab can cost a lot! Taking you from Gangtok and dropping you off in Gangtok the next day can cost a lot. I was a noob when I started travelling back in 2014 and paid INR 8,000 to book it for myself. Highly recommend you to find a few companions for Zuluk
Accommodation – All the homestays here are really neat and a good place to stay at and will cost you somewhere about INR 1000 – 1500 per night. This price also includes food as well
Permits – Permit for these places should not be more than INR 300/-
Wrap Up
I hope this guide helps in the planning of your trip better to Zuluk. If you ask me, Zuluk is a must visit place as it offers some unique views that no other place can. Do comment below with your thoughts on it.