Duration in Kinnaur – 4 to 6 days
Expenditure – INR 4,000 to 6,000/-
Delhi – Reckong Peo – Kalpa – Roghi (Suicide Point) – Sangla – Chitkul – Reckong Peo – Delhi
 P.S Bonus information towards the end of this blog!
Kinnaur is one of my favorite places in Himachal Pradesh. The best part is you have to cross Kinnaur while traveling to Spiti, giving you the best of both the worlds.
Below you will find a comprehensive Kinnaur itinerary that you can follow from Delhi. I have also covered cost, accommodation, bus timings from Delhi to Kinnaur. You will also find bonus information towards the end.
Also Read My Delhi to Chitkul Guide
P.S Nako is also a part of Kinnaur district. I have covered it in my Spiti guide as it comes midway.
P.S. Want to learn blogging, Instagram, YouTube from me? Hire me as your mentor. Check out my Patreon for more details.
Disclaimer: This article may contain links to our affiliate partners such as Amazon, Booking.com, etc. If you find our website useful, please consider booking through our links. When you do we earn a small percentage at no extra cost to you.
Location & Altitude
Kinnaur is located at the Northern most part of Himachal Pradesh and to reach here you have to go 240 km further from Shimla. Since this place is so far it has left the place offbeat and raw and you can get the true essence of Himalayas. Please ensure that you keep this beautiful place clean and carry back your plastic waste.
Kalpa – 2,960 metres
Sangla – 2,696 metres
Chitkul – 3,450 metres
Best Time
Kinnaur looks pretty throughout the year. I would like to experience this hill station every month. Having said that, it depends on you what you would like to see. If you want to see flowers and walk through the colourful apple orchards, April is the best time to go, however, if seeing snowfall is your aim then February is the best time.
April to May – Flowering season
June to August – Apple season
Feb to March – Winter season
However, during the peak season do check if the roads are open because things get difficult and inaccessible during that time.
If you are planning to go to Spiti, read our guide here – Spiti Travel Guide
https://www.instagram.com/p/Br77hBFgarW/
Kinnaur Itinerary
Day 0 and 1: Delhi to Reckong Peo
Delhi – Chandigarh – Reckong Peo
I took an overnight HRTC bus from Delhi to Chandigarh first and then a deluxe bus that leaves in the evening at 5:50 PM, 6 PM and 7 PM.
Alternatively, you can also take an ordinary bus directly from Delhi (ISBT Kashmiri Gate) at 8 PM that takes ~ 18 hours to reach Reckong Peo. The bus fare is INR 575/-. 
Fact: Ladies get 25% discount on their bus tickets *winks*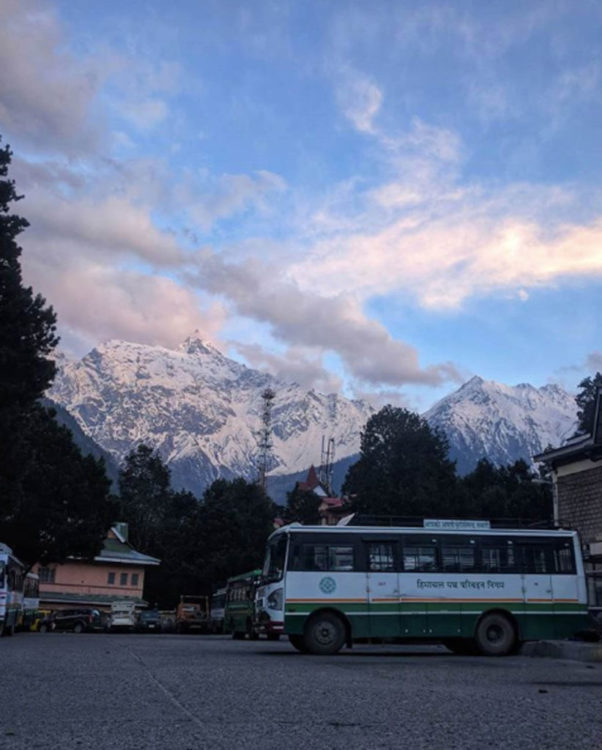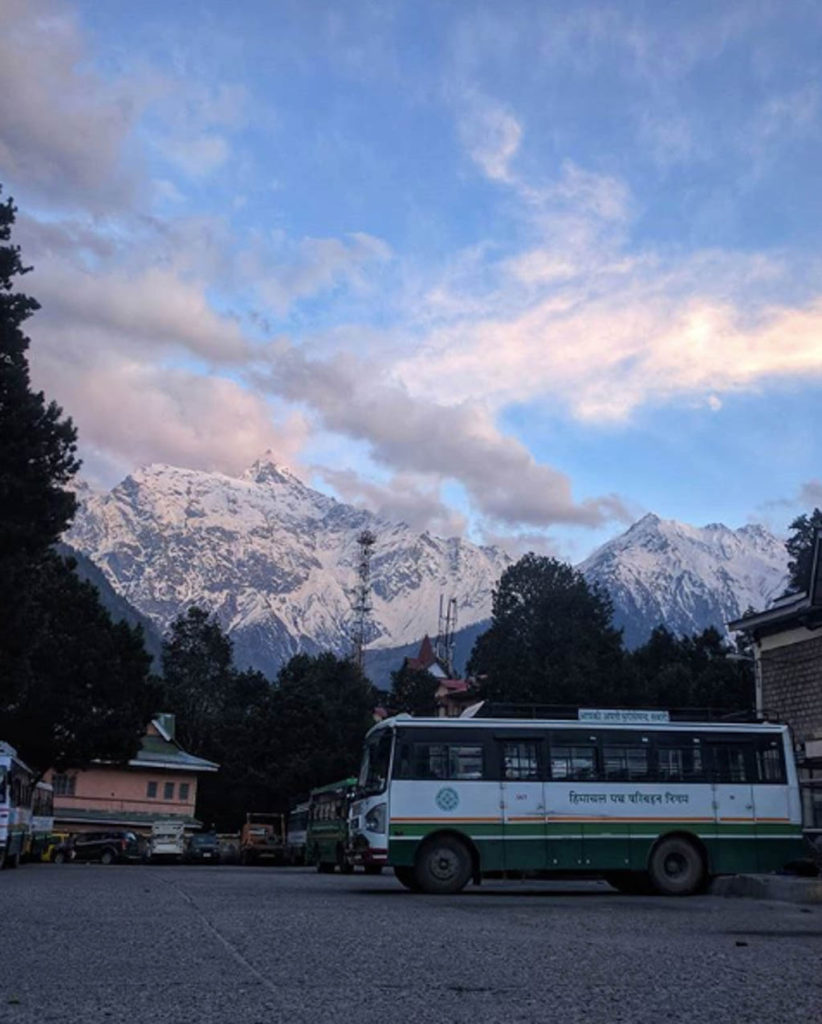 Where to Stay in Reckong Peo
I would suggest you find a hotel close to the bus stand itself as you would have to leave for Sangla/Chitkul the very next day. There are many hotels just outside the bus stand, prices ranging between INR 400/- to INR 700/-.
You can check the website below as well for hotel booking. The best thing about this website is that you do not have to pay any amount in advance. Just reserve the room through them 🙂
Day 2: Reckong Peo to Sangla
How to Reach
There are 2 buses to Chitkul at 9:30 AM and 12:00 PM. Catch any of these buses and get down at Sangla village. Chitkul is approximately an hour away from Sangla.
Sangla is beautiful. You can enjoy the village walk over here, visit the Sangla monastery and visit the nearby Kamru Village. There is a 1000 years old Kamru Fort which is also one of the oldest in Himachal Pradesh.
Kamru Fort – Situated ~2-3 KMs from Sangla this Fort and the view from here are marvelous. You would have to climb several steps to reach here. Entry inside this fort is quite unique. An inspector (guard) will give you a Kinnauri cap and then tie a cloth around your waist. The fort has a beautiful wooden balcony along with an idol of Kamakhya Devi.
Note that women who are on their menstrual cycle are not allowed to enter the fort.
If you want a detailed guide on Chitkul and Sangla, you can read our guide here – Chitkul Travel Guide
https://www.instagram.com/p/BsE7kVLAK1o/
Day 3: Sangla to Chitkul
Only BSNL network is available over here
I do not have any words for Chitkul. It is just breath-taking. Two years back there were hardly any hotels, however, things are different now. You would have absolutely no trouble in finding one.
Fact: Don't miss India's akhri dabha (food corner) here
How to Reach
Catch the same bus that leaves from Reckong Peo for Chitkul which will take 45 minutes to an hour. I left for Chitkul early in the morning and then took the last bus at 3 PM that leaves for Reckong Peo from Chitkul.
But if you want to spend more time in Chitkul, read my Delhi to Chitkul Guide
https://www.instagram.com/p/BsN01g8gDCU/
Day 4: Kalpa & Suicide Point (Roghi)
How to Reach
Kalpa is just half an hour away from Reckong Peo. You can easily get a bus that operates every 15 minutes, right outside the main bus stand.
Things to Do
Kalpa is really really gorgeous! It comprises of monasteries and temples and you can also walk through the apple orchards and reach the famous Suicide Point near the Roghi Village.
Just ask the locals about the walking route to the Suicide point; it hardly takes 15 minutes.
Where to Stay
I stayed at Kalpa Deshang. The rooms were cozy and from the balcony itself we were able to enjoy breathtaking views of Kalpa. The rooms were comfortable, hot water was available and they also had a restaurant.
However, if you are traveling in a budget then there are several homestays starting INR 500.
https://www.instagram.com/p/BjReUY6l_dz/?taken-by=unravelling_travelling
Day 5: Reckong Peo to Delhi
You can either take a direct bus to Delhi that leaves early in the morning or take a deluxe bus at 1:30 PM to Chandigarh.
Another option is to catch the last bus at 6 PM for Shimla.
Planning a Solo Trip to Kinnaur? Read This  – Solo Travel Tips
The Map I Followed
As you can see Chitkul and Sangla are a little far from Reckong Peo. You can visit Kalpa and nearby places if you are short in time, say a day.
Connectivity
Reckong Peo/Kalpa – There is hardly any connection of Vodafone. Jio works the best followed by Airtel
Sangla – Vodafone does not work here at all. Jio works the best followed by Airtel
Chitkul – Only BSNL/MTNL operates in Chitkul. Further, there will be no internet connection even if you are using BSNL/MTNL
ATMs and Petrol Pumps in Kinnaur
ATMs are available only in Reckong Peo and Sangla. Hence, do not forget to carry cash from Delhi or Chandigarh.
Same is the case with petrol pumps.
Accommodation in Kinnaur
Reckong Peo
Find a hotel near the bus stand itself. You can ask the locals or shopkeepers for cheaper stays. The prices ranges between INR 400 to 700
Chitkul/Batseri
You can either stay in Zostel or opt for any homestay. I chose to stay in a nearby village called Batseri, as it was quite secluded. I stayed in Hotel Batseri which was amazing, comfortable and beautiful
Kalpa
I stayed in Kalpa Deshang where I was able to enjoy the entire view of Kalpa. This hotel has an attached restaurant as well.
If you are looking for other economical options do check the website below. The best thing about this website is that you do not have to pay any amount in advance. Just reserve the room through them 🙂
Typical Cost
Homestays/Hotels – You will easily find rooms for INR 500 and they are decent enough for an overnight stay
Bus cost – A journey from Delhi to Reckong Peo will cost you INR 575. Buses will be your best friend if you are on a tight budget
Food – There are many restaurants over here, with a wide range of options in Reckong Peo and Kalpa. A meal cost would cost you around INR 150
Looking for cheap flights. Check out Kiwi.com – For Best Price


Things to Carry
Since the temperature goes down to negative at times it important to carry the below essentials.
Clothing
Thermals
This should be your base layer. Thermals trap your body heat and keep you warm. Further, they do not take that much space as well in your backpack
My recommendation – 
Add Gear Ski + Mountaineering base Layer
Fleece
Fleece is a great way to protect you from cold. It is a comfortable layer of insulation by trapping air in the pockets between its fibres. 
My recommendation –
Down Jacket
Have a good warm down jacket that can withstand negative temperatures
My recommendation –
Forclaz Trek 100 Hooded Down Jacket
Hiking Pants
For your legs, wear your second layer over your thermals. I personally prefer quick dry and light cloth for this purpose.
My recommendation –
Trekking Shoes
Carrying shoes is essential because the area is rugged and mountains feel like love in the mountains.
My recommendation –
Quechua Forclaz 500 Snow Boots
Gloves/Muffler/Woollen Cap
All these are essential. During winters it is important to keep your head covered. Avoid wearing woolen gloves during the snowfall season as it traps water. Consider buying the below one –
My recommendation –
Quechua Adult Trekking Mountain Gloves Trek 500
Thermal Fleece Full Face Mask Balaclava
Woollen Slouchy Beanie
Socks
Merino wool is the best and the warmest socks that I have tried lately –
My recommendation –
Balenzia Cushioned High Ankle Sports Socks – Pack of 6
Quechua Arpenaz 100 Warm Merino Wool
Electronics
BSNL/MTNL Sim
If you are going to Chitkul, it will be a good idea to have these sims. Otherwise, do carry Jio or Airtel Sim
Power Banks
To have a power bank is essential for your phone and your GoPro. 
Cameras
Just in case if you are into documenting your experience 🙂
Toiletries
Small Towel
Pack a towel which is light and a small one for your daily activities.
Moisturiser/Lip Balm
You will be prone to dryness in harsh and colder regions.
Brush/Paste
My recommendation –
Sunscreen
In high altitudes, you are prone to extreme sun rays and your skin can get damaged.
My recommendation –
Avène Very High Protection SPF 50
Additional
Rucksack
It is essential to have a good backpack that gives comfort and is durable at the same time.  The best one is Quechua's Forclaz with compression straps. 
Day Pack
Once you reach the hotel, you would need a day pack to carry your essential things.
My recommendation – 
Quechua NH500 10 Litre Hiking Backpack
UV Protection Sun Glasses
In high altitudes, the rays of the sun get harsh. Having a good pair of sunglasses is a must.
My recommendation – 
Quechua Adult Hiking Sunglasses
Flask
My recommendation –
Quechua Stainless Steel Insulated Hiking Bottle
Raincover or Poncho
For your backpacks make sure you have a rain cover if you are going during the monsoon season. If you have gadgets and electronic things and your backpack is not waterproof it can damage all your necessities.
My recommendation –
Rocksport Poncho Polyester Rain Wear
Slippers
Do not forget to pack good slippers. For quick errands, you will not like to wear your shoes again and again
You can see my camping essentials over here – https://www.amazon.in/shop/radhika_nomllers
Bonus
I was able to explore a few "lesser" known places in Kinnaur. I don't have a guide for this one as I explored these places with a local. All I can do is give you names and this will be your own little treasure hunt 🙂
Telangi Village
The village is beautiful and I visited a ghost temple here. Yes! An actual ghost temple. And it is said that the ghost is locked in the temple itself and is released in the month of January for 12 days.
Kande – YashkaTang – Kotang-tcho circuit
This stretch lies at the height of 4,200 meters and does not have a direct pathway to climb it. There was no one else over here. Also, there is also a place at Kotang-tcho where the villagers come and pray for their beloved ones who are no more.
Kinnaur is my favorite go-to place in Himachal and I have no doubt that it will become your favorite as well. Let me know if this blog helped you in the comments below and ask any queries. I love answering questions!