Let's admit, we all dream of celebrating New Year's Evening in a foreign country, doing things that are out of our comfort zone. At the summit of the dream destination for spending New Year in New York City has planted a flag that no other city can replace.
Counting down into the New Year in solidarity with millions of people from all around the world is priceless. On the other hand, it can be overwhelming for you to decide where to go among the plethora of choices. If you want a quiet celebration, then there are several small towns in upstate New York to escape but if you want to celebrate it with a bang, then NYC has several parties and clubs throughout the city for you to indulge in.
In this article, we are covering the best spots and things to do to spend the New Year in New York City, combining all-time classics with some new ideas.
7 Ways to Celebrate New Year in New York City
Celebrate New Year at New York City's Time Square
If celebrating the New Year in New York's Times Square is not on your bucket list, then you might be an alien. From the early morning of the 31st, it starts to fill up with the constant flux of people. By the end of the night, the number of people will have exceeded the population of some European capitals.
The gigantic LED screens will start displaying the live television show called New Year's Rockin' Eve hosted by celebrities, and including live performances of several artists. In the meantime, the New Year Eve ball ascends the pole on Broadway at 43rd Street, waiting to drop down with the countdown.
Words cannot describe how magical the atmosphere will be. As you can imagine, it will be bursting at the seams, so you want to get there early enough –preferably before noon – to catch a spot near Broadway and 7th Avenue. Also, you should bring a lot of water, snacks, and some extra clothes. Trust us; you should not miss out on this experience on New Year in New York.
Participate in the Annual Midnight Run
For many people, New Year's Eve means dressing up elegantly to entertainment venues, but for some, it is an opportunity to get the muscles pumped up. In fact, you will see hundreds of people from all ages jogging at Central Park towards midnight. Sponsored by the New York Road Runners, the Midnight Run takes place along a 4-miles-long running trail.
You don't have to be a professional athlete to participate, and there is no winning price, although there is a rewarding glass of cider for everyone halfway along the trail. The fun doesn't end there; you will also have live DJs before and after, as well as 15-minute fireworks. This is perhaps the healthiest way to celebrate New Year in New York city without missing on the fun.
Attend the Exclusive New York Ball Drop Parties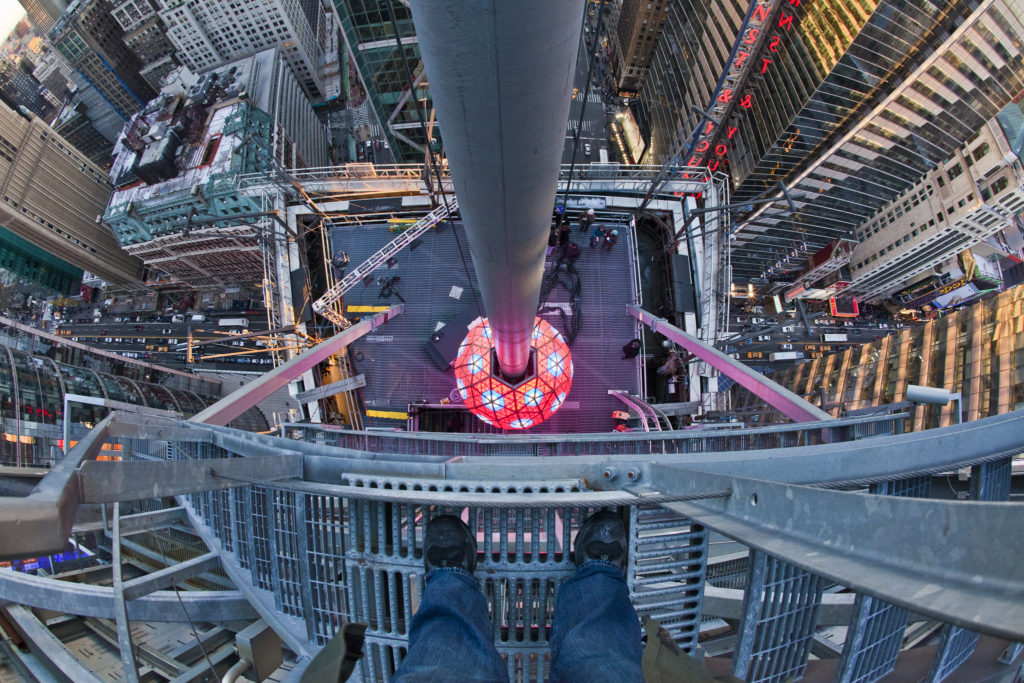 One of the best things about spending the New Year in New York City is you get to witness the magical ball drop at the countdown. Considering the herd of millions and the freezing weather, you might opt for a more exclusive New Year's Party while still witnessing the legendary ball-drop in Times Square, which happens to be one of the most Instagrammable spots in New York as well.
If that is the case, then the answer is an elite party venue. There are many pubs, rooftop bars, and clubs overlooking Times Square that will often provide all-inclusive fun with a dinner buffet, cocktail bar, dance floor, and relaxing lounges.
You can even bring minors along, provided that they won't drink alcohol. You need to beware, though, that these parties come at an exorbitant cost and with a limited number. So, you need to make up your mind fast and buy your ticket before the venues get booked out. We can guarantee that it will be worth the splurge, as you won't have to worry about finding a spot there at 6 am to find a spot with a view.
Explore the Piano Bars on New Year's in New York
New York offers splendid lookout points to watch the fireworks, but not everyone wants to stand outside for hours. To be on the warm side without sacrificing the entertainment factor, you can visit one of the piano bars in New York. These are bars that organize New Year's Events, where you have access to three-course meals, interactive live performances, lots of singing and dancing.
Bar 9 is especially the favorite amongst tourists and locals. The best part about their all-inclusive tickets is that you have access to unlimited food and drinks, not to mention the special New Year's toast.
Guided Walking Tours Across the Brooklyn Bridge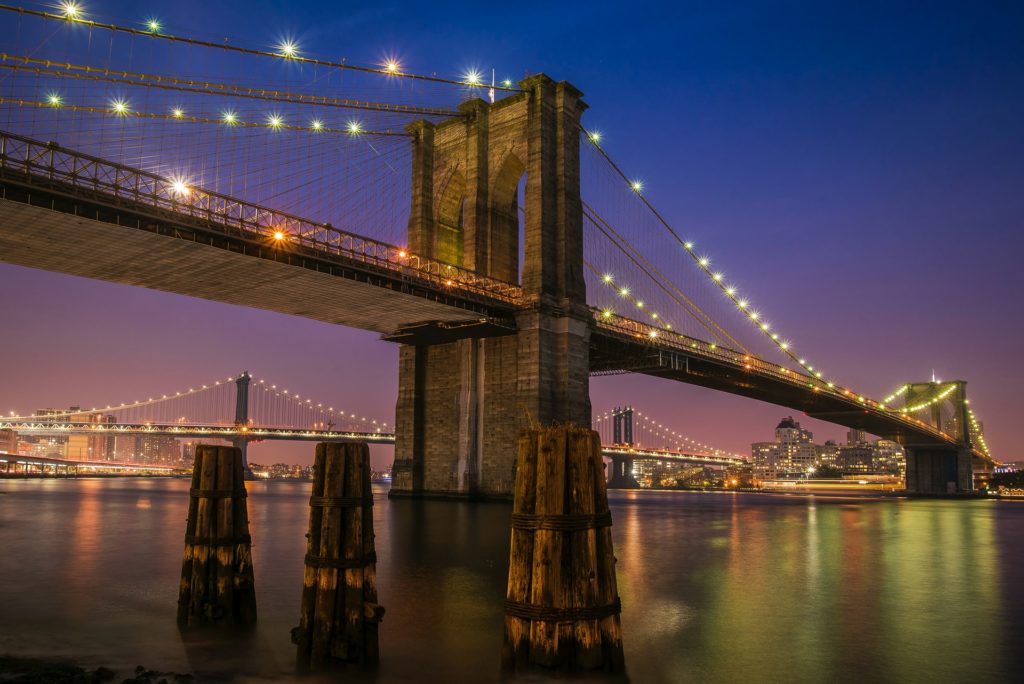 Brooklyn Bridge offers some of the most scenic views of Manhattan and Brooklyn, so you can imagine the firework feast to witness on NYE. While you can walk across the bridge on your own, you can also enrich your intellectual capita by joining a guided walking tour. Departing from City Hall Park in Downtown Manhattan, it takes you through the neighborhood for 90 minutes before ending up at the best vantage point for the countdown.
The best part about the tour is that they have designated lookout points for the participants, so you don't have to worry about the crowds blocking your view. Just as the clocks hit 00:00, the tour guide will open up a Champagne bottle for a toast. The tickets usually cost 75 USD and include Champagne and glasses, but you can purchase it for half the price up until December 1. One thing to keep in mind is to wear layers of clothes to remain warm since the bridge will expose you to strong winds and double the effect of the cold.
Attend AMC Family Fun Fest with Kids
For families with kids, it's challenging to stand outside in the overwhelming crowd, or go to a club with excessive alcohol consumption. If you are one of those looking for a smooth entry into the New Year, there are several venues suitable for children. For instance, AMC Studios hosts a Family Fun Fest.
The evening starts with heart-melting or thrilling NYE-themed movies and continues with amusing competitions, DJ performances, and karaoke. In the meantime, there is an unlimited supply of popcorn, sweets, and non-alcoholic beverages for the kids.
The fun-filled night costs only 40 USD for adults and 29 USD for children, which is surprisingly affordable considering how close to Times Square AMC Studios is. That also means you will have unobstructed views of Times Square during the countdown.
Take a New Year's Eve Cruise
New York's skyline becomes phenomenal on NYE, and you can view it from various angles. A boat cruise off the land will give you a new perspective into the evening, as you stare at the skyline from the comfort of the luxury yachts. From the gourmet buffet menu to the performances of famous DJs, a New Year's Cruise is the true definition of partying in style.
The buffet has an extensive selection of meals catering to all types of dietary habits. Similarly, these yachts don't stick to a single type of entertainment; you will get a dancefloor on one deck, a cocktail lounge on the other, and a kid's playground on the other. Overall, NYE party cruises invite New Yorkers and tourists without exclusion.
One word of advice would be to bring extra layers of clothes. Although the inside of the cruises has excellent insulation, you will want to go out to the deck to watch the fireworks explode.
Summary
When it comes to New Year celebrations in New York, no other city can compete with this city. With the plethora of events simultaneously taking place all around, the city looks no different than a massive amusement park. If that is the type of NYE you are seeking, you should book your flight ticket well in advance.
With Cathay Pacific, you can fly into New York from all around the world and even start the celebrations on the plane with high-quality food, drinks, and excellent service.
Check out our other article on Unique Things to Do in Austin or the 6 Amazing Gun Ranges in Arizona for more USA-related trips!