Spiti in 10 days
Budget – INR 10,000/-
Delhi – Reckong Peo – Nako – Tabo – Dhankar – Kaza – Kibber – Kee monastery – Pin Valley – Langza – Komic – Hikkim – Chandratal – Manali – Delhi
Spiti is also known as a "Middle land", as it lies between Tibet and India! The most beautiful hill station I have visited on this Earth yet. The landscapes are so beautiful that you would like to see the entire 360 degrees' view all at the same time. Below you will find how you can explore Spiti in 10 days along with routes, Bus timings, itinerary, cost-cutting tips and stay options.
Also, if you are planning to explore Kinnaur along with Spiti, read my detailed guide – Kinnaur Travel Guide
P.S. Want to learn blogging, Instagram, YouTube from me? Hire me as your mentor. Check out my Patreon for more details.
Disclaimer: This article may contain links to our affiliate partners such as Amazon, Booking.com, etc. If you find our website useful, please consider booking through our links. When you do we earn a small percentage at no extra cost to you.
For cheap transportation option, check out Bookaway.com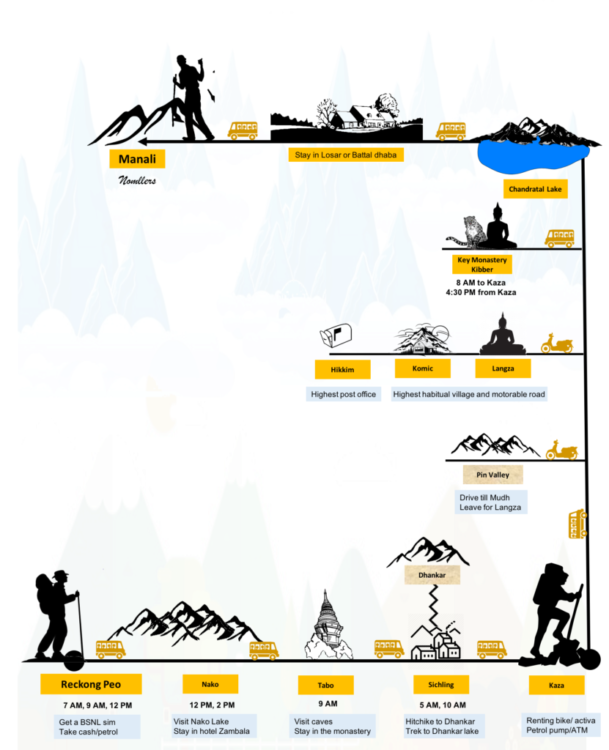 Spiti in 10 Days – Itinerary with bus details
Fact: Ladies get 25% discount on their bus tickets *winks*
Day 1: Delhi to Reckong Peo
To reach Spiti Valley you first need to reach the Kinnaur district. I took an overnight HRTC bus from Delhi to Chandigarh and explored the little corners of Chandigarh in the morning. From Chandigarh, you can get a deluxe bus that leaves in the evening at 5:50 PM, 6 PM and 7 PM. Alternatively, you can also take a bus directly from Delhi at 8 PM to Reckong Peo. The price of the direct bus to Reckong Peo is about INR 600/- and takes almost 18 hours to reach.
Planning to explore Reckong Peo?  Read our guide here – Kinnaur Travel Guide
Also Read – Chitkul Travel Guide
Day 2: Reckong Peo to Nako
Bus Timings 
There are three buses that leave from Reckong Peo to Nako – 7 AM, 9 AM, and 12 PM. The best would be to take the 7 AM bus as you will have more time to explore Nako and experience the golden hour (sunset).
Also, do make sure to buy the tickets as early as possible (preferably the previous day or whenever the counter opens). This is because the travelers who are traveling from Shimla, buy tickets while coming from Shimla itself. Well, if you do not buy the tickets early in advance, you will still be able to board the bus nonetheless, however, you will be deprived of the seat for the entire journey of 4 hours.
Rental Options
If you want to drive around in Goa and have ultimate freedom in commuting then you can rent cars as well. One of the services that we use and love is by Rentalcars.
All you would need is a credit or a debit card to book it and show the voucher while picking it up.
Duration and Cost 
It takes about four to five hours to reach Nako from Reckong Peo and costs approximately 160 per person
Stoppages
The bus stops only once in between for breakfast for around 20 minutes. There will be many dhabbas and restaurants to choose from and all of them serves decent food
Where to stay in Nako
I stayed in hotel Zambala, since from here I was able to see the entire lake from my room itself. Plus, during the night you can take out the chairs and make a bonfire with the lake view right in front of you. I booked the room for myself in Hotel Zambala on the go itself.
For more option you can search with the help of the below widget! The best part about this website is that you can reserve your room in advance, without actually paying for it (awesome!)
Places to see in Nako – 3,600 meters
Nako is a part of Kinnaur district, however, since the village lies in a sensitive restricted region that lies along the Tibet border it is one of the lesser explored places. Also, only BSNL works here.
Insider News: Jio might come up with their tower in the Nako region soon
Nako Lake: Nako is a holy lake and when the water is still you can get a reflection of the village. Go to the left of the lake and climb the stairs and follow the path that has Tibetan flags at a height to see the panoramic view of the entire village as well as a beautiful sunset
Monastery: Founded by Ringchen Zangpo in 996 AD. It is believed by the villagers of Nako that the monastery built in the 11th century, along with 108 other monasteries that stretch from Nako to Ladakh and all of them were built in one fortnight
Bonus: Hidden gems
I did not explore these places due to lack of time, but if you have some do explore these least explored places
Nako to Tashigang: The walk to this place is about four hours to this village which you can reach through Nako Pass  
Tashigang to Somang Trek: You have to walk for two hours to reach Somang which has caves and a monastery is a hidden land which has stories saying that the place is visited by fairies and immortal people live here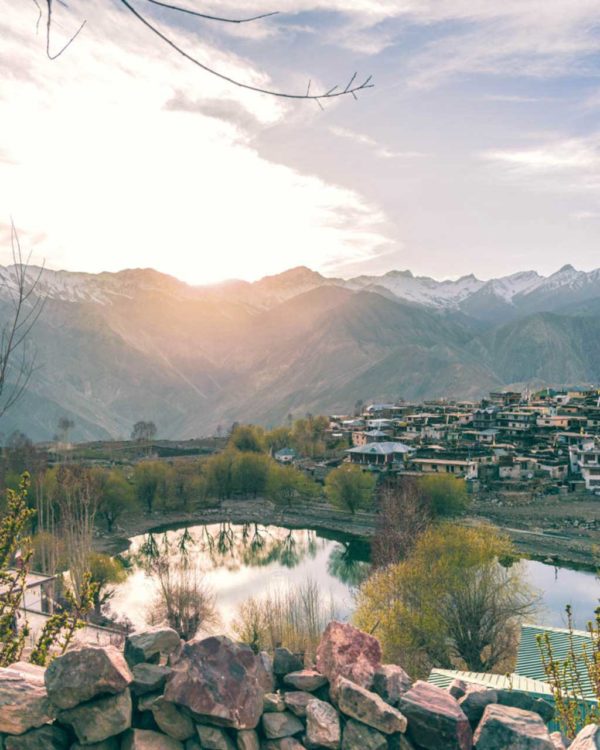 Day 3: Nako to Tabo
Bus Timings 
There are two buses that leave from Nako and both has its own perks. Read on to find what!
A bus between 11:30 – 12:30 – This bus comes straight from Reckong Peo, due to which you will be able to reach Tabo by 4 PM. This gives you enough time to explore the beautiful village of Tabo, however, you will not be able to find any seats in it. Which I think is okay because the bus journey is just for about two hours which is manageable.
A bus at 2 PM – Well the downside of this bus ride is that it will reach later in the evening, due to which you will have less time to explore, but, the brownie for this bus is you will be able to get a bus seat easily!!
Duration and Cost 
Approximately 2-2.5 hours of a bus ride through the beautiful valley of Spiti where you can see the steep valley below along with gorgeous Spiti river running amidst it and costs about INR 80/-
Stoppages
The bus stops once in between for lunch for around 20 minutes, where you can drink tea and chill for a while. Also BSNL signal comes in this place
Looking for cheap flights. Check out Kiwi.com – For Best Price


Where to stay in Tabo
I stayed in a common room of the monastery itself. It is not only cheap but you are next to the monasteries as well. The bathrooms aren't attached to the room, there is a common washroom just next to the rooms. Furthermore, at the time when I visited the place, the monastery was undergoing construction of their library, as well as building better rooms for the tourists.
Although, if you want to make an advance booking in Tabo, you can reserve the room using the below link with no advanced payment required. Check it out –
Places to see in Tabo – 3,280 meters
Tabo is the oldest and continuously functioning Buddha monastery in India that was built in 996 A.D. The renovation inscription tells that it was founded by the "Bodhisatva" and was renovated again 46 years later. In 1960 decade the condition of the monastery was very deplorable and seeing this, two monks came forward to revive the heritage. At the time of writing this article, the number of monks present in Tabo is 62.
Kalchakra Stupa: The rarest kind of stupa whose symbolism is not connected to Buddhism. Instead, it is a symbolism of the Kalachakra Tantra, created to protect against negative energies
Caves: Previously, the caves located here were used as assembly halls as well as dwellings during the winters. Even today, some of the caves are used as a meditation place, for which they hung flags representing that somebody is meditating inside. To reach the caves you have to climb a few steps for 10 minutes
Oldest Monastery: Protected by the Archaeological Survey of India (ASI) the monastery was destroyed by the earthquake of 1975 which was later revived by the two monks. It is here that the 14th Dalai Lama held the Kalachakra ceremonies twice
If you want to know how to have a fruitful solo experience on travels, read a few tips here – Solo travel tips in Sikkim
https://www.instagram.com/p/Bi3jGa-HQFx/
Day 4: Tabo to Sichling Village to Dhankar Village
Bus Timings 
Next morning, take a 9 AM bus to Sichling Village and from here you can either hitchhike to Dhankar or hire a taxi. I was lucky enough to find a vehicle in which I hitchhiked. The bus takes an hour to reach Sichling Village and costs INR 30/-.
There are many interesting things about this place
During old times, Dhankar served as the capital of Spiti
Once upon a time, there was a fort here, but no trace of it now except for a big house on top of the hill
From Dhankar you can reach to Kaza directly instead of going down to Sichling first because now there is a motorable road of 27 KMs amidst the mountains
The place is rich with its history and I was told there was a Raja here who used to reside with his sons, however, he sold his cultivated lands to the villagers and his sons moved to Kaza
Where to stay in Dhankar Village
You will find many homestays near the monastery that charges INR 800-1500/- per room, depending on the season you are planning to go. During the season, you can also stay in the monastery.
There are two monasteries in Dhankar – Old and New. The New one is situated right at the entry of the village and has the option to stay.
Top places to see in Dhankar Village
Dhankar Gompa: The complex is built on a 300-metre high spur overlooking the Spiti and Pin Rivers – one of the world's most spectacular settings for a gompa, however, it falls in as one of the 100 most endangered sites in the world
Dhankar Lake – 4,140 meters: Dhankar Lake is a hidden gem lying amidst the tall mountains where you could see white peaks at the distance. It is not allowed to camp in here as the lake is considered a holy lake and a livelihood for people of the Dhankar Village for their farming and agricultural activities
https://www.instagram.com/p/BitCmSrlhTE/?taken-by=unravelling_travelling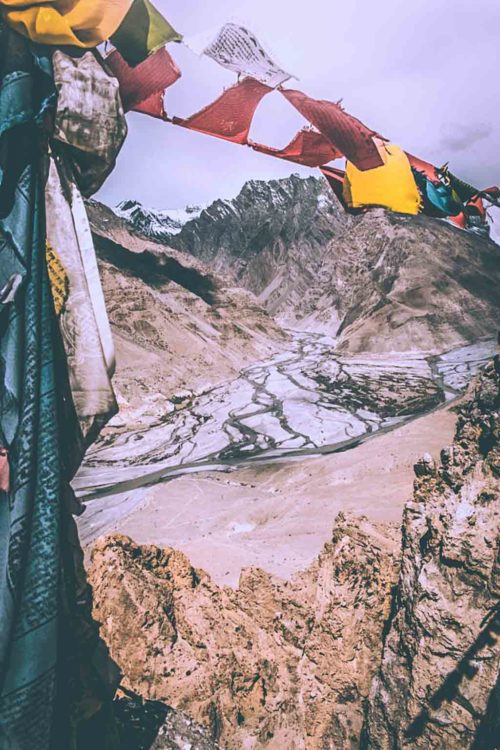 Day 5: Dhankar Village to Kaza
It is easy to trek down from Dhankar to Sichling. I found a shortcut in between the roads and reached Sichling Village in 1-1.5 hours. You can also hitchhike again from this place or hire a cab and take a bus to Kaza. Waiting for a bus is not an issue at all. There are cafes where you can relax, drink tea and wait for the bus.
Bus Timings 
There are two buses from Sichling Village. One is at 10 AM in which you will be able to get the seat, else you could catch a bus at 5 PM in which sadly there won't be any seats as the bus comes directly from Reckong Peo. It takes approximately 1.5 hours to reach Kaza from here and costs INR 30/-
Where to stay in Kaza
Kaza is the capital of Spiti. In here, you not only will be able to find a lot of civilization but also there is access to many amenities such as WiFi connection, a huge market where you will be able to buy materials which otherwise was not available in other locations.
Kaza acts as the center point to other places and from here you can rent a bike/activa to go around the places.
Facilities in Kaza – Petrol pump, ATMs, Wifi connections, market to shop for winter clothes
Winter White: This is the best place to stay in Kaza. Not only they have free WiFi which is a sign of relief after long days without the Internet but the staff is friendly as well. They charge INR 800/- per room (excluding food) but have an in-house restaurant where they serve delicious food, from breakfast to lunch.
Although, if you want to make an advance booking in Kaza and are looking for more options of staying, check the link below. You can reserve the room with no advanced payment required –
Day 6: Kaza to Kibber to Chichim Bridge to Kee Monastery 
You can rent an activa to go to these places. The roads are very smooth and well-built and I rented the bike at INR 700/- per day cost.
Kibber – 4,270 meters
Kibber is famous for its snow leopards. The village actually lies in the Wildlife sanctuary, what I am trying to say here is that when you enter the area it welcomes you by saying "Kibber Wildlife Sanctuary". Now there is no forest ground here and dedicated land for the animals, the entire zone is actually a sanctuary.
If you plan to explore this place in winters, there are sure shot chances of seeing the Snow leopard, along with other wild animals – ibex, blue sheep, etc.
How to Reach Kibber from Kaza – Bus Timings 
There is only one bus that leaves at 4:30 PM from Kaza bus stand for Kibber and takes approximately an hour to reach this place. Midway you will be able to see the Kee Village and Kee Gompa at its best. The bus charges are again INR 30/-. Buses are so cheap, aren't they?
Chichim Bridge – 4,400 metres 
Explore Asia's highest bridge between Chichim and Kibber Village. During the early days, villagers used to trek down all the way down in the valley and trek to the village later. There is hardly any difference between Kibber village and Chichim village. You can easily walk to the Chichim bridge from Kibber.
Kee Gompa – 4,166 meters 
I do not want to sound dramatic on this information giving blog, but then again, in all honesty, I had goosebumps and tears when I saw this monastery. It is the most spectacular thing I have seen in my entire life.
This monastery has gone through a lot, destroyed in wars and then destroyed by an earthquake, but Archaeological Survey of India helped to revive the heritage back to what it looks like right now.
How to Reach Kee from Kibber –

Bus Timings 
I trekked down from Kibber Village to Kee Gompa, which took an hour to one and a half hours, through the road. There is only one bus that leaves from Kaza for Kibber which is at 4:30 PM and then the bus leaves early in the morning from Kibber for Kaza at 8:30 AM. So the most sensible option was to walk down or hitchhike. But hey, if you have a bike you do not have to worry about all of this.
Where to stay

 
You can easily stay inside the monastery for just INR 250/- and in this minimal amount, they also serve you food (lunch, dinner, and breakfast), along with tea. And what better way to explore Spiti than to actually live with the monks and see their experiences right in front of you.
Insider – Trek a little from Kee Gompa to see an ariel view of the valley. It takes an hour to trek but even if you trek even for just 10 minutes, the view becomes equally mesmerizing. Ask the monks of the trekking start point for the ariel view and they will guide you.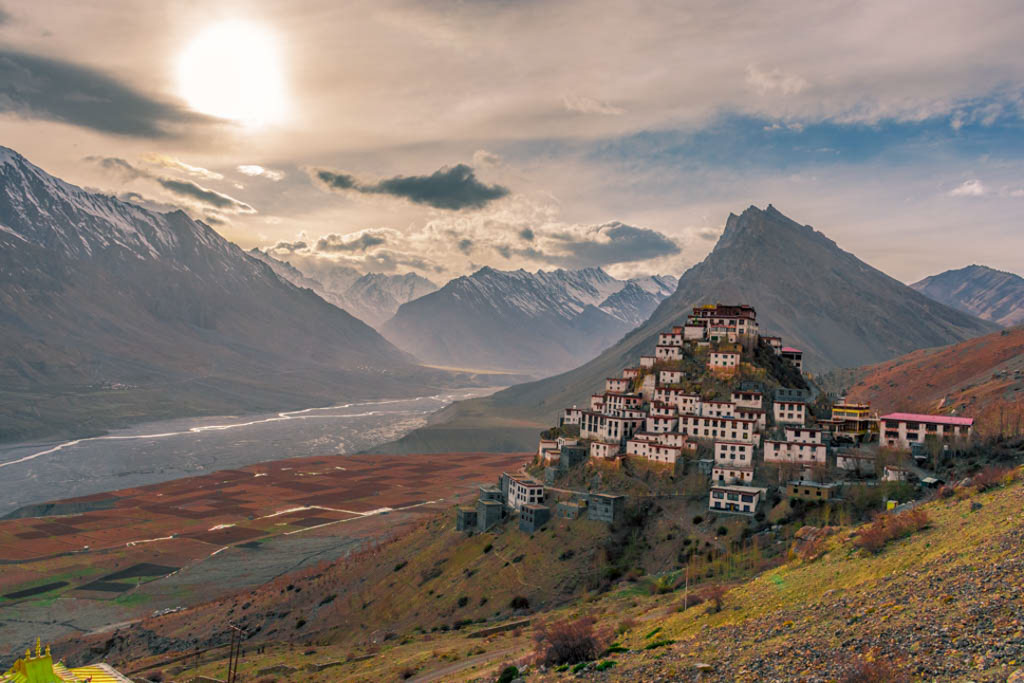 Day 7: Kee to Kaza to Pin Valley to Langza
Bus Timings 
From Kee a bus leaves at 8:30 AM and takes just half an hour to reach the Kaza bus stand.
Pin Valley 
With approximately 17 villages and only 1500-1600 people, it is the most beautiful valley to be ever experienced. Somehow I felt colder here as compared to the rest of the places in Spiti district. The last village is Mudh village which is 36 KMs from Kaza.
How to Reach Pin Valley from Kaza
Even though there are buses running to this place, but I would highly recommend renting a bike/activa for this place (do it!). The valley is so beautiful and you would like to stop at every nook and corner to capture the valley. I was able to rent the activa for INR 700/- per day. I had activa for 2 days with me. One day I planned to cover Pin Valley and the second day I decided to cover the stretch of Langza, Hikkim, and Komic. (More on it below)
You have to take the road that takes you to Dhankar Village and take a right turn on a bridge. – Attargo bridge
Langza – 4,400 meters 
The fossil valley. It is so peculiar that you can find fossils of sails in tons here. Once upon a time, fossil selling became a business here before it was banned by the government. Anyway, why I am saying you to come from Pin Valley to this place during the evening is because in Pin Valley finding stays is a little difficult, plus, in Langza you will be able to see/capture the famous pictures of the milky way along with the Budha statue.
How to Reach Langza
Since you are going to Pin Valley on your bike/activa, I would suggest you ride all the way to Langza on your bikes. There are no buses to Langza and travelers usually cover the entire stretch of Lagza, Hikkim, and Komic in a day on their bikes.
Where to stay in Langza
You will be able to find many homestays here and all of them are equally good and the villagers here are very very friendly.
For more booking options check the link below to reserve a room for yourself. You do not have to do any advance payments –
Day 8: Langza to Komic to Hikkim to Kaza 
Early in the morning, leave for Komic. The route is really rugged and bumpy. There is a road that goes up towards Komic from Langza itself.
Komic – 4,587 meters  
Komic is famously known as the world's highest motorable village. From Langza there is a road that goes up to Komic. Due to its high altitude, the village is really cold and the winds are really harsh so do take an extra jacket. Furthermore, the accommodation is limited here with only a handful of homestays. Do not miss out on visiting the monasteries here, and do eat at the world's highest restaurant which is right next to the monastery.
Hikkim – 4,400 meters 
From Komic drive down to Hikkim. In here, the world's highest post office is situated. It is such a surreal feeling to send postcards to your loved ones from here. There is a cafe right in front of the post office where you can buy postcards. Alternatively, you can get your own postcards. Do not forget to stamp them before sending. There is an office right here where stamping happens.
Further, here you won't be able to find any homestays to stay.
Furthermore, once you drive down from this village you will be able to see the ariel view of Kaza which is a surreal experience.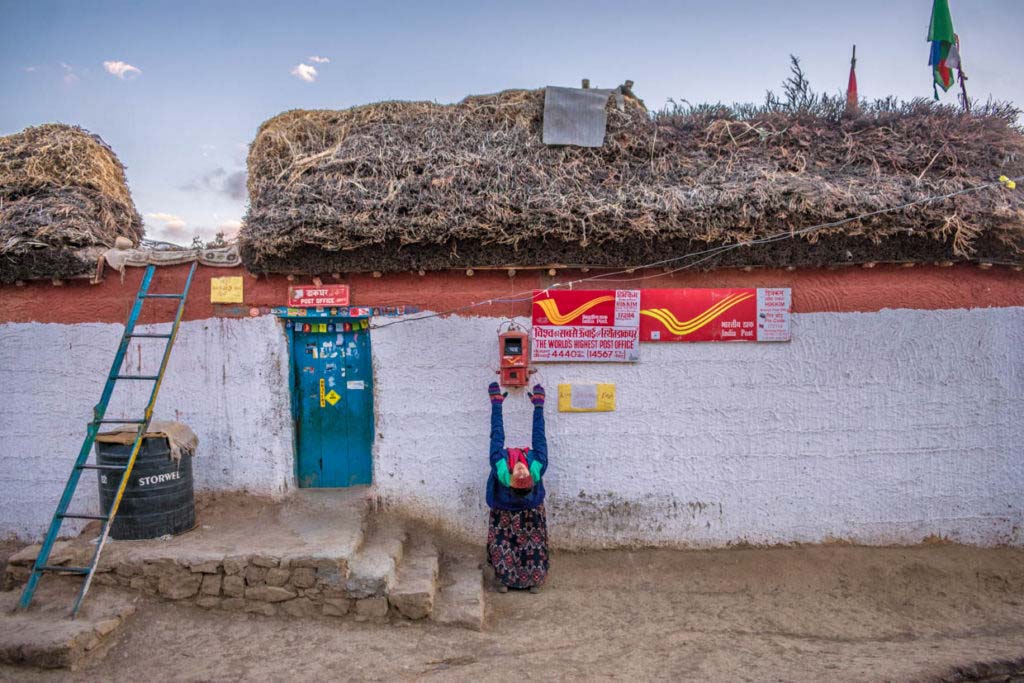 Day 9: Kaza to Losar to Kunjum Pass to Chandratal Lake – 4,270 meters
There are buses that run from Kaza to Manali, however, only in specific months, which is mostly from June to September; that is when the snow has been cleared from the Kunzum La pass.
Bus Timings 
During the season, a bus leaves from Kaza to Manali every morning between 6  to 7 AM. Alternatively, you can also opt for shared taxis or tempo traveler which you can book near the Kaza bus stand itself.
Get down at Batal and hitchhike on the jeep or dozer till Battal dhaba. You can also trek until Batal but what better way than to hitchhike and reach a little faster.
Alternatively,
You can also get down at Losar, and from there you can rent your bikes which cost INR 800-1000/-. Due to this, you will be easily able to come back to Losar by evening and make an overnight stay in Losar itself.
Where to stay
Camping near the lake is not possible anymore due to a sudden jump in the number of tourists. I will suggest you come down to Losar the same day and stay at Kit Khang Homestay. You can contact the family at 9459685328 which is run by Lobsang. The family is very nice and their hospitality is commendable.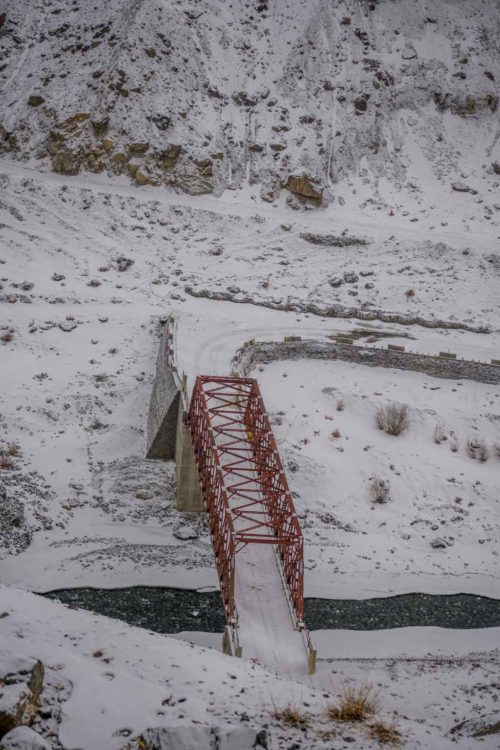 Day 10: Chandratal Lake to Manali to Delhi
From Losar, there are buses to Manali, whose starting point is Kaza. A bus leaves Kaza for Manali every morning between 6  to 7 AM. It will take you directly to Manali via the beautiful Rohtang Pass.
From Manali, you can get buses to Delhi easily. From ordinary buses to Volvo, the cost varies from INR 700/- to INR 1500/-, depending upon your budget and comfort.
If you want a detailed guide on Chitkul and Sangla, you can read our guide here – Chitkul Travel Guide
The Route I Followed – Map
Below, is the complete circuit that I was talking about above. As you see below, it is actually a circle that one goes through. This route can be followed either from Manali side or starting from Reckong Peo.
Things to Carry in Spiti

 
Snow/Waterproof shoes
A wooden stick for the trek
Jackets and Lower
2-3 pairs of Woolens
Medicines
Torchlight
Woolen socks – carry some extra pair of socks in case it gets wet
A small backpack in case you want to keep your gadgets
A water bottle
You can see my camping essentials over here – https://www.amazon.in/shop/radhika_nomllers
Network Connectivity in Spiti
Do buy a BSNL sim (prepaid and postpaid) before coming to this place as no other telecom companies operate here.
Insider: In Kaza, Airtel might start functioning in two-three months from the time of publishing of this post
ATMs, Petrol Pumps and Road Conditions
ATMs and Petrol Pumps can only be found in the Kaza region. In other villages, these facilities are not present. So it is wise to fill your tanks and withdraw cash in Kinnaur's Reckong Peo town.
Further, roads are in very good shape considering how far Spiti is and how remote it is. So driving here is not bad. People come on cycles as well. However, during heavy snowfall or rainfall roads do get blocked due to snow accumulation or landslides. So ensure that you check the weather and road conditions once you reach Reckong Peo.
Best Time to Visit Spiti
Spiti looks pretty throughout the year. I would like to experience it in all the seasons, from springs to winters. Having said that, it depends on you what you would like to see. If you want to see flowers and a bit of greenery then June to August is the time for you. However, Spiti is famous for its winters as well "Winter Spiti". In that case, you should visit it in the months of December to March.
Typical Cost for Spiti
For a ten days trip, I was able to manage all my expenses in INR 8,000/-. Why I said INR 10,000/- above was after adding the expenses of Chadratal Lake.
Homestays – You will easily be able to find homestays for INR 1,000/- under which they serve food as well. I was able to share my room with a companion due to which my cost was cut to INR 500/-
Activa charges – Rent an activa for two days – for Pin Valley and for Langza-Komic-Hikkim circuit. The rent of the activa was INR 700/- per day and if you plan to rent a bike the cost is INR 1,000/- to INR 1,500/-
Bus cost – I took an ordinary bus from Delhi Kaza which totaled to approximately INR 1,000/-, which is really cheap considering the fact that the distance from Delhi to Spiti is a lot
Food – If you have opted homestays which offers food to you in INR 1000/-. The cost of food is cut down there itself, however, you will be able to find restaurants easily where per meal you will have to spend at max INR 150/-
I was so excited to write this blog. Spiti is my favorite place and I am sure it will be yours too. Let me know if this blog helped you in the comments below and ask any queries. I love answering questions 🙂