With its majestic coastline of beaches and rocky coves, Antalya has everything you can imagine for a perfect vacation. It's an attractive city, with shady, palm-lined boulevards, and a picturesque old quarter which has narrow, winding streets and quaint, old, wooden houses next to the city walls.
You'll discover a beautiful city, with an incredible history and jaw-dropping old buildings.
Besides, the locals are really nice, the food is delicious and the weather is perfect. In this travel guide to Antalya, I will tell you everything you need to know to spend the perfect holiday in this fantastic town.
Also Read: 5 Day Trips from Merida
Antalya City Guide
Travel Documents Required for Antalya
All overseas visitors will need a passport when traveling to Antalya and some visitors will need a visa. US citizens who wish to visit Turkey for less than 90 days can get an e-visa for Turkey on the E-Visa websitefor US$20. Most European citizens can go to Turkey for 90 days without a visa, but not all of them. You'll have to check if you're country is exempt of visa on the Turkish website for E-Visas.
Arriving in Antalya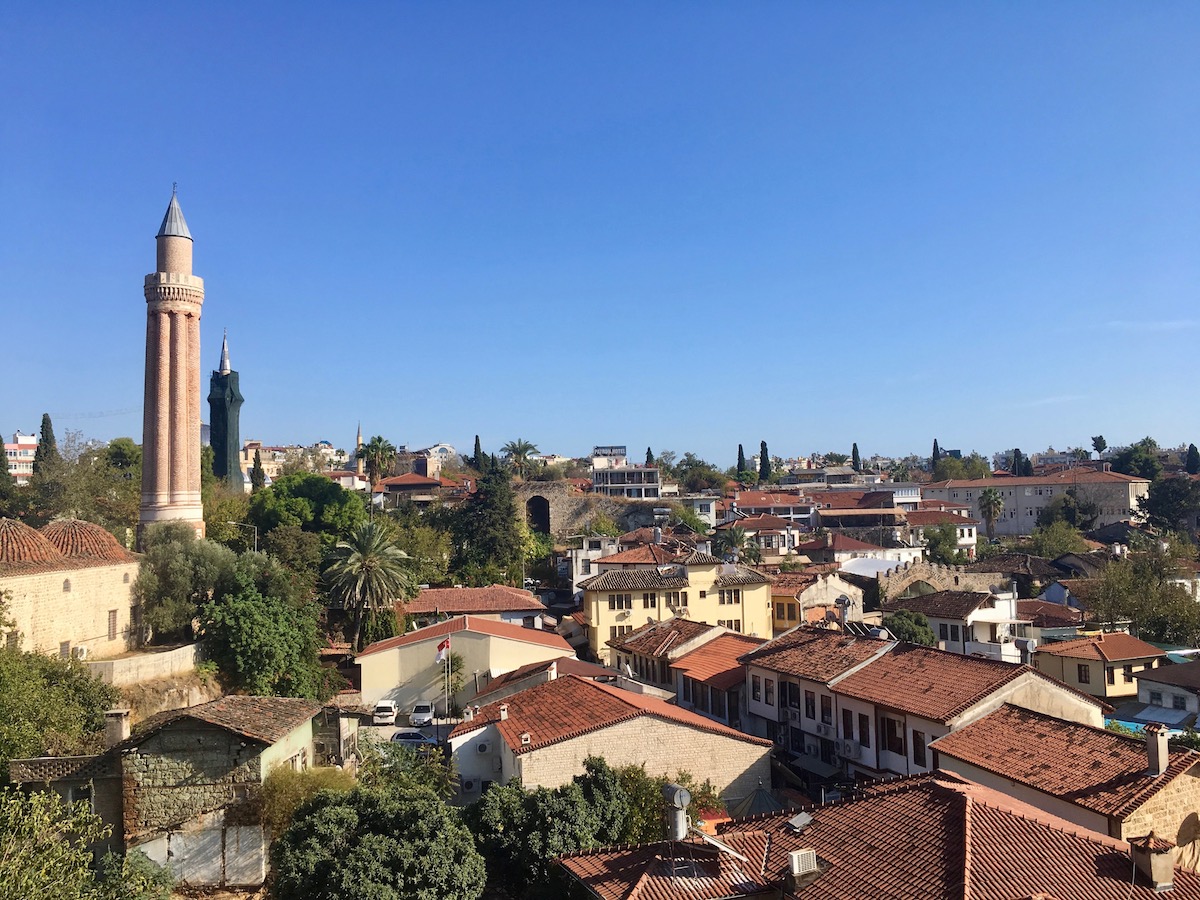 Antalya city is in the South East of Turkey. The Antalya region is the tourist capital of Turkey and regroups well-known and beautiful coastal cities like Alanya, Side or Kas. The city of Antalya has its own airport, and can easily be reached by plane from many cities in Europe. If you are coming from further away, you can take a flight to Istanbul and then fly to Antalya.
From the airport, you can reach the city center with a taxi, a shuttle or a public bus depending on your budget. 
If you are traveling to other cities in the Antalya region, you can take a taxi or a shuttle bus from the airport to reach the other destinations.
Once in the city center of Antalya, you can easily walk around the old quarter and all the main monuments. To go to the beach, or simply explore outside the city center, you can take the tramway or the bus. They are both really good and cheap options to get around.
For those who would prefer to reach the city and explore the area on their own, the best option is to rent a car directly at the airport. There are several car rental companies that operate at Antalya Airport such as Travelium, Budget, Avis, Hertz, or Europcar.
Where to Stay in Antalya
I stayed 3 months in Antalya which is quite a long time to stay in a hotel. So, I decided to rent a studio apartment a little bit outside the city center, near the mall of Antalya and the airport. It's an Airbnb called Studio Lego, and it's a great place to stay at, if you're planning to stay in Antalya for a few months or if you simply need to catch a flight early in the morning.
If you stay only a few days in Antalya city, I recommend you stay in the old quarter, which is called Kaleiçi. Hotels like the Route Hotel Kaleiçi or the Kervan Boutique Hotel have very good reputations and pretty good prices. If you're on a tight budget try the Marina Hostel which is right in the center of Kaleiçi!
What to See in Antalya
Kaleiçi
Kaleiçi is Antalya's old quarter. This quaint area surrounding the yacht marina is full of small hotels, pensions, and restaurants as well as restored houses that all help create the atmosphere for which the city is famous. Kaleiçi is absolutely gorgeous, and you can easily spend a day or two exploring the streets, shopping in the bazaars or soaking up the sun by the marina.
Antalya Museum
The Antalya Museum is one of the most important museums in the Mediterranean region. With remains from the Palaeolithic age to the Ottoman times, this museum is absolutely fascinating. You can spend a good couple of hours admiring the beautiful statues, artifacts, and sarcophagi from ancient times. The Antalya museum is one of the most beautiful museums I've visited in my entire life. And for only 30 Turkish Lira per person, you should certainly not miss it.
Clock Tower
Situated by the ancient city walls, the clock tower was part of the old city fortifications in the Kalekapisi square. Next to the old clock tower is an outdoor cat shelter, where you can pet the many cats who live there. Also, the street facing the clock tower is full of restaurants, ice cream shops and cafes where you will surely find delicious Turkish food.
Hadrian's Gate
The beautifully decorated, three arched gate was built in honor of Hadrian when he visited the city in 130 AD. The Hadrian's gate is one of the city's main sights. It's absolutely beautiful and very photogenic.
Waterfall
There are two waterfalls in Antalya, the upper Duden, and the lower Duden waterfall. The upper Duden waterfalls are located 15km from Antalya city center and are really cool because you can walk behind the cascade. They can easily be reached with a dolmus (minibus). The lower Duden waterfalls are located on the coast, on the way to Lara beach. They plunge straight into the sea, which makes them pretty unique. There is a viewing area from where you can see them, but the view is even better from the sea.
Beach
Lara beach is the main beach of Antalya. This beautiful sandy beach is about 12km to the east of Antalya city center. If you want to stay in the city center, your best option is to go to Mermerli beach. This beach is situated near the marina in Kaleiçi. Finally, you can try the Konyaalti beach which is located near the Museum of Antalya and offers breathtaking views of the mountain range behind the city.
Mall of Antalya
Fancy some shopping? Then you'll love the Mall of Antalya! It's huge, and you'll find many clothing and accessories shops, bookshops, a cinema, and a food court. The shop LC Waikiki is very famous in Turkey, as it has very cheap clothes. There is also a Deepo Outlet in the mall where you can find great brands for low prices.
What to Eat in Antalya
Antalya is full of restaurants, cafes and obviously Kebap. You will easily find restaurants in Kaleiçi serving typical Turkish food as well as continental plates. Reasonable prices can go anywhere between 10 and 25 Turkish Lira, anything above that is just expensive for Turkey.
Trying Kebap is a must-do when you go to turkey! It's simplydelicious. If you want more authentic food, I suggest you go a little bit out of the tourist quarter.And the prices will be cheaper too.
You can try the bagels, which are sold in the street. They are really good, and only 1 Turkish Lira. The sweetest member of Turkish cuisine, the Lokum, is worth a try too. There are many different kinds of Lokums: hazelnut, walnut, pistachio, coconut, lemon… you choose!
Best Time to Visit Antalya
Antalya is a very popular summer destination, so the city sees a considerable amount of tourists in July and August. I was there in winter and found that the temperatures were pretty good but it was raining quite a lot.
However, there were no tourists around, so I basically had the place to myself. The best time to go is probably from April to June, as the weather is hot enough to enjoy the beach, but not so hot that you can't enjoy sightseeing.
Summary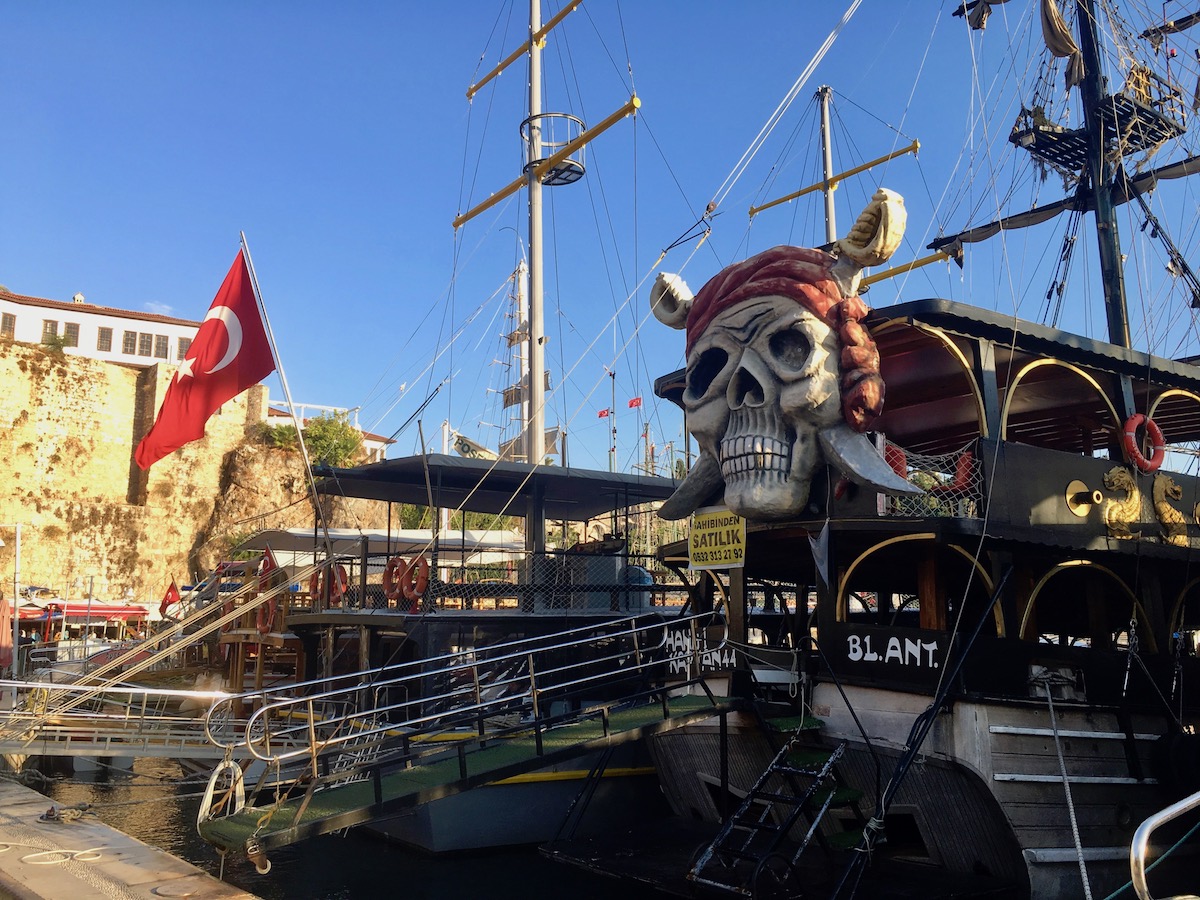 Antalya is definitely one of those destinations you should add to your bucket list. It's a fantastic town that won't disappoint you. Whether you want to enjoy the beach, explore the bazaars or simply visit the fabulous Museum, you'll love exploring this beautiful city.
AUTHOR BIO
Camille is a blogger at crystal healing ritual and craft from France. Dedicated to traveling sustainably, Camille has been roaming the world and living abroad for over 7 years. When she's not traveling, you'll find her hiking or reading a good book.