Vizag is known to all as the City of Destiny and the land of beaches. There are multiple tourist places to visit in Vizag that will manage to leave you awestruck. Most tourists who visit this city stick to exploring the popular places. They spend most of their time on the vast expanse of beach road which is home to some renowned beaches like RK Beach, Rushikonda, Tenneti, and so on.
While others spend time in popular hubs like Kailashgiri, submarine/aircraft museum, and Araku Valley. But Vizag actually has many more hidden gems for you to explore. These places may not be developed in terms of tourism, but that is why they are the best. These untouched places are extremely enchanting and should definitely not be missed.
5 Offbeat Places to Visit in Vizag
Below are a few offbeat places to visit in Vizag for you to explore. Once you visit these places, you will forget all about the other popular tourist spots in Vizag.
Bojjanakonda and Lingalakonda Buddhist Monastery
Vizag has a rich collection of the remnants of Buddhism establishment. The most famous of them all is the Thotlakonda and Bavikonda which are present right within the city limits.
But the most beautiful of Buddhist sites is undoubtedly Bojjanakonda and Lingalakonda. One of the best places to visit in Vizag, this monastery comprises of rock-cut caves with Buddhist carvings. And there are Buddhist stupas situated on two adjacent hillocks here.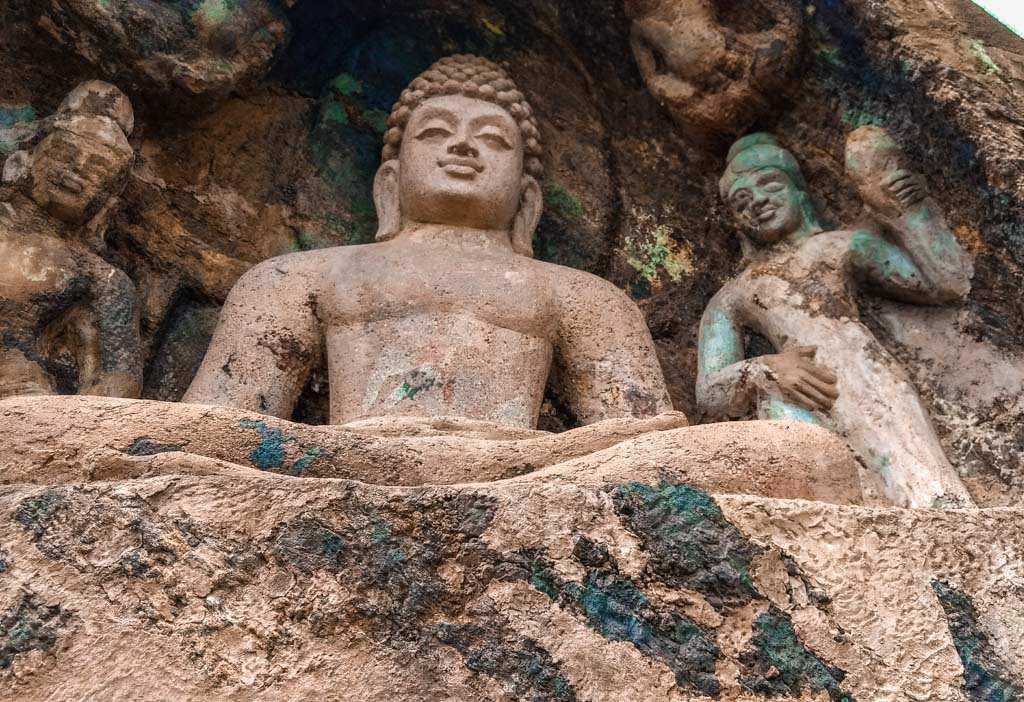 The hillocks are surrounded by luscious paddy fields that add a dash of greenery to this place. And this makes this place look completely breathtaking in monsoon season. This monastery is situated near the village of Sankaram, a few kilometers from Anakapalle in Visakhapatnam.  
It takes around 1.5 hours to reach this place from the main city as it is around 45 km from Vizag.
How to reach – You could take a bus from RTC complex bus stand to Anakapalle. And then, hire an auto from Anakapalle bus stand to Sankaram village. You could also hire a cab if you are willing to be liberal in your spending.
Best time to visit – August to February would be the suitable months to visit the place as Vizag faces sweltering heat in summers. Ideally, you should visit in August/September (monsoon months) and in the morning time as you will be able to witness the greenery of the paddy fields then.
Also Read: A Short Guide for Places to Visit in Aurangabad
Borra Caves
One of the most popular places to visit in Vizag is the Araku Valley which can be reached by a train. A very popular destination, most tourists skip the best place to visit on the way to Araku which is Borra Caves. Located in the Ananthagiri hills of Araku Valley, these majestic caves are at an elevation of around 700 m.
These caves are renowned for the unique cave formations of stalactite and stalagmite. The formation of brain-shaped stalagmite at the central part of Borra Caves can be said as a gift of nature. The natural Shiva Linga inside this cave also manages to amaze people. But the best part about these caves is how it is colorfully illuminated throughout the day.
The illumination of the caves is a pure visual treat. Also, don't forget to try Bamboo chicken, an Araku specialty, just outside Borra Caves. You could also contact some local trekking club and go for Cave trek through the Gosthani river that flows below the cave.
How to reach– Buses are available to take you to Araku Valley. But it is best to visit Araku Valley in the Vistadome train that has a glass ceiling and gives spectacular nature views en-route to Araku.
Best time to visit– October to February. Winter is undoubtedly the best time to visit this place in order to enjoy the wonders of this hill station.
Lambasinghi and Kothapally waterfalls
This place is located around 116 km (3 hours) from Vizag and is at an elevation of 1000m. And it is popularly known as the 'Kashmir of India' and deservedly so. Lambasinghi, located in the Chintapalle village of Vizag, has experienced snowfall in the past which is why it is so popular in South India.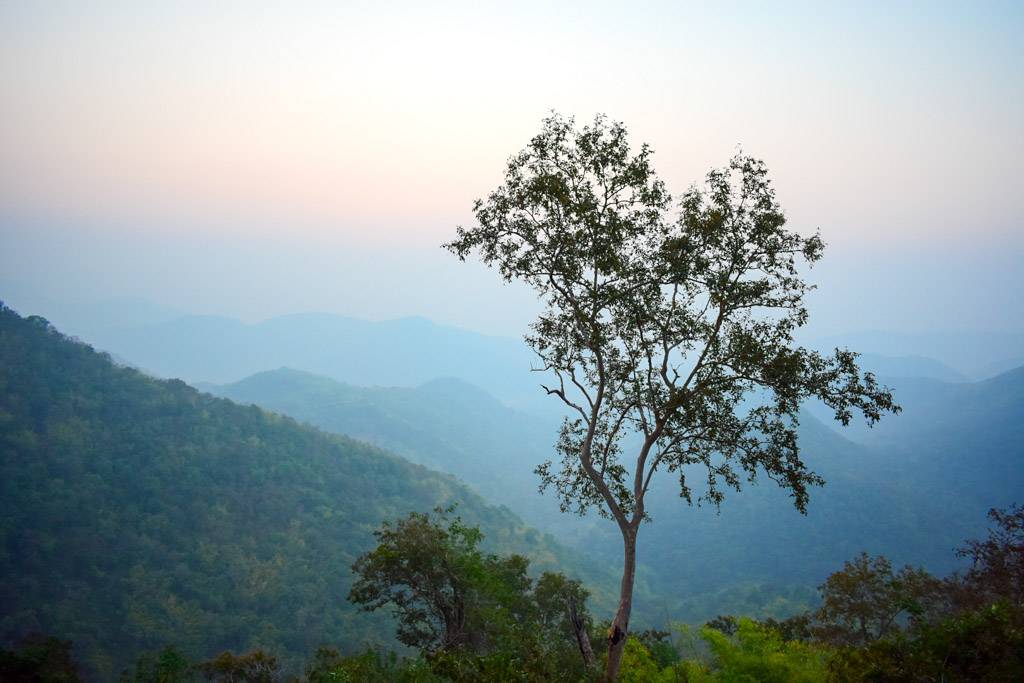 During winter, this place witnesses temperature drop up to -2 degree Celsius. And throughout the year also, the temperature stays below 10 degree Celsius. An absolutely delightful experience for fruit lovers, make sure you visit the Andhra Strawberry farm where you can pick your own delicious strawberry haul at a cheap price.
There are a lot of designated sites here for camping, mostly beside the Thajangi reservoir. And near the strawberry farm,there are numerous mountain viewpoints that will leave you spellbound. This winter wonderland is relatively untouched and has very few lodging and food options for the tourists. But the locals of Lambasinghi have opened up several food stalls to make it convenient for the tourists.
When you visit Lambasinghi, don't forget to visit Kothapally waterfalls which is just 20 km away.
How to reach– You can take a bus to Narsipatnam and stay there at a lodge for the night. Start early at around 5 am the next day and reach Lambasinghi by 6 am to enjoy the foggy mornings. And if you are lucky, you could witness snowfall.
Best time to visit– December to January as only during deep winters you can hope to see snowfall.
Also Read: Top 12 Places to Visit in Ooty
Kondakarla Ava
One of the best offbeat and untouched places to visit in Vizag which deserves more attention is Kondakarla Ava lake. This beautiful lake and bird sanctuary, situated around 40 km from Vizag, is home to a varied range of endangered flora and fauna.
The lake is surrounded by coconut trees on one side and hills on the other sides. This makes this place truly picturesque and makes it really hard to leave. Witnessing the sunrise on a boat ride through this lake is a serene and memorable experience for sure.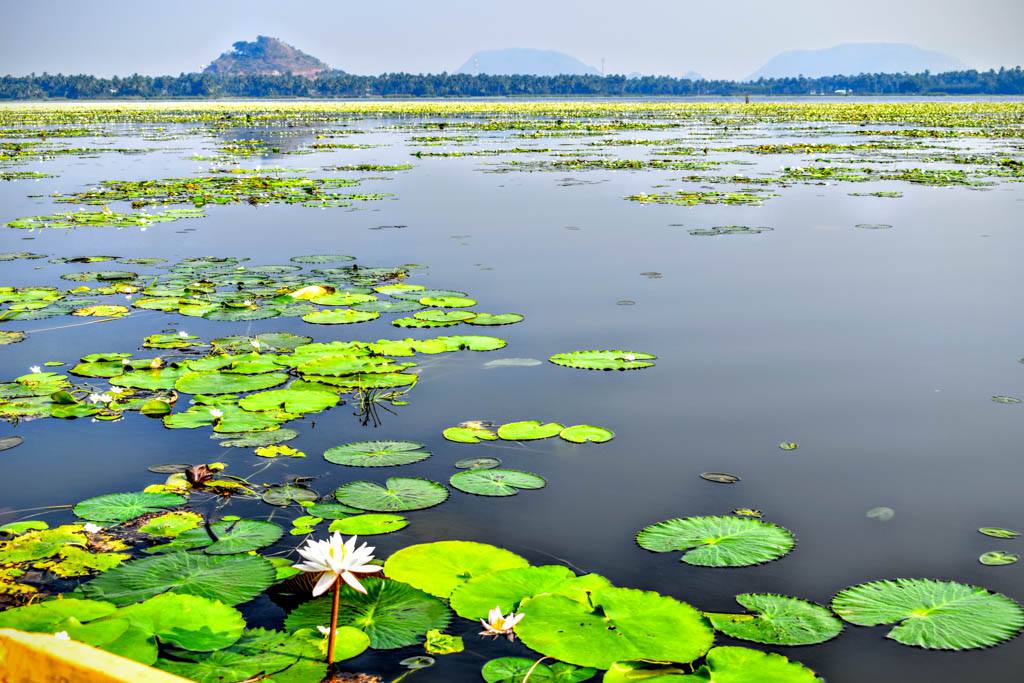 A boat ride will cost you around 200 bucks here. And through the 30-minute boat ride, you can pluck lilies that grow in the lake. It may not sound like much, but this place will truly redefine nature's beauty in your eyes.
How to reach– Take a bus to Gajuwaka from RTC complex bus station and then hire a cab to the bird sanctuary.
Best time to visit– January as this is the time when you can find birds around the lake.
Natural Arch at Mangamaripeta Beach
One of the best places to visit in Vizag if you are planning to visit Thotlakonda if the Mangamaripeta beach. The naturally formed rock arch at Mangamaripeta beach is a rare formation and these rocks date from anywhere 800 to 1600 million years. The sea view through this arch is a sight to behold and is an experience like no other.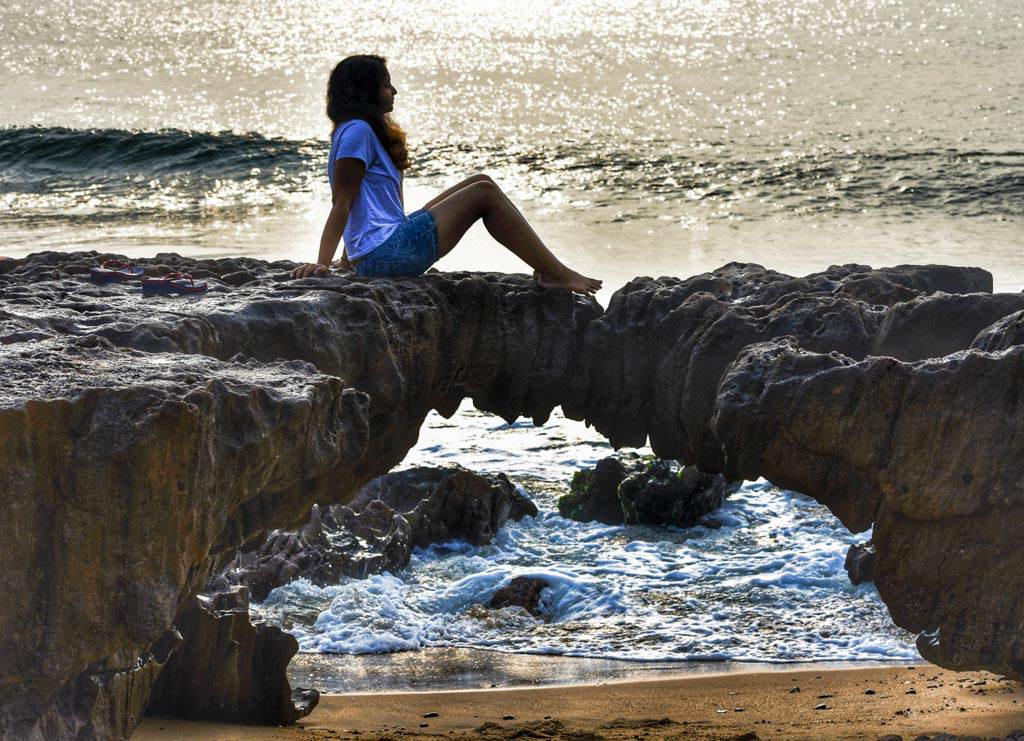 To reach her, you will need to follow the beach road that takes you to Thotlakonda. And then, take a U-turn when you reach Mangamaripeta. The other notable naturally formed rock arch formation is Silothoranam at Tirumala hills.
How to reach–  The best way to reach this place is to hire a cab/auto.
Best time to visit-Throughout the year
Also Read: Munnar and Kochi Travel Guide
Author Bio

Sonam is an oil sector Engineer, based in Vizag, juggling between her full-time corporate job and nomadic interests. Her dream is to explore the whole world and create awareness of sustainable traveling. You can follow her journey on Facebook, Instagram, and her blog.